News
KYOCERA Solar Electric System, Designed and Installed by SolSource Energy, Benefits Buena Park Apartment Complex
Smart Solution for Master-Metered Customers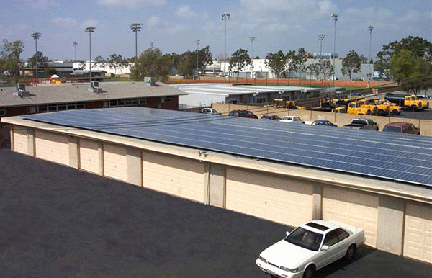 BUENA PARK, Calif. -- July 16, 2004 – A multi-unit apartment complex in Buena Park has installed a 51kW solar electric array on the roof of its tenant parking garage. The system, designed and installed by SolSource Energy, an authorized dealer of Kyocera Solar, Inc. (www.kyocerasolar.com), is believed to be the largest solar photovoltaic (PV) installation in Buena Park.
Consisting of 324 Kyocera KC158G solar electric modules, the PV system offsets approximately 50% of the complex's total electrical requirement. Since the electricity expenditures were previously master-metered, they represented a major cost element to the owner. Now, with the PV system in place, the apartment complex is able to lower its overhead costs and provide its owner with a greater financial return, while providing tenants with power generated from clean, renewable, solar energy. "This is a win-win proposition for the tenants and myself," commented William Green, owner of the complex. "I can lower my overhead costs and focus on providing better tenant services."
Ram Ambatipudi, General Manager of SolSource Energy, stated, "This apartment complex was able to significantly reduce its electricity bills and hedge against future electricity price hikes by installing a solar energy system. A solar energy solution makes sense for other apartment complexes, hotels, motels, and a wide range of other hospitality-related businesses."
Recent developments in manufacturing processes have made PV a more affordable electrical generation alternative for both homes and businesses, according to Tom Dyer, Vice President of Marketing and Government Policies at Kyocera Solar, Inc. "With current California rebates and federal cost sharing, consumers can receive financial benefits from an investment in PV fairly quickly," Dyer stated.
Kyocera Solar, Inc. (www.kyocerasolar.com) is a world-leading supplier of environmentally sound, solar electric energy solutions, with headquarters in Scottsdale, AZ and sales affiliates in the Americas and Australia. The company is a wholly-owned subsidiary of Kyocera International Inc. of San Diego, the North American headquarters and holding company for Kyoto, Japan-based Kyocera Corporation.
SolSource Energy (www.solsourceenergy.com) is a division of Clean Fuel Connection, Inc. (CFCI), and specializes in solar photovoltaic system sales, design, and installation for commercial, municipal, and residential customers. CFCI is a leader in the clean fuel/alternative energy infrastructure arena with hundreds of residential and commercial customers throughout California and Arizona.

Top of page