News
KYOCERA Showcases Next-Generation LCD Displays with Advanced Wide View, Super High Brightness at DisplayWeek 2015
San Jose, CA, June 1, 2015 - Kyocera announced today that its next-generation LCD displays will be showcased at DisplayWeek 2015 this week. The company's innovative thin-film transistor (TFT) LCD displays allow bright colors to be seen clearly even in intense sunlight – making them ideal for industrial applications including medical, aerospace, marine, test and measurement, and factory automation equipment.
Kyocera's new 10.4" XGA (TCG104XGLP) and 12.1" XGA (TCG121XGLP) TFT-LCD displays feature 1024 x 768 resolution and the latest high-efficiency, long-lifetime LED backlights with brightness ratings of 1300cd/m2 (10.4") and 1200cd/m2 (12.1"). Powered with Kyocera's Advanced Wide View (AWV) technology, the displays achieve a wide, 85-degree viewing angle in all directions. Kyocera's LED driver circuit is fully integrated, eliminating the need for additional components to drive the backlights. The new TFT-LCDs are designed with a standard LVDS interface, and offer a wide operating temperature range of -30º to 80º C, ideal for outdoor applications.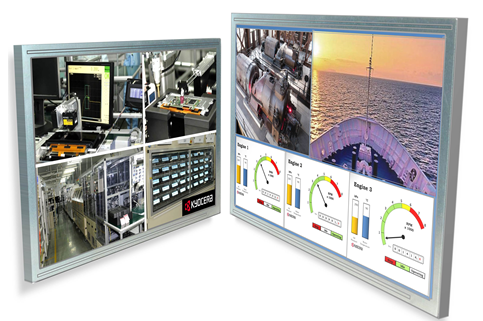 Kyocera's new 10.4" and 12.1" XGA TFT-LCD displays show bright, vivid colors even in intense sunlight, making them ideal for outdoor applications.
"Kyocera has been creating innovative LCD technology for almost 40 years, ensuring we provide long-term support to our customers, which is especially important in the automotive, industrial and medical equipment industries," said Jim Little, Director of Industrial Sales, Kyocera Display Division. "All of our TFT LCDs are RoHS compliant and we strive to continually reduce our environmental impact in manufacturing."
Kyocera will bring its full Industrial TFT line-up, ranging from 3.5" to 12.1", to the DisplayWeek 2015 event. Also on exhibit will be Kyocera's new On-Cell Touch (OCT) technology and many new automotive display products, such as Head-Up-Displays (HUD) and TFT-LCDs for full automotive instrumentation clusters. For more information, please visit booth #1040, log on to www.kyocera-display.com or email displaysales@kyocera.com.
About Kyocera
Kyocera expanded its global LCD business in 2012 with the acquisition of Japan-based Optrex Corporation (now Kyocera Display Corporation) — a manufacturing, sales, marketing and R&D enterprise with nearly four decades of LCD innovations. In the Americas, Kyocera's LCD sales, marketing and value-added assembly are performed by the Display Division of Kyocera Industrial Ceramics Corporation. The company operates U.S. sales offices for LCD products in Plymouth, MI (on a campus that includes warehousing, distribution and value-added assembly); Atlanta, GA; Vancouver, WA; and San Diego, CA.
Kyocera Corporation (NYSE:KYO)(TOKYO:6971) (http://global.kyocera.com/), the parent and global headquarters of the Kyocera Group, was founded in 1959 as a producer of fine ceramics (also known as "advanced ceramics"). By combining these engineered materials with metals and integrating them with other technologies, Kyocera has become a leading supplier of solar power generating systems, mobile phones, printers, copiers, electronic components, semiconductor packages, cutting tools and industrial ceramics. During the year ended March 31, 2015, the company's net sales totaled 1.53 trillion yen (approx. US$12.7 billion). Kyocera appears on the latest listing of the "Top 100 Global Innovators" by Thomson Reuters, and is ranked #552 on Forbes magazine's 2015 "Global 2000" listing of the world's largest publicly traded companies.
Editorial Contact:
Jessica He
Kyocera Industrial Ceramics Corporation, Display Division
734-416-8500
Jessica.He@kyocera.com

Top of page