News
KYOCERA Introduces Environmentally Friendly Industrial Liquid Crystal Displays
Vancouver, WA – September 28, 2004 - Kyocera announces the introduction of RoHS (The Restriction of Hazardous Substances in Electrical and Electronic Equipment) Directive-compliant liquid crystal displays (LCDs) for use in a broad range of industrial equipment and instruments.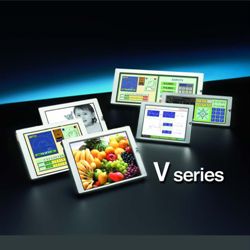 Kyocera is sequentially starting shipments, this month, of three standard V-series LCD models that comply with the RoHS Directive: two 5.7 inch models (the KG057QV and KCG057QV) and an 8.9 inch model (KCG089H). In addition, Kyocera plans to switch all V-series LCDs to RoHS Directive-compliant products before the end of the current fiscal year which ends March 30, 2005.
The V-series STN and TFT LCDs feature an LCD screen mounted in a symmetrical frame with the width of the surrounding frame narrowed to optimize the size of the display area in relation to its external dimensions. The V-series is available in commercial mass production in four screen sizes: 4.7 inch/12 cm, 5.7 inch/14 cm, 6.2 inch/16 cm and 8.9 inch/23 cm. Kyocera is planning to launch a 7.5 inch/19cm V-series LCD and other screen sizes in the near future.
The RoHS Directive restricts the use of lead, mercury, hexavalent chromium, cadmium, polybrominated biphenyl (PBB) and polybrominated diphenyl ether (PBDE). Kyocera has embraced the industry's initiative to create RoHS Directive-compliant LCDs by revising its assembly processes and its selection and procurement of components. Of the hazardous substances designated in the RoHS Directive, lead was said to be the most difficult to eliminate due to the fact that lead-free solder requires a higher processing temperature. By using higher heat resistant materials and by adjusting the soldering conditions when mounting electronic components, Kyocera has developed a totally lead-free process that produces a product with identical properties and reliability as our conventional products containing lead solder.
For more information about Kyocera liquid crystal display products please contact:
Kyocera Industrial Ceramics Corporation
LCD Product Group
5713 E. Fourth Plain Blvd.
Vancouver, WA 98661
Tel: 360-750-6124
Fax: 360-750-6184
E-mail: joe.maurer@kyocera.com
Contact: Joseph R. Maurer
About Kyocera
Kyocera Industrial Ceramics Corporation is headquartered in Vancouver, WA with four manufacturing plants and 12 sales offices throughout the United States. The company manufactures advanced ceramic components and CERATIP cutting tools, and markets LCDs, thermal printheads, ultra high vacuum metallized assemblies and industrial lenses. The company is a wholly-owned subsidiary of Kyocera International, Inc. of San Diego, the North American holding company for Kyocera Corporation.
Kyoto, Japan-based Kyocera Corporation (NYSE: KYO), the group's global parent, employs approximately 57,000 people in 25 nations and recorded consolidated sales of $11 billion during the year ending March 31, 2004.

Top of page