News
KYOCERA Introduces MyGen Meridian™ Building-Integrated Solar PV Module System
SCOTTSDALE, Arizona (February 22, 2005) – Kyocera Solar, Inc. today announced the introduction of MyGen Meridian™, a UL listed photovoltaic module and mounting system designed to blend in with a tile roof. MyGen Meridian™ is truly a revolution in photovoltaic design and is the first in Kyocera's exciting new BIPV (Building-Integrated PhotoVoltaics) product line.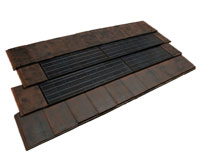 In addition to serving as an integral part of the roof, MyGen Meridian™ pairs Kyocera's highly-efficient "d.Blue" solar cells with black frames, making the product powerful and inconspicuous. When combined with standard concrete roofing tiles, MyGen Meridian™ visually blends with a home's architecture, becoming an energy producing enhancement to the home's roof.
Until now, homeowner's associations have been critical of conventional photovoltaic installations due to their "added-on" look. MyGen Meridian™ solves this problem as it is designed to replace roof tiles. Now there is a way to lower utility bills, reduce the probability of black-outs or brown-outs, and contribute to the betterment of the environment, all without degrading the home's aesthetics.
MyGen Meridian™ also incorporates two unique design features, a free airflow framing system for increased thermal efficiency and a "cassette" type module installation. The "cassette" design allows for easy installation and simple replacement of damaged modules without disturbing the roofing material.
The "d.Blue" PV cells utilized in Kyocera's MyGen Meridian™ modules are made using a unique manufacturing process which creates a microscopic texture on the cell's multi-crystalline silicon surface. This reduces reflectance and maximizes the amount of sunlight the cell absorbs, which is evident in the "d.Blue" module's increased power output and "deep blue" color.
"MyGen Meridian™ is ready to answer the Governor of California's call for solar systems to be included in new home construction," said Steve Hill, President of Kyocera Solar, Inc. "Home buyers can enjoy lower utility bills and cleaner air without degrading their homes' curb appeal."
Sold direct to building contractors and through Kyocera's authorized dealer network, the new Kyocera MyGen Meridian™ systems are ideal for homeowners who demand the very best. For more information, contact Kyocera Solar, Inc.'s Customer Service Division at 800-544-6466, or visit the company's web site at www.kyocerasolar.com.
Kyocera Solar, Inc. is a world-leading supplier of environmentally sound, solar electric energy solutions, with headquarters in Scottsdale, AZ and sales affiliates in the Americas and Australia. The company is a wholly-owned subsidiary of Kyocera International Inc. of San Diego, the North American holding company for Kyoto, Japan-based Kyocera Corporation.
Kyocera Corporation (NYSE: KYO), the parent and global headquarters of the Kyocera Group, was founded in 1959 as a producer of advanced ceramics. By combining these engineered materials with metals and plastics, and integrating them with other technologies, Kyocera Corporation has become a leading supplier of solar energy systems, telecommunications equipment, semiconductor packages, electronic components, laser printers, copiers and industrial ceramics.

Top of page