News
Kyocera Introduces TO-Header Style 10Gbps Packages for Fiber-Optic Applications
Vancouver, WA –- January 9, 2003 -– Kyocera today introduced two new TO-header style surface mountable 10Gbps packages for VCSEL (Vertical-Cavity Surface-Emitting Laser), laser diode and photo diode applications. As bandwidth demand and network traffic continue to grow, telecommunication carriers are upgrading their systems from 2.5Gbps to higher-speed 10Gbps technology to keep pace with the demand. Kyocera, a leader in both ceramic multi-layer and glass-to-metal technologies, developed the 10Gbps packages as a cost-effective solution to address the need for higher-speed technology required to address the bandwidth issue.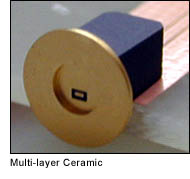 The multi-layer ceramic 10Gbps package features 3-dimensional wiring using stacked vias, which allows for an intricate electrical path within a small footprint. The high-frequency wiring features a coplanar waveguide structure to facilitate superior high-speed transmission from the pad of the optical device to the printed circuit board.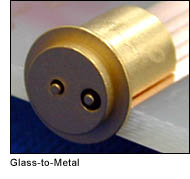 The glass-to-metal 10Gbps package features hermetic glass technology capable of withstanding high frequencies and external pins protected by a coaxial structure metal casing for excellent impedance matching and stability.
Kyocera's diversified fiber-optic package manufacturing process and high-frequency design technology supports a wide range of custom solutions incorporating ceramic or glass-to-metal construction.

The company's fiber-optic packaging products are marketed in North America by Kyocera Industrial Ceramics Corporation.


For additional optoelectronic packaging information, please contact:
Kyocera Industrial Ceramics Corporation
Electro-Optics / Micro-Precision Products Group
2301-300 Cottontail Lane
Somerset, NJ 08873
Phone: 732-563-4346
Fax: 732-627-9594
e-mail: e-o@kyocera.com
Web: www.kyocera.com/kicc
About Kyocera
Kyocera Industrial Ceramics Corporation is headquartered in Vancouver, WA, with four manufacturing plants and 12 sales offices throughout the United States. The company manufactures advanced ceramic components and Ceratip cutting tools, and markets LCDs, thermal printheads, fiber-optic components and industrial lenses. It is a wholly-owned subsidiary of Kyocera International, Inc. of San Diego, the North American headquarters and holding company for Kyocera Corporation.


Kyoto, Japan-based Kyocera Corporation, the group's global parent, employs approximately 40,000 people in 25 nations and recorded consolidated sales of $7.8 billion during the year ending March 31, 2002.

Top of page