News
KYOCERA Announces Plan to Build 251kW Solar Electric Generating System in San Diego
SAN DIEGO (April 5, 2004) – Kyocera today announced plans to install a major solar electric generating facility at its North American headquarters and Kearny Mesa plant, 8611 Balboa Avenue, using 1,680 Kyocera KC-167G solar photovoltaic (PV) modules and 210 custom-manufactured light-filtering PV modules arrayed to form a carport in an employee parking lot.
The system's capacity of 251 kilowatts* -- capable of generating 450,000 kilowatt hours per year -- will be equivalent to the electrical needs of 68 typical California homes.** According to Clean Power Research's PV calculator, generating this amount of electricity through conventional fossil fuel resources would annually release more than 500,000 pounds of carbon dioxide, a suspected contributor to global warming; 150 pounds of nitrous oxide, which has been linked to the destruction of the Earth's ozone layer; and 12 pounds of sulfur dioxide, the principal contributor to acid rain.
"Kyocera's 251kW PV system is a valuable contribution to our goal of 50 megawatts of renewable generated power within the next decade," said San Diego Mayor Dick Murphy. "As more businesses understand the value of energy independence, we will see the price of these installations becoming even more competitive."
The Kyocera carport PV system is planned to be completed in September 2004.

"Kyocera supports the City's direction in producing clean energy independence to sustain San Diego's claim as 'America's Finest City," said Rodney N. Lanthorne, President of Kyocera International, Inc., and director of the global parent, Kyocera Corporation. "We will focus our rapidly growing grid-connected solar energy business in the San Diego region. The planned carport is intended to showcase Kyocera's solar technology and its practical applications."
A stable supply of electricity is critical to Kyocera's Kearny Mesa plant, where the manufacturing process depends on electric kilns. Because products "in-process" can be ruined if a kiln cools unexpectedly, a prolonged power outage could result in a substantial loss. To guard against this, the company adopted a strategy of energy independence for the factory in the late 1980s, building a 3.2-megawatt natural-gas driven cogeneration facility, and a 50kW rooftop PV system that the planned carport system will replace. Without the power provided through cogeneration and PV resources, Kyocera's Kearny Mesa facility would rank among the top five non-governmental consumers of utility-supplied electricity in San Diego County; using these resources, however, the facility will be up to 100% energy independent.
"The economic viability of PV systems like this represents a milestone for businesses throughout California," said Steve Hill, President of Kyocera Solar, Inc., which is supplying the system. "By installing this system on a Kyocera facility, we are setting a benchmark for commercial PV installations, and jump-starting the solar revolution in San Diego."
About Kyocera
Kyocera Solar, Inc. is a world-leading supplier of environmentally sound, solar electric energy solutions. With operating headquarters in Scottsdale, Ariz., and regional sales centers in Brazil and Australia, Kyocera Solar, Inc. serves thousands of customers in both developed and developing regions. The company is a wholly-owned subsidiary of Kyocera International, Inc. of San Diego, the North American headquarters and holding company for Kyoto, Japan-based Kyocera Corporation.

Kyocera Corporation, the parent and global headquarters of the Kyocera Group, was founded in 1959 as a producer of advanced ceramics. By combining these engineered materials with metals and plastics, and integrating them with other technologies, Kyocera Corporation has become a leading supplier of solar energy systems, telecommunications equipment, semiconductor packages, electronic components, cameras, laser printers, copiers and industrial ceramics. During the year ended March 31, 2003, the company's net sales totaled 1.069 trillion yen ($9.06 billion) with net income of 41.1 billion yen ($348 million).
# # #

* kW rating based on PTC / PVUSA test conditions, adjusted for inverter efficiency estimated at 94%.
** Based on average California residential consumption of 6,592kWh per year, from California Energy Commission report, "Buying a Photovoltaic Solar Electric System," 2003 edition.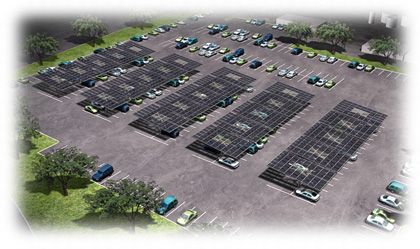 This artist's rendering shows an aerial view of the 251kW carport PV system Kyocera is planning for its North American headquarters and Kearny Mesa manufacturing plant at 8611 Balboa Avenue in San Diego. Construction is planned to begin this month and be completed in September 2004.
FOR MEDIA
Download JPEG image
3x5" at 150dpi

Top of page