News
KYOCERA "Strobe:" A Messaging Phone with Style and Fun on the Outside, Full QWERTY Power on the Inside
Stylish and fun phone opens to reveal internal display and full keypad for texting, IM'ing and more
Las Vegas -- (January 5, 2006) -- Kyocera Wireless, a leading global manufacturer of CDMA wireless phones and devices, today unveiled the new Strobe™ wireless handset at the Consumer Electronics Show. Strobe features a curved, stylish candy-bar design that opens lengthwise to reveal a second color display and full QWERTY keyboard inside, making it ideal for text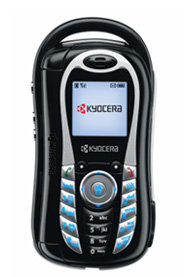 messaging, email and instant messaging (IM). In consumer testing, Strobe has drawn raves from younger demographics, impressed by its combination of fun features, style and an expected price-point below other similarly featured devices on the market today. Strobe is expected to launch at CDMA carriers globally in Q2 2006.
From the outside, Strobe's hourglass figure and loop antenna set it apart. A quick flip of a thumb, however, reveals the QWERTY keypad and larger color screen for optimal viewing of games, photos and much more. A unique feature allows users to alternate between the open and closed modes as many times as they like during a session without disrupting the phone's basic functionality. Shutterbugs won't miss a shot using Strobe's simple VGA camera with a flash, dedicated camera button and digital zoom. And multimedia messaging service (MMS) makes sending pictures a breeze.*
"QWERTY keypads aren't just for the business user anymore and Strobe gives younger consumers a messaging device designed just for them," said Jim Kelly, executive vice president and chief operating officer at Kyocera Wireless. "Kyocera is all about simplifying the user experience and when it comes to texting and instant messaging, that's exactly what we've done. Strobe is stylish and functional and we're confident it will be the hands-down best value in its class when it hits the market."
Strobe includes a WAP 2.0 browser*, built-in polyphonic ring tones, screen savers, and caller alerts. Convenience features include a contact directory and voice-activated dialing. Productivity tools include scheduler, calculator, alarm clock, stopwatch, tip calculator, countdown timer and voice memos.
Strobe is CDMA2000® 1X enabled and will be offered to carriers with JAVA or BREW software to support downloading of games, ringtones and much more to further personalize the handset.
The Kyocera Strobe measures 4.24 in x 2.05 in x .95 in (108 mm x 52 mm x 24 mm) and weighs 4.0 oz (115 grams). It has up to 3 hours of talk time, and up to 150 hours of standby. A complete line of Genuine Accessories by Kyocera™ will also be available for Strobe, including a new Sport Strap that's perfect for tethering the phone to a backpack.
Strobe will reach the retail market in Q2 2006 and wireless service providers who offer the phone will set their respective retail prices. For more information on Strobe or other upcoming phones from Kyocera Wireless, visit www.kyocera-wireless.com/coming-soon.
* May be subject to additional charges.
About Kyocera Wireless Corp.
Kyocera Wireless Corp. is a leading supplier of innovative, feature-rich CDMA wireless devices and accessories for customers worldwide. Kyocera Wireless maintains an operating belief in the genius of simplicity and strives to make the wireless experience as simple and intuitive as humanly possible. The company is a wholly owned subsidiary of Kyocera International Inc., which acquired QUALCOMM Incorporated's CDMA consumer wireless phone business in February 2000. Based in San Diego, the company is ISO-14001 and ISO-9001 certified and has won city, state and federal awards for its environmentally friendly manufacturing and recycling practices. For more information, please visit www.kyocera-wireless.com.
Kyocera Corporation (NYSE: KYO), the parent and global headquarters of the Kyocera Group, was founded in 1959 as a producer of advanced ceramics. By combining these engineered materials with metals and plastics, and integrating them with other technologies, Kyocera has become a leading supplier of telecommunications equipment, semiconductor packages, electronic components, cameras, laser printers, copiers, solar energy systems and industrial ceramics. During the year ended March 31, 2005, Kyocera Corporation's consolidated net sales totaled approximately US$11 billion (JP¥ 1,180,655 million) with net income of approximately US$429 million (JP¥ 45,908 million).
© 2005 Kyocera Wireless Corp. All rights reserved. Kyocera is a registered trademark of Kyocera Corporation. Strobe and Genuine Accessories by Kyocera is a trademark of Kyocera Wireless Corp. CDMA2000 is a trademark of the Telecommunications Industry Association (TIA-USA). JAVA is a trademark of Sun Microsystems, Inc. BREW is a registered trademark of Qualcomm Inc. All other marks are properties of their respective owners.
Contacts
Kyocera Wireless Corp.
John Chier
phone: 1-858-882-3543
e-mail: jchier@kyocera-wireless.com
LPI Communications for Kyocera Wireless
Melody Parrette/Leasa Ireland
phone: 1-858-361-9731 (on site cell)
e-mail: melody@lpicommunications.com

Top of page