News
Solar Canopied Walkway Installation at the University of South Carolina Wellness Center Completed Utilizing Kyocera Solar Modules
Project marks the first solar installation at the University to date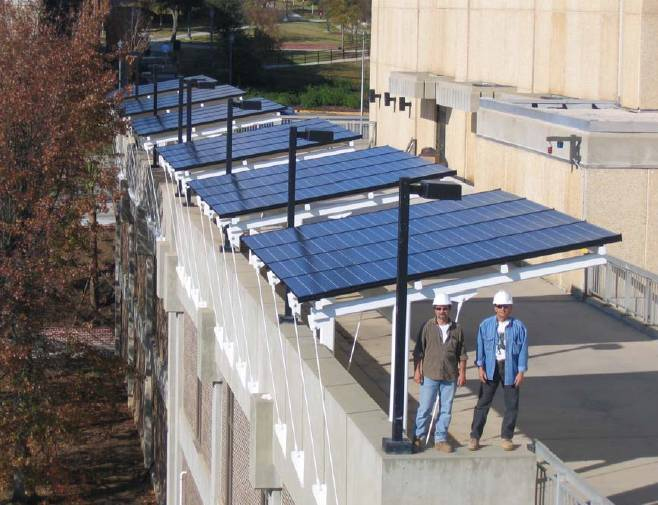 Columbia, SC, March 12, 2007—Kyocera Solar, Inc. and OneWorld Sustainable, an authorized Kyocera dealer, have announced the completion of a 25.6 kilowatt solar canopied walkway installation at the University of South Carolina's Blatt PE building, the campus's main fitness and wellness center. The project serves as the first solar installation on the campus to date.
Completed in March 2007, the installation includes 128 Kyocera KC- 200 GT modules, along with 4 SMA 6000U inverters. The system's mount consists of a custom design steel structure with a UniRac sun frame.
"The system was designed to serve as a canopied walkway that connects the Blatt P.E. Building to the Bates Housing complex, one of the campus's dormitories," stated Keith Freeman, OneWorld Sustainable Executive Vice President/CTO and NABCEP certified PV installer. "The students can use the walkway for shade as they watch soccer and football practice on the field below, so the installation is pedestrian, as well as environmentally friendly." Freeman added.
The panels, which will produce an estimated 32,000 kWh annually, are used to supply electricity to the USC system.
The University is an active proponent in the Sustainable Universities Initiative, a partnership of South Carolina colleges and universities that is aiming toward a sustainable future through research, teaching, community service and facilities management.
Santee Cooper, the South Carolina state-owned electric and water utility that funded the project is also actively involved with the Initiative.
"USC has taken a real leadership role in renewable energy applications. This visible solar walkway will inspire students to seek new ways to meet our growing energy needs," said Liz Kress, principal engineer for Santee Cooper. "We are extremely pleased with the design of the system as well as the environmental purpose it serves in the state of South Carolina." added Kress.
In total, more than 2 million South Carolinians receive their power directly or indirectly from Santee Cooper, making it the largest producer of electricity in the state.
Doug LaGrone, Central Territory Manager with Kyocera Solar, Inc. described working with Santee Cooper and OneWorld has been a very positive experience. "Kyocera is proud to provide solar modules for the USC project because we know that the future of our environment truly lies in the hands of these young people, and we hope that they will want to make a difference by seeing the project first hand." LaGrone concluded.
Kyocera Solar, Inc. is a world-leading supplier of environmentally sound, solar electric energy solutions. With operating headquarters in Scottsdale, AZ and regional sales centers in Brazil and Australia, Kyocera Solar, Inc. serves thousands of customers in both developed and developing regions. The company is a wholly-owned subsidiary of Kyocera International, Inc. of San Diego, the North American headquarters and holding company for Kyoto, Japan-based Kyocera Corporation. For more information on Kyocera Solar Energy Systems, contact Kyocera Solar, Inc's Customer Service Division at 800-544-6466 or visit http://www.kyocerasolar.com.
Kyocera Corporation (NYSE: KYO), the parent and global headquarters of the Kyocera Group, was founded in 1959 as a producer of advanced ceramics. By combining these engineered materials with metals and plastics, and integrating them with other technologies, Kyocera Corporation has become a leading supplier of solar energy systems, telecommunications equipment, semiconductor packages, electronic components, laser printers, copiers and industrial ceramics.
OneWorld Sustainable, Inc. is one of the Southeast's largest sustainable energy companies and is dedicated to the advancement of solar, wind, and micro hydro energy generation. They offer a wide range of consultation, design, and implementation services for both residential and commercial market segments. OneWorld is responsible for the development of the Georgia Solar Schools Program, an initiative designed to encourage student interest in environmental and social sustainability issues. Their International Outreach Initiative includes a variety of projects located throughout Kenya, Southern Sudan, Malawi, and Tanzania. For more information, please visit http://www.oneworldsustainable.com
The Blatt PE Center is the main recreational facility at the University of South Carolina. The Center is located in the middle of campus, adjacent to the large recreational field complex. The newer Strom Thurmond Wellness & Fitness Center is set on the south west corner of Assembly and Blossom Streets. Both facilities cover 400,000 total square feet of space. The centers include open recreation areas for basketball, volleyball, badminton, racquetball, handball and squash, as well as group fitness classes. Students, faculty and staff are welcome at both facilities. For more information, please visit http://campusrec.sc.edu/blatt/.

Top of page