News
KYOCERA Wireless Reveals Stylish CDMA Handsets at CTIA Wireless 2008
Lineup includes first KYOCERA devices to support AWS frequency bands
Las Vegas, NV -- (April 1, 2008) -- Kyocera Wireless Corp. (KWC), a leading global manufacturer of wireless phones and devices, today announced three new CDMA handsets at the CTIA Wireless trade show in Las Vegas. Headlined by the striking Kyocera Neo E1100, the lineup features elegant designs packed with features that belie their affordable price points. Along with the Neo E1100, KWC introduced the Kyocera Mako S4000 and the Kyocera Adreno S2400. All three of the phones support cellular (800 MHz), PCS (1900 MHz) and AWS frequencies (1700 and 2100 MHz) and will be available in Q3 2008.
The announcement comes on the same day that KWC unveiled its first-ever GSM handsets and its parent company, Kyocera Corp., finalized its acquisition of Sanyo's mobile phone division. The transaction makes Kyocera the sixth largest wireless phone manufacturer in the world.
"This is a milestone day for Kyocera in the mobile phone business," said Dave Carey, vice president and general manager of KWC's Consumer Products Group. "Our new CDMA handsets mark another step in the development of our core CDMA business, while our expansion into the GSM market significantly broadens our global market opportunities and the Sanyo acquisition gives us unprecedented new economies of scale and depth of resources. We're making a very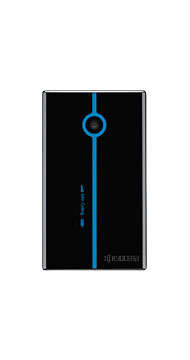 clear statement today that Kyocera is committed to long-term growth and success in this industry."
Kyocera Neo E1100
The Neo E1100 stands apart because of a brilliant light-pipe that is an integral part of the phone's external housing. As calls or messages are received, the light-pipe comes to life, along with a hidden OLED caller-ID display. Beauty is more than skin deep, however, as the phone's reverse hinge opens to reveal a large, vibrant 2.2" QVGA display. Other features include Bluetooth® 2.0, speaker-independent voice recognition and a 1.3-megapixel camera with dedicated side-key controls. Rounding out the feature-set are picture caller ID; MMS, EMS, SMS and instant messaging; built-in MP3 ringtones, screen savers and wallpapers; predictive text input for rapid text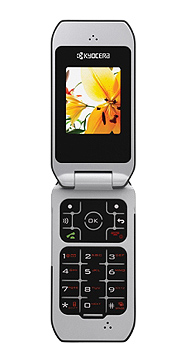 entry; BREW® 3.1.5; Web access and the ability to send and receive email.*


Kyocera Mako S4000
For those who don't want to break the bank for a phone that overflows with good looks, the Kyocera Mako S4000 answers the call. Targeting consumers who would gladly trade multimedia features for affordable style, this clamshell design offers a color external display and tempered edges that make it easy to flip open. Inside is a large, graduated keypad and a vibrant 1.8-inch display. The phone features Bluetooth, a VGA camera, WAP 2.0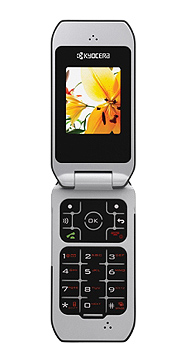 and Brew 3.1.5.



Kyocera Adreno S2400
The sporty Kyocera Adreno S2400 clamshell phone focuses on "retro cool" with a tactile finish and curved edges. High-contrast colors on the large keypad and a large 1.8-inch display make it easy for dialing and texting. The phone also features MP3 ringtones and an external caller ID display.




KWC is displaying its new CDMA handsets, along with new GSM models and several emerging-technology demonstrations at the CTIA Wireless 2008 trade show (booth #6007) this week in Las Vegas. Additional information is available at www.kyocera-wireless.com.
About Kyocera Wireless Corp.
Kyocera Wireless Corp. is a leading supplier of innovative, feature-rich wireless devices and accessories for customers worldwide. The company is a wholly owned subsidiary of Kyocera International Inc., which acquired QUALCOMM Incorporated's CDMA consumer wireless phone business in February 2000. Based in San Diego, Kyocera Wireless leverages Japan's history of creating advanced consumer technologies around humanism and respect for the environment and blending them with a Western entrepreneurialism and style, resulting in a unique design language and a natural, user-friendly interface. For more information, please visit www.kyocera-wireless.com.
Kyocera Corporation (NYSE: KYO), the parent and global headquarters of the Kyocera Group, was founded in 1959 as a producer of advanced ceramics. By combining these engineered materials with metals and plastics, and integrating them with other technologies, Kyocera has become a leading supplier of telecommunications equipment, semiconductor packages, electronic components, laser printers, copiers, solar energy systems and industrial ceramics. During the year ended March 31, 2007, Kyocera Corporation's consolidated net sales totaled approximately US$10.8 billion (JP¥1,283,897 million) with net income of approximately US$895 million (JP¥106,504 million).
* Some features dependent upon carrier availability. Kyocera Wireless Corp. All rights reserved. Kyocera is a registered trademark of Kyocera Corporation. The Bluetooth word mark and logos are owned by the Bluetooth SIG Inc. and any use of such marks by Kyocera Wireless Corp. is under license. BREW is a registered trademark of QUALCOMM. All other marks are properties of their respective owners.
For more information, contact:
Kyocera Wireless Corp.
John Chier
phone: 1-858-882-3543
e-mail:
jchier@kyocera-wireless.com

Top of page