News
Small Business Goes Solar - Integrity Building Corp Latest to Adopt
New Solar Electric System Using Kyocera Photovoltaic Modules Tests Above 100 Percent of Expected Projections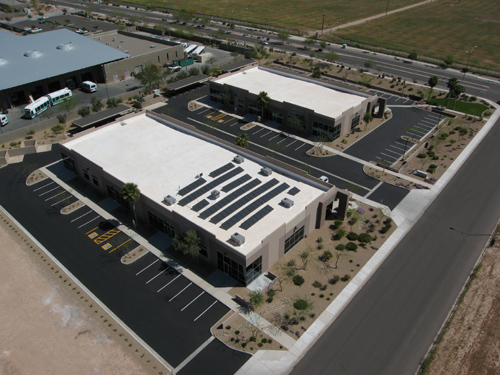 SCOTTSDALE, Ariz. — July 15, 2008 --Kyocera Solar, Inc. and American Solar Electric, Inc. today announced that a recently unveiled 19.2 kilowatt solar electric power system has tested at 106 percent of expected projections. The new system -- independently tested by Phoenix's utility company, Salt River Project (SRP) -- is installed at the Integrity Building Corp (IBC) headquarters in Mesa, Ariz., and has allowed the small business to save thousands of dollars on electricity.
Designed and installed by American Solar Electric, the flat-roof grid-connected photovoltaic (PV) system is comprised of 96 Kyocera KC200GT high output 200-watt PV modules. The solar electric system is estimated to produce 32,640 kilowatt hours of electricity annually, which equates to offsetting nearly 450 tons of CO2 emissions over the life of the system.
"The fact that the solar electric system featuring Kyocera's modules has outperformed expectations and tested above 100 percent is indicative of the company's longstanding commitment to excellence, and providing quality solar energy products to the world," said Steve Hill, president of Kyocera Solar, Inc.
Following the lead of municipalities, universities and home builders, small businesses have shown an increased interest in solar power. As small businesses make up the largest portion of Arizona's business sector, it's a trend that could have a significant impact on the solar industry while contributing to a reduction in the state's carbon footprint.
"This is an exciting time for the solar industry as more companies like IBC are showing their commitment to clean energy," said Lori Singleton, SRP manager of Sustainable Initiatives and Technologies.
IBC is projected to alleviate most of the cost of the system with incentives in three layers: an SRP EarthWise Solar Energy rebate, federal and state tax credits, and corporate depreciation.
"IBC's project is a great example of how a small business can realize the benefits of a PV power system," said Sean Seitz, president of American Solar Electric. "Not only will they save money on their utility bill by generating their own solar electricity, but they also significantly increased the value of their property."
The SRP EarthWise Solar Energy program is designed to help reduce the cost of installing a new solar electric or solar water heating system for residential and business customers who invest in the clean, zero-emissions energy source. An incentive of $2.50 per watt is available for business customers that install solar electric systems larger than 10 kilowatts.
Under SRP's Sustainable Portfolio, goals set by its publicly-elected board of directors, SRP must secure sustainable and renewable resources to meet 15 percent of its retail energy needs by 2025.
The program determines the incentive payment to the customer -- $50,000 for the IBC project -- based on the projected energy production of the system. This approach encourages customers and installers to invest in the most efficient products available.
"IBC is committed to practical sustainability; each person does what they can to help preserve our environment," said Kevin Benson, president of Integrity Building Corp. "We live in a desert – using solar power is one of the easiest steps we can take to reduce our carbon footprint."
For more information, log onto www.srpnet.com/solarbiz or contact Chico Hunter at SRP at chico.hunter@srpnet.com .
Integrity Building Corp is an Arizona-based general contractor specializing in the construction and tenant improvement of office, medical offices, retail, entertainment and public markets in the Phoenix metropolitan area. IBC's team of professionals provides a full-range of services from preconstruction assistance during the permitting process to owner occupancy.
American Solar Electric, Inc. is an Arizona-based design-build firm specializing in photovoltaic (solar electric) power systems for commercial, industrial, and residential applications. Headquartered in Scottsdale, the company is responsible for the installation of more than five megawatts of photovoltaic power in Arizona, statewide. American Solar Electric's approach includes system design, permitting, procurement, installation, interconnection, and commissioning. Additional information on the company's products and services is available on-line at http://www.americanpv.com.
Salt River Project is the third-largest public power utility in the nation, serving more than 935,000 electric customers in the greater Phoenix metropolitan area.
Kyocera Solar, Inc. (http://www.kyocerasolar.com) is a world-leading supplier of environmentally sound, solar electric energy solutions. With operating headquarters in Scottsdale, Ariz. and regional sales centers in the U.S., Brazil and Australia, Kyocera Solar, Inc. serves thousands of customers in both developed and developing regions. The company is a wholly-owned subsidiary of Kyocera International, Inc. of San Diego, the North American headquarters and holding company for Kyoto, Japan-based Kyocera Corporation (NYSE:KYO).

Top of page