News
KYOCERA and Independence Power Announce Completion of 268 kW Solar Power System in Burbank, California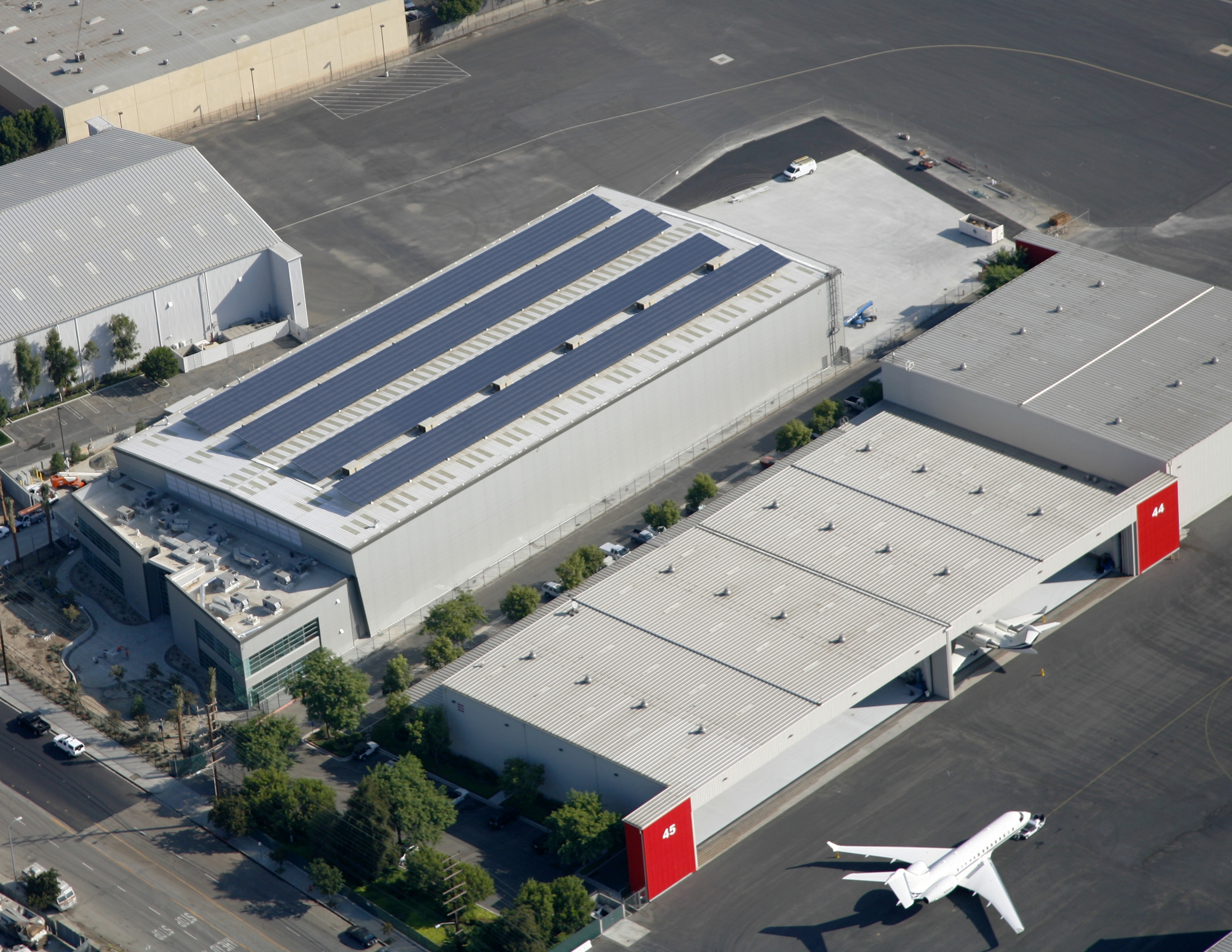 Los Angeles, CA – December 19, 2008 -- As part of the construction of a new private aviation hangar at the Bob Hope Airport in Burbank, Calif., Independence Power has completed a 268 kW solar power system which meets 100% of the requirements for the new hangar and attached office building. The structure was built by Shangri-La Construction, and is occupied by Avjet Corporation.

The structure has been certified at a LEED Platinum level, and is the first aircraft hangar to be entirely powered by solar power.

The system consists of 1,530 Kyocera 175 watt panels, which are mounted on a custom steel superstructure. The steel was designed to meet appearance goals of the building architect, as well as an angle which supports energy conversion in the solar panels. Power conditioning is provided by a Xantrex GT-250 inverter.

According to Fred Cherrick, president of Independence Power, there were significant challenges which had to be overcome during construction. "The roof design was quite complex, which in addition to the solar power system, included over 220 large skylights, and a number of evaporative coolers," said Cherrick. "Yet the roof surface was only minimally able to support work environment, so maintaining worker safety was an important challenge. The roof was 50 feet over the floor level, and the hangar was completely clear span. The solar power system utilizes only about 30% of the total hangar roof area."

Kyocera Solar, Inc. from Scottsdale, Ariz. supplied the solar panels for this project.

"This project is indicative of a larger, global trend – companies moving towards energy independence through the use of solar energy," stated Steve Hill, president of Kyocera Solar. "We are taking steps to meet this demand by expanding our Tijuana facility, which will contribute to Kyocera's increase in global manufacturing output to 650 MW by 2012 from 207 MW in 2007."

According to Independence Power, the system is expected to produce over 450,000 kWh per year. It utilizes Independence Power's design techniques which result in higher power generation.

The system includes the IDEAä power monitoring system, which provides web-based monitoring of solar power generation and building usage. This provides continuous monitoring of net metering, allowing the tenants to control their power usage to achieve any net metering goals.

The solar power system is sized to provide all power for the aircraft hangar, aircraft moving and maintenance equipment, and the attached office complex.

Independence Power is a licensed general, electrical, and engineering contractor, located in Los Angeles, California.

Top of page