News
Mexican President Felipe Calderón Inaugurates KYOCERA's New Solar Module Manufacturing Facility in Tijuana
Federal, state and municipal leaders join celebration; new plant will quadruple Kyocera's solar manufacturing capacity in Mexico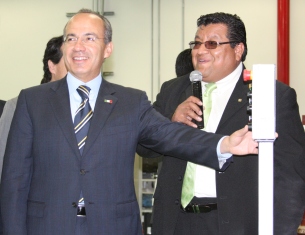 President Calderón presses the switch to activate Kyocera's new automated warehouse, demonstrating the five-level robotic inventory management system.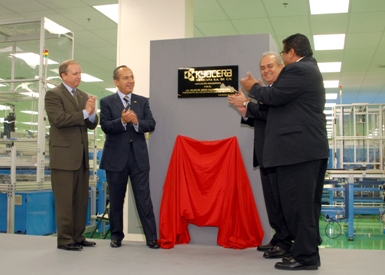 President Steve Hill, President Felipe Calderón, Lic. Jose Guadalupe
Osuna Millan, President Saul Garcia Huerta applaud after unveiling
the commemorative plaque.

TIJUANA, BAJA CALIFORNIA,MEXICO – March 6, 2009 – Kyocera yesterday inaugurated its second manufacturing plant in Tijuana to produce solar photovoltaic modules, a line of renewable energy products that convert sunlight into useable electricity with no noise, no moving parts and no pollution. The event began with an off-site breakfast attended by Mexican President Felipe de Jesús Calderón Hinojosa; officials of the Mexican federal government; the Governor of the State of Baja California Norte; Mayors of the Cities of Tijuana, Mexicali, Tecate, Rosarito and Ensenada; and the presidents of Kyocera Mexicana, S.A. de C.V., Kyocera America, Inc. and Kyocera Solar, Inc.
President Calderón, Baja Governor José Guadalupe Osuna Millán and Tijuana Mayor Jorge Ramos visited the Kyocera facility in the Tijuana Industrial Park immediately after the breakfast, taking time to meet the work force and unveil a commemorative plaque in honor of the new plant.

President Calderón used the occasion to announce his intention to implement a large-scale program of renewable energy in Mexico, which will include Mexican-made solar modules such as those produced at Kyocera. "Kyocera gives us a clear case of how we can transform critical moments into new opportunities using long-term vision," President Calderón said through an interpreter. "I know that Kyocera will sell these panels quickly as warm bread, even before the U.S. economy recovers, especially with a society that is clearly looking to renewable energy, such as California."
Kyocera Mexicana, S.A. de C.V. President Saul Garcia recognized the group of several hundred Kyocera employees and thanked them for their efforts to increase solar module production. "Kyocera Mexicana bases its strength on the quality of our people, who uphold our corporate motto to 'Respect the Divine and Love People,'" Garcia stated. "Together, we commit to expanding our production to achieve 150 megawatts per year in annual output."
Kyocera Solar, Inc. President Steve Hill compared the current economic recession with the downturn of 1973, which had been caused by the world's first energy crisis and global dependence on fossil fuels. That recession ended with at least one favorable development, Hill noted. "It was in 1973 that Kyocera's founder, Dr. Kazuo Inamori, began researching solar energy," he said. "Today, solar energy products represent Kyocera's fastest-growing business worldwide."
New Kyocera Plant in Tijuana
Kyocera's new, two-story manufacturing plant in Tijuana encompasses 223,000 square feet of production space, plus an additional 28,000-square-foot facility connecting the new factory to a pre-existing Kyocera plant. At its maximum annual production capacity of 150 megawatts, the plant will produce enough solar modules to equip 42,600 homes each year with 3.5-kilowatt solar electric generating systems.
Other Kyocera Solar Plants
The new facility is part of a multi-year plan to expand Kyocera's global manufacturing capacity for solar modules, which are produced in Mexico, the Czech Republic, China and Japan. By the end of March 2012, these four sites will possess combined annual capacity to produce 650 megawatts (MW) of solar modules ― enough to create 3.5-kilowatt solar-electric generating systems for about 185,000 homes per year. The company has planned to invest an estimated 30 billion yen (about $300 million) in plant and equipment during the course of the expansion effort, both at these module manufacturing sites and at its solar cell production center in Yohkaichi, Japan.
About Kyocera
Kyocera Mexicana, S.A. de C.V. is a provider of quality manufacturing services based in Tijuana, Mexico. Kyocera Solar, Inc. (http://www.kyocerasolar.com) is a world-leading supplier of environmentally sound, solar electric energy solutions with operating headquarters in Scottsdale, Ariz. and regional sales centers in the U.S. and Australia. Both enterprises are wholly-owned subsidiaries of Kyocera International, Inc. of San Diego, the North American headquarters and holding company for Kyoto, Japan-based Kyocera Corporation.
Kyocera Corporation (NYSE: KYO / http://www.kyocera.com), the parent and global headquarters of the Kyocera Group, was founded in 1959 as a producer of advanced ceramics. By combining these engineered materials with metals and plastics, and integrating them with other technologies, Kyocera Corporation has become a leading supplier of solar energy systems, telecommunications equipment, semiconductor packages, electronic components, laser printers, copiers and industrial ceramics. During the year ended March 31, 2008, the company's net sales totaled 1.29 trillion yen (approximately $12.9 billion).
Contact:
Stephanie Kellems, Alarus Agency, (619) 347-2715, E-mail: skellems@alarus.biz
Tom Dyer, Vice President, Kyocera Solar, Inc., 800-223-9904, E-mail: tom.dyer@kyocera.com

Top of page