News
KYOCERA Delivers High-Temperature Ceramic Micro-Turbine Rotors to Nationally Recognized Research Laboratory
VANCOUVER, Wash., June 8, 2009 -- Kyocera Industrial Ceramics Corporation today announced that it has delivered high-temperature silicon nitride SN-282 rotors to a nationally recognized gas turbine engine (GTE) research and development laboratory, which is developing a three-kilowatt GTE-powered electrical generator.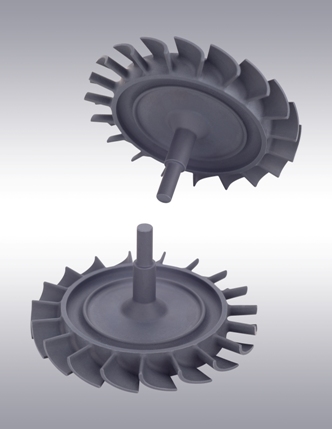 Kyocera's SN-282 ceramic material is the rotor material of choice for the manufacturer's miniature gas turbine engine due to its exceptional creep resistance at high temperatures and Kyocera's proven capability to mass-produce ceramic components in complex net shapes for cost-sensitive markets.
SN-282's high-temperature properties allow for a progressive engine design that does not require rotor blades to have embedded cooling-air channels — a structural element that traditionally presents manufacturing complications and dramatically increases production costs.
Additionally, the higher operating temperature permitted by ceramic creates significant gains in thermal efficiency. As a result, Kyocera expects the ceramic-equipped GTE to provide a competitive alternative to the internal-combustion engine. The ceramic-equipped GTE will compete with, or beat, small gasoline engines on fuel economy — while providing the superior longevity and reliability of a gas turbine.
Demand for portable three-kilowatt generators for use in land and air applications is expected to grow significantly over the next 10 years.
Kyocera has been providing high quality monolithic ceramic components to the gas turbine engine industry for more than 20 years, with facilities in the United States and Japan. For product information or a quotation, please contact:
Kyocera Industrial Ceramics Corporation
Steven Foster, Aerospace Products
5713 E. Fourth Plain Blvd.
Vancouver, WA 98661
Tel: 360-607-7003
email: steven.foster@kyocera.com
About Kyocera
Kyocera Industrial Ceramics Corporation (http://www.kyocera.com/kicc) is headquartered in Vancouver, Wash. The company manufactures cutting tools and advanced ceramic components, and markets LCDs, thermal printheads, ultra-high vacuum metallized assemblies and industrial lenses. It is a wholly-owned subsidiary of Kyocera International, Inc. of San Diego, the North American holding company for Kyocera Corporation.
Kyocera Corporation (NYSE:KYO) (TOKYO:6971) (http://global.kyocera.com), the parent and global headquarters of the Kyocera Group, was founded in 1959 as a producer of fine ceramics (also known as "advanced ceramics"). By combining these engineered materials with metals and plastics, and integrating them with other technologies, Kyocera has become a leading supplier of industrial ceramics, electronic components, semiconductor packages, cutting tools, solar power generating systems, copiers, laser printers, and telecommunications equipment. For the year ended March 31, 2009, Kyocera Corporation recorded consolidated net sales of ¥1.13 trillion (about US$11.5 billion), with net income of ¥29.5 billion (about US$301 million). Kyocera marks its 50th anniversary in 2009, and the 40th anniversary of its U.S. operations. It is ranked #418 on Forbes magazine's 2009 "Global 2000" listing of the world's largest publicly traded companies.

Top of page