News
KYOCERA Reveals the Human Side of Android With the Kyocera Zio M6000 Smartphone
Las Vegas - March 23, 2010 - Kyocera Communications Inc., provider of Kyocera- and Sanyo-branded wireless devices, today added a human touch to the high-tech smartphone market with the introduction of the Kyocera Zio™ M6000 Android™ smartphone at the CTIA Wireless 2010 trade show. Zio blends an elegant design with an ultra-intuitive user interface to unlock the vast array of content and applications in Android Market. Zio, which marks Kyocera's return to the smartphone space it helped to create nearly a decade ago with the release of two Palm-based smartphones, will launch in Q2.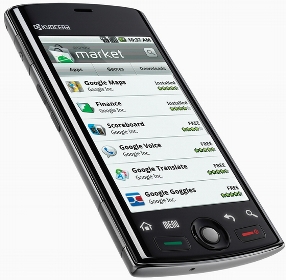 Zio (pronounced Z? -O) uses CDMA2000 1xEV-DO rev. A and Wi-Fi network technologies and features an impressive, high-resolution 3.5-inch WVGA motion-enhanced, touch-screen display as a backdrop for a fully customizable mobile multimedia experience. Along with the touch-screen, an intuitive, effortless trackball helps users navigate features such as the 3.2 MP camera with 30fps video record/playback, media player, full HTML web browser, Google Maps™ and countless widgets and applications such as Facebook, Twitter, Open Table and more available in Android Market . Zio offers substantial user-available internal memory (256MB) and supports an additional 32GB through its microSD memory slot. And, no smartphone would be complete without an ambient light sensor and accelerometer for easy viewing virtually any way, anywhere.
"Returning to the smartphone space with a compelling Android-based device makes Zio a milestone product for Kyocera," said Eric Anderson, vice president of sales at Kyocera Communications Inc. "We've received great feedback about this phone from our customers and we're confident that consumers will embrace it just as warmly."
The phone's other key features include a virtual QWERTY keypad, advanced voice dialing, a superior speakerphone, stereo Bluetooth® and 3.5mm stereo headset jack, USB 2.0, and a dedicated camera key to have fun with apps such as PhotoVault and Google Goggles™. The handset measures in at 116 x 58.6 x 12.2 mm and has a talk time of up to 6 hours and standby of up to 18 days. Zio supports AAC, AAC+, eAAC and MP3 audio formats; H263, H264 and MPEG4 video formats; and BMP, GIF, JPEG, PNG, and SVG-Tiny image formats.
"Zio stands apart among Android devices because we intentionally set out to humanize this advanced technology and make it accessible and approachable for any consumer - without sacrificing functionality or style," said Tom Maguire, head of global marketing at Kyocera Communications Inc. "We're confident that Zio is the ideal platform to bring the power and customization of Android to an entirely new audience."
About Kyocera
Kyocera Communications Inc. (KCI) is the sales, marketing, customer engineering and service headquarters for Kyocera- and Sanyo-branded wireless products and accessories in the Americas. The company's devices are driving the convergence of telecommunications, broadband and multimedia. KCI was formed in April 2009 through the combination of Kyocera Wireless Corp. and Kyocera Sanyo Telecommunications Inc., two wholly owned subsidiaries of Kyocera International Inc. The former was created when Kyocera purchased QUALCOMM Incorporated's consumer wireless phone business in 2000, while the latter was formed when Kyocera purchased the wireless phone business of Sanyo Electric Co., Ltd. in 2008. Based in San Diego, KCI leverages Japan's history of creating advanced consumer technologies around humanism and respect for the environment and blending them with a Western entrepreneurialism and style, resulting in a unique design language and a natural, user-friendly interface. For more information, please visit www.kyocera-wireless.com.
Kyocera Corporation (NYSE:KYO) (TOKYO:6971) (http://global.kyocera.com/), the parent and global headquarters of the Kyocera Group, was founded in 1959 as a producer of fine ceramics (also known as "advanced ceramics"). (also known as "advanced ceramics"). By combining these engineered materials with metals and plastics, and integrating them with other technologies, Kyocera has become a leading supplier of telecommunications equipment, office-document imaging equipment, solar power generating systems, semiconductor packages, electronic components, cutting tools and industrial ceramics. During the year ended March 31, 2009, the company's net sales totaled 1.13 trillion yen (approximately US$11.5 billion). Kyocera marks its 50th anniversary in 2009, and the 40th anniversary of its U.S. operations. It is ranked #418 on Forbes magazine's 2009 "Global 2000" listing of the world's largest publicly traded companies.
© 2010 Kyocera. All rights reserved. Kyocera is a registered trademark of Kyocera Corporation. Bluetooth mark is owned by the Bluetooth SIG Inc. and any use of such marks is under license. microSD is a trademark of SanDisk Corporation. CDMA2000 is a registered trademark of TIA. All other trademarks are the properties of their respective owners.
For more information, contact:
Kyocera Communications, Inc.
John Chier
phone: 858.882.3543
e-mail: john.chier@kyocera.com
For more information, contact:
LPI Communications for Kyocera
Melody Parrette
phone: 858.361.9731
e-mail: melody@lpicommunications.com

Top of page