News
KYOCERA Introduces a Ceramic Knife Sharpener for the Home
COSTA MESA, Calif., Jul 14, 2010 -- Kyocera Advanced Ceramics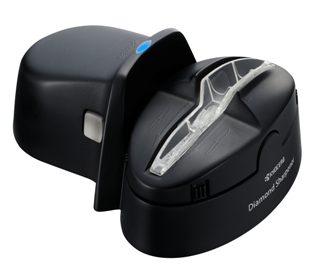 recently introduced an electric ceramic knife sharpener (Model # DS-50, MSRP: $79.95) to the US market for a simple solution to sharpening Kyocera knives at home.
-- Battery powered, this ceramic sharpener has a diamond grinding stone that can sharpen chips up to 0.5mm deep.
-- A convenient knife guide slot and assist roller allow for user-friendly and controlled sharpening of the ceramic knife blade.
-- Grinding stone and cover are separate for easy cleaning.
-- A replacement diamond grinding stone is available for future use.
-- Set up for right or left handed use
-- Kyocera still offers a complimentary sharpening service through mail, visit their website for complete information: https://secure.kyoceraadvancedceramics.com/products/warranty/
This sharpener and all Kyocera Advanced Ceramic products are available direct at: http://www.kyoceraadvancedceramics.com/
About Ceramic Cutlery
Kyocera ceramic knives hold a razor-sharp edge 10 times longer than conventional cutlery, are chemically inert and typically half the weight of equivalent steel knives. Ceramic will not rust or transfer a metallic taste or smell, keeping foods fresh. Since the ceramic blade is so light, no artificial weight is added to the handle. This creates an extremely balanced, lightweight tool that becomes a comfortable extension of the hand, reducing fatigue during repetitive cutting tasks.
About KYOCERA
Kyocera Tycom Corp. is the world's premier manufacturer of carbide cutting tools for the printed circuit board industry and precision micro tool supplier to the medical, electronic, industrial, automotive and aerospace industries. It is also the U.S. distributor for Kyocera Advanced Ceramics cutlery and kitchen tools. The company is a wholly owned subsidiary of San Diego, Calif.-based Kyocera International, Inc., the North American headquarters and holding company for Kyoto, Japan-based Kyocera Corporation.
Kyocera Corporation (NYSE: KYO | (TOKYO:6971) (http://global.kyocera.com/), the parent and global headquarters of the Kyocera Group, was founded in 1959 as a producer of fine ceramics (also known as "advanced ceramics"). By combining these engineered materials with metals and plastics, and integrating them with other technologies, Kyocera has become a leading supplier of cutting tools, electronic components, semiconductor packages, industrial ceramics, solar power generating systems, document imaging systems and telecommunications equipment. During the year ended March 31, 2009, the company's net sales totaled 1.13 trillion yen (approximately US$11.5 billion). Kyocera marks its 50th anniversary in 2009, and the 40th anniversary of its U.S. operations. It is ranked #418 on Forbes magazine's 2009 "Global 2000" listing of the world's largest publicly traded companies.
SOURCE: Kyocera Advanced Ceramics
Kyocera Advanced Ceramics

Katie Shaw
Marketing Manager Manager
(714) 428-3711
katie.shaw@kyocera.com


Top of page