News
KYOCERA MITA America Honored with BERTL's Prestigious Five Star, Exceptional Ratings for TASKalfa MFPs
Kyocera's TASKalfa 300i, TASKalfa 420i and TASKalfa 520i Honored for Business-Critical Features and Functions, Design and Innovation, Ease of Use and Exceptional Value
FAIRFIELD, N.J. – July 13, 2010 -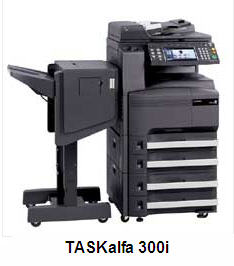 Kyocera Mita America, Inc.,
one of the world's leading document solutions companies,
today announced that it has been recognized by BERTL, Inc. with Five Star, Exceptional ratings for its TASKalfa 300i, TASKalfa 420i and TASKalfa 520i black and white multifunctional products (MFP). BERTL's Five Star, Exceptional rating is reserved exclusively for devices that deliver an outstanding range of business-critical features and functions, are innovative, easy to use, well-designed and represent exceptional value for the money for their target base. BERTL, Inc. is a leading news, research and critical analysis service for the office technology industry.
BERTL, Inc. analysts evaluated several hundred copiers, printers, fax, multi-functional, color and production devices to identify the select group of devices that stand apart from the others. Kyocera's TASKalfa monochrome MFPs earned recognition from BERTL for their ability to offer high productivity speeds, class-leading preventive maintenance (PM) schedules (300,000 for the 300i, 500,000 for the 420i/520i), and industry-leading memory capacity of 2GB of RAM and 160GB hard disk drive. Kyocera's TASKalfa series received high marks for print and copy productivity, high image resolution of 600dpi for optimum image quality, extensive paper supply for the 300i (2,200 sheets) and 420i/520i (4,200 sheets), as well as document finishing and security features.
"Kyocera is committed to surpassing industry standards for all of our ultra-reliable and value-driven products, and receiving BERTL Five Star, Exceptional ratings for three of our industry-leading MFPs is a result of our continual commitment to excellence," said Michele McDonald, product and solutions marketing manager, black & white MFPs, Kyocera Mita America. "This recognition by BERTL further demonstrates Kyocera's dedication to delivering class- and industry-leading document imaging products with superior durability, print quality and the lowest total cost of ownership."
Kyocera also received high marks for its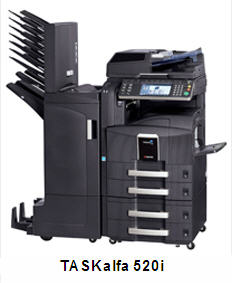 customizable application development platform,
HyPAS (Hybrid Platform for Advanced Solutions), designed to extend the value of Kyocera's MFPs through both Java and Web Service applications. HyPAS allows Kyocera and its dealers to customize many of its products to specific business applications and improve efficiency for the end-user. Further enhancing HyPAS, Kyocera recently announced the Kyocera Developer Support Program, which provides a roadmap for creating robust integrated HyPAS-developed solutions that are compatible with industry-standard solutions and build dealer revenue through solution-driven hardware placements.
"Kyocera has clearly proven its ability to offer MFPs that deliver an outstanding range of business-critical features and functions with the performance and durability that allow businesses to optimize their document imaging needs while controlling costs," said Megan Cadematori, vice president at BERTL, Inc. "Kyocera's TASKalfa monochrome MFPs have demonstrated what it means to achieve BERTL's Five Star, Exceptional rating."
About BERTL, Inc.
The Business Equipment Research and Test Laboratories Inc., (BERTL) is an independent testing laboratory whose purpose is to provide objective, independent product evaluation reports and comparative analyses on imaging devices and software solutions. BERTL prohibits any manufacturer-control over its product evaluations, and bases its opinions, ratings and awards on a combination of rigorous analysis and worldwide customer satisfaction research.
At all times, BERTL's primary focus is the end user. BERTL's evaluation reports, customer satisfaction research, awards and product ratings are undertaken entirely at BERTL's expense for the benefit of its worldwide subscriber base. Covering all major imaging manufacturers, BERTL publishes the world's most extensive Web site of evaluation reports, comparisons data, vertical market research, news and more on copiers, printers, MFPs, production and workgroup scanners, fax machines, color and production equipment and wide format devices. BERTL reports, research and other industry informative services are available in a range of specialized subscription services. To learn more about BERTL, visit www.BERTL.com or telephone 1.973.882.0200.
ABOUT KYOCERA MITA AMERICA
Kyocera Mita America, Inc. (www.kyoceramita.com/us), headquartered in Fairfield, N.J., is a leading provider of computer-connectable document imaging and document management systems, including network-ready digital MFPs/printers, laser printers, color MFPs/printers, digital laser facsimiles, and multifunctional and wide format imaging solutions. Kyocera Mita America is a group company of Kyocera Mita Corporation. Kyocera Mita Corporation is a core company of Kyocera Corporation, the world's leading developer and manufacturer of advanced ceramics and associated products, including telecommunications equipment, semiconductor packages and electronic components. Kyocera Mita America, the first document solutions company with third-party certified sales data, has earned numerous honors for its products' high performance, reliability and cost efficiency. Kyocera Corporation's consolidated net revenues exceeded $11 billion for the year ending on March 31, 2010.

Top of page