News
KYOCERA MITA America Launches Color Multifunctional Printers Offering Superior Image Quality and Low Total Cost of Ownership
With release of the FS-C2026MFP and FS-C2126MFP Kyocera Now Provides One of the Most Comprehensive Lines of Multifunctional Printers on the Market Today
FAIRFIELD, N.J. – Aug. 18, 2010 - Kyocera Mita America, Inc.,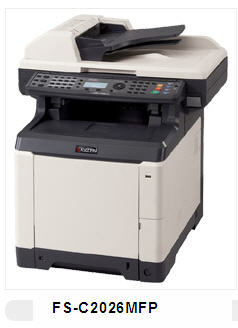 one of the world's leadingdocument solutions companies, today introduced the
FS-C2026MFP and FS-C2126MFP 28 page per minute color multifunctional printers. As part of Kyocera's ECOSYS® line of environmentally friendly products, the FS-C2026MFP and FS-C2126MFP meet Energy Star™ guidelines for power efficiency and utilize long-life consumables for consistent high-quality image color output and low total cost of operation.
"Many businesses struggle with legacy office technologies that are inefficient, unreliable and very costly. This is why Kyocera is driven to produce document solutions designed to consolidate older devices and deliver on our promise of offering devices with ultra reliability, high productivity and a low TCO," said Michele McDonald, product & solutions marketing manager for Kyocera Mita America. "The FS-C2026MFP and FS-C2126MFP exemplify Kyocera's commitment to provide devices that work harder to help businesses become more efficient and successful in today's competitive marketplace. These devices will allow any office to produce professional quality documents more affordably than ever before."
The FS-C2026MFP and FS-C2126MFP are designed for device consolidation by including features such as color print, copy and scan (The FS-C2126MFP includes black and white fax capabilities), in an all-in-one device with a low TCO, fast speeds and superior color quality. Engineered using Kyocera's ECOSYS technology, the FS-C2026MFP and FS-C2126MFP incorporate long-life consumables and components and deliver maximum business "uptime" with an industry leading 200,000 page preventive maintenance (PM) schedule. This outstanding preventive maintenance interval creates longer periods of time between required service visits, contributing to ultra reliability and low total cost of ownership.
The FS-C2026MFP and FS-C2126MFP meet organizations' demand
for superior output quality while simultaneously managing costs and include a 50-sheet document processor, standard 300-sheet paper capacity with two optional 500-sheet drawers, and 768MB of standard memory (upgradeable to 1792MB), to ensure fast and efficient processing for printing, scanning, faxing and copying.
For added convenience, the FS-C2026MFP and FS-C2126MFP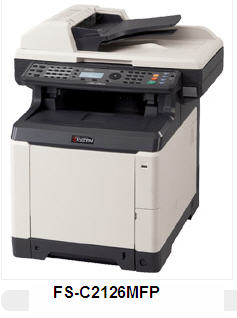 come standard with a versatile USB Host interface. The front-loading USB Host Interface provides end-users with Print-from and Scan-to capabilities in PDF, TIFF and XPS file formats. This interface makes it easier to work between hard copy and electronic files without a computer, therefore, improving overall productivity and workflow efficiency. In addition, the devices provide the user with monochrome and color scanning capabilities including scan to PC, scan to e-mail, Scan to FTP, scan to USB, WSD scan and TWAIN scan.
For improved ease-of-use, Kyocera's new color MFPs include standard network printing, a robust PowerPC446 667 MHz processor and 600 dpi print resolution. Both the FS-C2026MFP and FS-C2126MFP support multiple page description languages, including Kyocera's PRESCRIBE, PCL6 (5c, XL), KPDL3 (PS3 compatible), and XPS, and can be connected in any Windows®, Mac or Linux environment.
The FS-C2026MFP and FS-C2126MFP join the already successful FS-3140MFP, FS-3040MFP (42 PPM), FS-1128MFP, FS-1028MFP/DP and FS-1028MFP (30 PPM) black and white multifunctional printers creating one of the most comprehensive lines of multifunctional printer line-up in the industry today.
Pricing and Availability
The FS-C2026MFP and FS-C2126MFP are available now through authorized Kyocera Mita dealers, at a manufacturer's suggested retail price (MSRP) of $3,549 and $3,999 respectively. For more information on Kyocera's line of color and black & white MFPs, or to find the nearest dealer, please visit Kyocera Mita America's dealer locator at: www.kyoceramita.com/us.
ABOUT KYOCERA MITA AMERICA
Kyocera Mita America, Inc. (www.kyoceramita.com/us), headquartered in Fairfield, N.J., is a leading provider of computer-connectable document imaging and document management systems, including network-ready digital MFPs/printers, laser printers, color MFPs/printers, digital laser facsimiles, and multifunctional and wide format imaging solutions. Kyocera Mita America is a group company of Kyocera Mita Corporation. Kyocera Mita Corporation is a core company of Kyocera Corporation, the world's leading developer and manufacturer of advanced ceramics and associated products, including telecommunications equipment, semiconductor packages and electronic components. Kyocera Mita America, the first document solutions company with third-party certified sales data, has earned numerous honors for its products' high performance, reliability and cost efficiency. Kyocera Corporation's consolidated net revenues exceeded $11 billion for the year ending on March 31, 2010.

Top of page