News
Kyocera Mita America Launches Multifunctional Printers Offering Operational Cost Savings and Ecological Design
FS-3140MFP and FS-3040MFP Deliver Ultra-Reliability and Superior Performance with Industry Leading Low Total Cost of Ownership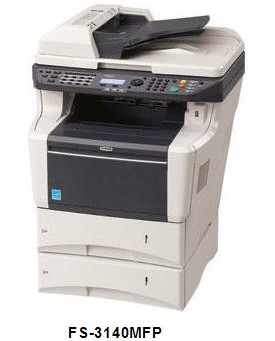 FAIRFIELD, N.J. – July 7, 2010 - Kyocera Mita America, one of the world's leading document imaging companies, today introduced the FS-3140MFP and FS-3040MFP 42 page-per-minute (PPM) black and white multifunctional printers. As part of Kyocera's ECOSYS® line of environmentally friendly products, the FS-3140MFP and FS-3040MFP meet Energy Star™ guidelines for power efficiency and utilize long-life consumables for consistent high-quality image output and low total cost of operation.
The Kyocera FS-3140MFP and FS-3040MFP are designed to make the best use of office resources, finances and productivity for small office environments by consolidating single-function office technology into multifunctional products that include print, copy and color scan on the FS-3040MFP, while the FS-3140MFP includes fax capabilities.
"As the cost of business continues to rise, Kyocera is focused on delivering office technology that improves productivity while offering the lowest operational cost possible," said William Cassidy, director, product marketing, Kyocera Mita America. "We know our customers are focusing on the bottom line now more than ever, and they're looking for office solutions that are reliable, efficient and have the lowest TCO. Kyocera developed the ECOSYS product line to provide long-life consumables that minimally impact on the environment and the bottom line while delivering strong output speeds and superior print quality. We're confident the FS-3140MFP and FS-3040MFP will meet our customers' demands for performance and efficiency, and will deliver one of the lowest costs per print."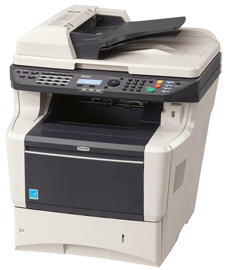 Kyocera's new monochrome MFPs incorporate an extensive list of standard features intended to improve the productivity of any office, offering flexible paper handling, standard paper-saving duplex and superior image performance, all in a compact, economical and ecological desktop footprint. The FS-3140MFP and FS-3040MFP offer a maximum 2,100 sheet paper capacity from up to five paper sources for high-volume output requirements. The MFPs feature one standard 500-sheet drawer capable of handling paper sizes from statement to legal, and weights ranging from 16-28lb bond. The standard 100-sheet multi-purpose tray accommodates various media types including bond and recycled paper, transparencies, cardstock and envelopes.
The FS-3140MFP and FS-3040MFP were engineered using Kyocera's ECOSYS technology designed to incorporate long-life consumables and components and deliver maximum business "uptime" with an industry leading 300,000 page preventive maintenance (PM) schedule. This outstanding preventive maintenance interval creates longer periods of time between required service visits, contributing to ultra reliability and low total cost of ownership.
With its advanced technology for document imaging and print solutions, Kyocera is changing the way business is conducted. Businesses are integrating existing office equipment with document, network, and device solutions in their ongoing efforts to regain control of costs, improve user productivity, and protect sensitive and confidential data. Kyocera offers powerful printer solutions like the KX Driver, KMnet Viewer, Status Monitor, and PRESCRIBE to fit customized business needs. Kyocera's KX Driver offers users an enhanced print driver that provides full control over your important documents.
For improved ease-of-use, standard network printing includes a PowerPC440/667 MHz processor and 1200 dpi print resolution. The FS-3140MFP and FS-3040MFP support multiple page description languages, including Kyocera's PRESCRIBE, PCL6 (5e, XL), KPDL3 (PS3 compatible), and XPS, and can be connected in any Windows®, Mac or Linux environment. In addition, the FS-3140MFP and FS-3040MFP offer several standard scanning destinations, including Scan-to-E-mail, Scan-to-PC, Scan-to-FTP and Scan-to-USB. Scanning is TWAIN/WIA (Windows® Image Acquisition) compliant and enables users to save and send documents in JPEG, PDF, TIFF and XPS file formats.
Pricing and Availability
The FS-3140MFP and FS-3040MFP are now available through authorized Kyocera dealers at a manufacturer's suggested retail price of $2979.00 and $2649.00, respectively. To find the nearest dealer, please visit Kyocera Mita America's dealer locator at: www.kyoceramita.com/us.
ABOUT KYOCERA MITA AMERICA
Kyocera Mita America, Inc. (www.kyoceramita.com/us), headquartered in Fairfield, N.J., is a leading provider of computer-connectable document imaging and document management systems, including network-ready digital MFPs/printers, laser printers, color MFPs/printers, digital laser facsimiles, and multifunctional and wide format imaging solutions. Kyocera Mita America is a group company of Kyocera Mita Corporation. Kyocera Mita Corporation is a core company of the Kyocera Corporation, the world's leading developer and manufacturer of advanced ceramics and associated products, including telecommunications equipment, semiconductor packages and electronic components. Kyocera Mita America, the first document solutions company with third-party certified sales data, has earned numerous honors for its products' high performance, reliability and cost efficiency. Kyocera Corporation's consolidated net revenues exceeded $11 billion for the fiscal year ending on March 31, 2010.

Top of page