News
Solar Monkey and KYOCERA Solar Bring the Power of the Sun to Rainbow Sandals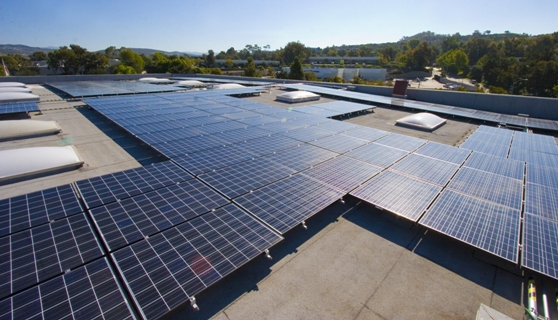 SCOTTSDALE, Ariz. – August 31, 2010 – Solar Monkey and Kyocera Solar, Inc. today announced the completion of a solar energy system at the San Clemente, Calif. headquarters of Rainbow Sandals, Inc.
Comprised of 1,170 Kyocera KD210GX-LPU high-output 210-watt modules, and designed and installed by Solar Monkey of Irvine, Calif., the 245.70 kilowatt system is expected to produce 340,000 kilowatt hours annually. Mounted on the roof of Rainbow Sandals' corporate office, the system is projected to offset 87% of the building's energy usage.
With a 35-year commitment to environmental preservation and sustainable energy, solar energy has become Kyocera's fastest-growing business globally with new production operations recently added in San Diego, Calif. "Rainbow Sandals joins a growing number of business and residential consumers who are turning to solar power to meet their energy needs, " said Steve Hill, president of Kyocera Solar, Inc. "With solar energy offering a safeguard against the rising costs of electricity and being an environmentally sustainable alternative to fossil fuels, the demand for solar energy systems is rapidly increasing."
An experienced system integrator, Solar Monkey has helped Kyocera meet a growing demand for its products. According to Matthew McCullough, CEO of Solar Monkey, "We are focused on providing the highest quality and most efficient solar energy systems available. Kyocera was a natural partner for this project as they have a proven track record of outstanding module performance and have a 35-year history in the industry that backs up their offerings in the market."
The environmentally-conscious Rainbow Sandals will derive a majority of its energy needs from the newly installed solar system. "The trio, Rainbow Sandals, Solar Monkey and Kyocera share a core philosophy — to make a better product while reducing the impact on the environment," said Jay "Sparky" Longley, president and founder of Rainbow Sandals. "That, coupled with Solar Monkey's engineering expertise and outstanding service, created a formidable taskforce to achieve our sustainable energy goals. We are thrilled with how this project turned out."
About KYOCERA
Kyocera Solar, Inc. (http://www.kyocerasolar.com) is a world-leading supplier of environmentally sound, solar electric energy solutions. With operating headquarters in Scottsdale, Ariz. and regional sales centers in the U.S., Brazil and Australia, Kyocera Solar, Inc. serves thousands of customers in both developed and developing regions. The company is a wholly-owned subsidiary of Kyocera International, Inc. of San Diego, the North American headquarters and holding company for Kyoto, Japan-based Kyocera Corporation.
Kyocera Corporation (NYSE:KYO) (TOKYO:6971) (http://global.kyocera.com/), the parent and global headquarters of the Kyocera Group, was founded in 1959 as a producer of fine ceramics (also known as "advanced ceramics"). By combining these engineered materials with metals and plastics, and integrating them with other technologies, Kyocera Corporation has become a leading supplier of solar electric generating systems, telecommunications equipment, copiers, printers, electronic components, semiconductor packages, cutting tools and industrial ceramics. During the year ended March 31, 2010, the company's net sales totaled 1.07 trillion yen (approximately USD11.5 billion). Kyocera marked its 50th anniversary in 2009, and the 40th anniversary of its U.S. operations. It is ranked #554 on Forbes magazine's 2010 "Global 2000" listing of the world's largest publicly traded companies.
About Solar Monkey
Solar Monkey is a full-service, one-stop provider of solar system integration and solar power generation services. The Company provides the development, design and engineering, procurement, construction and installation, financing, and operation and maintenance of commercial-scale solar power generation facilities to commercial, industrial, educational, and government customers.
In addition to solar system integration and power generation, the Company has expanded into other complementary service lines that include energy management systems, energy efficiency consulting, lighting and LEED certification. The Company believes that these services are a natural extension of its solar and engineering capabilities and they allow the Company to solidify customer relationships and generate additional recurring revenues.
Information on Solar Monkey and the ways in which Solar Monkey helps to add value to its clients is available at www.solarmonkey.net.

Top of page