News
KYOCERA Modules Installed at NFI's Cherry Hill, NJ Warehouse
1.322 MW of investment grade solar expected to offset more than 1.5m lbs of CO2 annually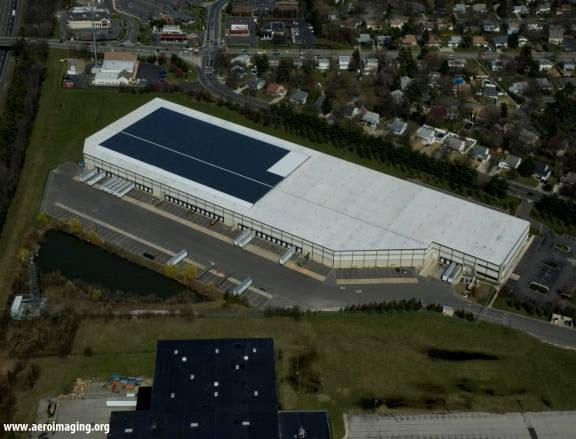 Scottsdale, AZ- September 8, 2010- KYOCERA Solar, Inc. today announced the completion of a 1.322MW solar PV system at NFI's Cherry Hill, New Jersey warehouse. NFI is a national leader in the transportation and logistics industry that has been recognized throughout the United States and internationally for its groundbreaking "green" initiatives supporting sustainability, including the recent creation of its new division NFI Solar.
KYOCERA provided over 6,100 KD215GX-LPU modules for the roof on NFI's 290,000 square foot warehouse. The installation is capable of producing 1.322 MW, or about 1.4 million kilowatt hours of energy, which is enough to power about 200 homes for a year. The system will help reduce NFI's electric bill by up to $25,000 a year.
"NFI Solar had a lot of choices when it came time to select a module," said Chris Brown, Sales Manager for KYOCERA Solar. "KYOCERA's 35 years in the solar industry, 25 years of real world performance data, and huge portfolio of satisfied customers world-wide clearly demonstrate that ours was the most reliable product for NFI Solar."
The solar electric system was designed by Whitman Co, a New Jersey-based environmental and engineering firm, and was installed by Pro-Tech Energy Solutions. Solare Development Group contracted the design, installation and procurement of material on behalf of NFI Solar. NFI Solar provided project financing and will be the long term owner and manager of the solar asset.
"Since NFI Solar is the long term owner of the system, we needed to choose a highly reliable PV module with a proven track record in the field," said Jordan Brown, CEO of NFI Solar (and no relation to KYOCERA's Chris Brown). "KYOCERA Solar modules were perfect for this application."
About NFI
NFI offers a variety of services to help businesses manage, grow and succeed in today's logistics marketplace. It is a fully integrated supply chain solutions provider, offering logistics, distribution, transportation, intermodal and real estate services across the U.S. Headquartered in Vineland, NJ, the company owns nearly 60 trucking and maintenance facilities nationwide, with over 10,000 tractors & trailers encompassing regional and dedicated fleets.
Privately held by one family since its inception in 1932, NFI employs over 5500 individuals, operates over 18 million square feet of contract and public warehouse and distribution space, and generates $900 million in revenue annually. NFI is a partner in the Environmental Protection Agency's SmartWay program, which is dedicated to increasing energy efficiency and reducing the impact of the freight industry upon the environment. NFI is a one-stop resource for integrated supply chain solutions. For more information visit: www.NFIindustries.com
About KYOCERA
Kyocera Solar, Inc. (http://www.kyocerasolar.com) is a world-leading supplier of environmentally sound, solar electric energy solutions. With operating headquarters in Scottsdale, Ariz. and regional sales centers in the U.S., Brazil and Australia, Kyocera Solar, Inc. serves thousands of customers in both developed and developing regions. The company is a wholly-owned subsidiary of Kyocera International, Inc. of San Diego, the North American headquarters and holding company for Kyoto, Japan-based Kyocera Corporation.
Kyocera Corporation (NYSE:KYO) (TOKYO:6971) (http://global.kyocera.com), the parent and global headquarters of the Kyocera Group, was founded in 1959 as a producer of fine ceramics (also known as "advanced ceramics").
By combining these engineered materials with metals and plastics, and integrating them with other technologies, Kyocera Corporation has become a leading supplier of solar electric generating systems, telecommunications equipment, copiers, printers, electronic components, semiconductor packages, cutting tools and industrial ceramics. During the year ending March 31, 2010, the company's net sales totaled 1.07 trillion yen (approximately USD11.5 billion). Kyocera marked its 50th anniversary in 2009, and the 40th anniversary of its U.S. operations. It is ranked #554 on Forbes magazine's 2010 "Global 2000" listing of the world's largest publicly traded companies.
# # #

Top of page