News
KYOCERA Solar Partners with REC Solar to Provide Sustainable Energy to Castle Rock Vineyards
Solar power generating system to be unveiled at California Central Valley vineyard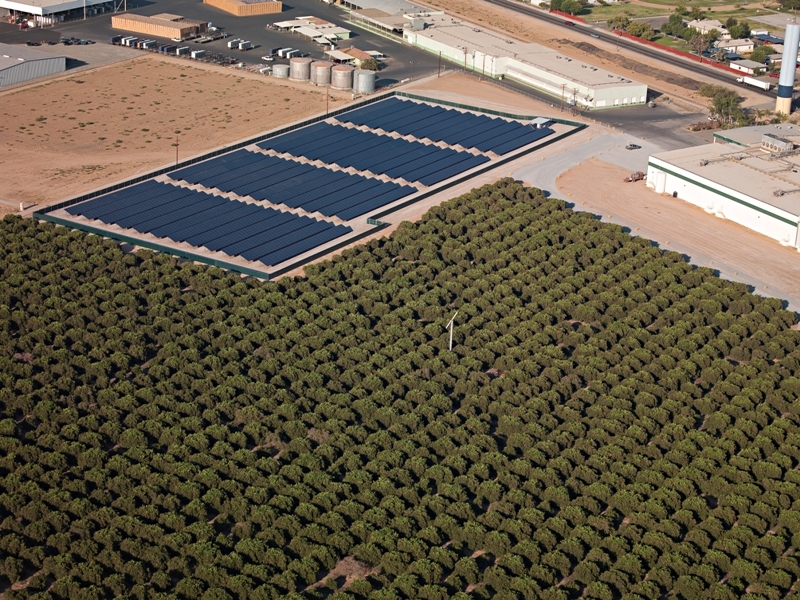 SAN DIEGO, Calif. — September 23, 2010 — Kyocera Solar, Inc. and REC Solar, Inc. today announced the completion of a 1.134-megawatt (MW) solar energy system at Castle Rock Vineyards, located in the heart of California's Central Valley.
The solar electric generating system, designed and installed by REC Solar, consists of 5,400 Kyocera KD210GX-LPU high-output 210-watt modules. One of the largest agricultural solar arrays of its kind, the 1.134 MW ground-mount system is a reliable source of clean energy that will serve to enhance the grower's reputation as a leader in producing high quality food products at the best possible cost using sustainable practices. The installation is expected to have a yearly production output of 1,761,971 kilowatt hours, offsetting Castle Rock Vineyards' energy usage by 69%.
"Kyocera is committed to environmental preservation and providing innovative, cost-effective solar energy solutions for every one of our customers," stated Steve Hill, president of Kyocera Solar, Inc. "Our new solar production facility in San Diego, Calif. combined with our Tijuana, Mexico facility, will allow us to better serve the U.S. market and continue our mission to make solar power a viable, mainstream energy solution."
The vineyard installation is the latest among an increasing number of projects between solar module manufacturer Kyocera Solar and integrator REC Solar. "Kyocera is a strategic partner for REC Solar as we share a commitment to excellence," stated Angiolo Laviziano, CEO of REC Solar, Inc. "By combining Kyocera's high efficiency solar modules with our design and engineering expertise, we are able to provide affordable, top-quality photovoltaic systems and energy solutions to our customers."
About REC Solar, Inc.
REC Solar is an industry-leading solar power provider specializing in grid-tied residential and commercial installations. With a local presence in all major solar markets in the USA and with thousands of kilowatts installed, REC Solar is committed to lowering the cost of solar power through efficient processes, innovative products and outstanding customer service. REC Solar has more than a dozen offices in six states (California, Colorado, Hawaii, Oregon, Arizona and New Jersey). For additional information on REC Solar visit www.recsolar.com or call 1-888-OK-SOLAR (888-657-6527).
About KYOCERA
Kyocera Solar, Inc. (http://www.kyocerasolar.com) is a world-leading supplier of environmentally sound, solar electric energy solutions. With operating headquarters in Scottsdale, Ariz. and regional sales centers in the U.S., Brazil and Australia, Kyocera Solar, Inc. serves thousands of customers in both developed and developing regions. The company is a wholly-owned subsidiary of Kyocera International, Inc. of San Diego, the North American headquarters and holding company for Kyoto, Japan-based Kyocera Corporation.
Kyocera Corporation (NYSE:KYO) (TOKYO:6971) (http://global.kyocera.com/), the parent and global headquarters of the Kyocera Group, was founded in 1959 as a producer of fine ceramics (also known as "advanced ceramics"). By combining these engineered materials with metals and plastics, and integrating them with other technologies, Kyocera Corporation has become a leading supplier of solar electric generating systems, telecommunications equipment, copiers, printers, electronic components, semiconductor packages, cutting tools and industrial ceramics. During the year ended March 31, 2010, the company's net sales totaled 1.07 trillion yen (approximately USD11.5 billion). Kyocera marked its 50th anniversary in 2009, and the 40th anniversary of its U.S. operations. It is ranked #554 on Forbes magazine's 2010 "Global 2000" listing of the world's largest publicly traded companies.
# # #

Top of page