News
KYOCERA Modules Pwer Largest Solar Electric System in Orange County, Calif
1.15 megawtt installation in Irvie consists of 5,472 Kyocera solar modules on three parkng deck roofs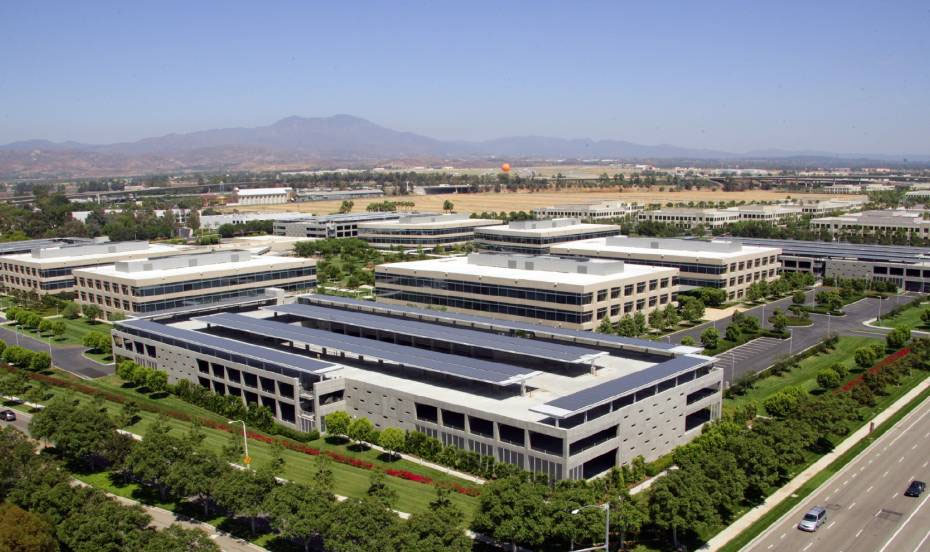 SCOTTSDALE, Ariz.—October 6, 2010—Kyocera Solar, Inc. announced today that 5,472 of its KD210 high-efficiency polycrystalline solar panels were recently installed atop existing shade structures on three parking deck roofs of an Irvine, California-based financial institution campus. The 1.15-megawatt installation is the largest to date in Orange County, Calif.
The photovoltaic system will provide nearly 50% of the energy used to power the corporate campus data center and central plant equipment, which is expected to save the organization more than $14 million in energy costs over the next 25 years.
Independent Energy Solutions, Inc. (IES), a leading developer of turnkey renewable energy systems based in Vista, Calif., designed and constructed the 1.15 MW solar photovoltaic system. Construction of the project took 29 IES installers just 17 days, and was completed in July.
"IES confidently recommended Kyocera modules for this key project because of their efficiency, reliability and cost-effectiveness," added George Gisel, chief operating officer of IES. "We have many years of experience installing various generations of Kyocera modules and they have never let us down. Year after year, Kyocera has consistently been a valued and supportive partner of IES."
The system will produce 1.7 million kilowatt hours of power from the sun each year. Using solar power instead of conventional power reduces CO2 emissions by approximately 30,725 tons over the next 25 years, which is the environmental equivalent of 3.8 million miles not driven by fossil-fuel burning vehicles each year.
"IES used Kyocera's patented G-Frame, a special frame that allows for end-mounting of modules, to maximize the available roof and carport space in this installation," said Brad Cocreham, Kyocera's director of grid tie sales. "The G-Frame enabled creative mounting of the solar array by utilizing brackets and clips on the ends of the panels instead of only on the sides as they're typically mounted."
Kyocera is proud to help this environmentally friendly financial institution go green while it saves green — by producing pollution-free, renewable energy from the sun.
About KYOCERA
Kyocera Solar, Inc. (http://www.kyocerasolar.com) is a world-leading supplier of environmentally sound, solar electric energy solutions. With operating headquarters in Scottsdale, Ariz., and regional sales centers in the U.S., Brazil and Australia, Kyocera Solar, Inc. serves thousands of customers in both developed and developing regions. The company is a wholly-owned subsidiary of Kyocera International, Inc. of San Diego, the North American headquarters and holding company for Kyoto, Japan-based Kyocera Corporation.
Kyocera Corporation (NYSE:KYO) (TOKYO:6971) (http://global.kyocera.com/), the parent and global headquarters of the Kyocera Group, was founded in 1959 as a producer of fine ceramics (also known as "advanced ceramics"). By combining these engineered materials with metals and plastics, and integrating them with other technologies, Kyocera Corporation has become a leading supplier of solar electric generating systems, telecommunications equipment, copiers, printers, electronic components, semiconductor packages, cutting tools and industrial ceramics. During the year ended March 31, 2010, the company's net sales totaled 1.07 trillion yen (approximately USD11.5 billion). Kyocera marked its 50th anniversary in 2009, and the 40th anniversary of its U.S. operations. It is ranked #554 on Forbes magazine's 2010 "Global 2000" listing of the world's largest publicly traded companies.
# # #
Contact: Stephanie Kellems, Alarus Agency
Phone: (619) 235-4542, Cell: (619) 347-2715
E-mail: skellems@alarus.biz
Leila Henry, Alarus Agency
Cell: (619) 368-7428
E-mail: leila@alarus.biz

Top of page