News
KYOCERA Solar Modules Are Best-Performing Crystalline Modules at Desert Knowledge Australia
Kyocera Modules Outshine Competitors in 24-month Test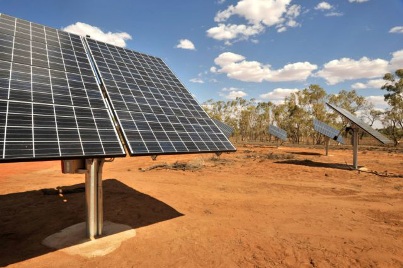 Copyright 2010 CAT Projects. Used by permission.
SCOTTSDALE, Ariz. — Nov. 1, 2010 — Alice Springs, Australia, with around 300 days of sunshine every year, is an ideal test location for solar power installations. The Desert Knowledge Australia (DKA) Solar Centre is a government-funded public showcase of solar installations, demonstrating a range of solar power technologies from many of the world's leading manufacturers.
This collection of solar installations operating under the same environmental conditions since October 2008 allows meaningful comparisons of performance among various brands.
Desert Knowledge Australia Solar Centre is not a research facility, but rather a public installation to demonstrate solar power, with output data available to anyone. Kyocera's interpretation of data collected during a 24-month period and downloaded from DKA shows that Kyocera solar technology delivered more kilowatt hours per installed kilowatt than any other competing crystalline solar module operating for the same 24-month period at the DKA site.
Kyocera has three polycrystalline silicon solar installations at DKA: a fixed pole-mount system; a single-axis tracker that adjusts east-west orientation throughout the day; and a dual-axis tracker that adjusts the array's up-and-down tilt, allowing for variation in the sun's angle during the year as well as moving from east to west throughout the day.
In addition to its interpretive visitor center, which helps educate the public about the benefits and capabilities of solar power, DKA has a world's-first interactive website providing live data feeds from the Solar Centre and information on the operational performance of the different solar technologies. This information is available for viewing by the public — anyone, anywhere, can access it. It is important to look at the Normalised Output tab to view the actual "kilowatt hours generated" per kilowatt of modules installed. This allows comparisons between the different-sized systems.
Kyocera's interpretations contrast with the old belief that monocrystalline silicon solar cells, which are more expensive, may outperform polycrystalline.
"We believe there is an important difference between lab test conditions and real-world results," stated Michael Ludgate, Kyocera Solar, Inc.'s Director of Business Development and Marketing. "The live data feeds from the DKA Solar Centre provide the industry with long-term, system-level data that prove the reliability and performance of solar installations in real-world applications."
The dual-axis tracking system performed best among Kyocera's three installations. Since solar panels generate the most electricity when light hits their surface directly, adjusting the surface to follow the sun increases their electrical output. The dual-axis trackers respond to light sensors on the face of the array, and are powered by the sun.
Meaningful and accurate comparisons of solar technology performance at DKA will improve the knowledge base for solar initiatives globally, helping to create a more sustainable future. For more information, visit www.dkasolarcentre.com.au
About KYOCERA
Kyocera Solar, Inc. (http://www.kyocerasolar.com) is a world-leading supplier of environmentally sound, solar electric energy solutions. With operating headquarters in Scottsdale, Ariz. and regional sales centers in the U.S., Brazil and Australia, Kyocera Solar, Inc. serves thousands of customers in both developed and developing regions. The company is a wholly-owned subsidiary of Kyocera International, Inc. of San Diego, the North American headquarters and holding company for Kyoto, Japan-based Kyocera Corporation.
Kyocera Corporation (NYSE:KYO - News) (TOKYO:6971.t - News) (http://global.kyocera.com/), the parent and global headquarters of the Kyocera Group, was founded in 1959 as a producer of fine ceramics (also known as "advanced ceramics"). By combining these engineered materials with metals and plastics, and integrating them with other technologies, Kyocera Corporation has become a leading supplier of solar electric generating systems, telecommunications equipment, copiers, printers, electronic components, semiconductor packages, cutting tools and industrial ceramics. During the year ended March 31, 2010, the company's net sales totaled 1.07 trillion yen (approximately USD11.5 billion). Kyocera marked its 50th anniversary in 2009, and the 40th anniversary of its U.S. operations. It is ranked #554 on Forbes magazine's 2010 "Global 2000" listing of the world's largest publicly traded companies.
Desert Knowledge Australia, the Australian Government, the Northern Territory Government and the project managers, CAT Projects, do not endorse, and accept no legal liability whatsoever arising from or connected to, the outcomes and conclusions associated with the use of data from the Desert Knowledge Australia Solar Centre.
Contact:
The Alarus Agency
Stephanie Kellems
Phone: (619) 235-4542
Cell: (619) 347-2715
E-mail: skellems@alarus.biz
or
Leila Henry
Cell: (619) 368-7428
E-mail: leila@alarus.biz

Top of page