News
Kinney Construction Services, Inc. Installs 3,838 KYOCERA Solar Modules at Sedona Red Rock High School
806kW installation ranks among the largest school-related installations in the Southwest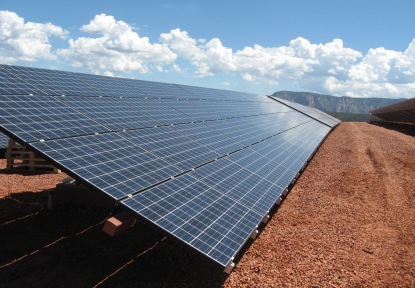 SCOTTSDALE, Ariz. — December 13, 2010 — Kinney Construction Services, Inc. and Kyocera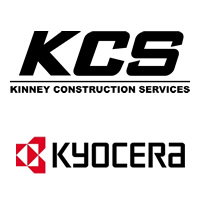 Solar, Inc. today announced the completion of a major solar electric system at Sedona Red Rock High School in Sedona, Ariz., which will be unveiled this afternoon during a ribbon-cutting ceremony at the Sedona-Oak Creek Unified School District campus at 3:30 p.m. The installation utilizes 3,838 of Kyocera's KD210 high-efficiency multicrystalline solar panels.
The 806-kilowatt photovoltaic system is part of the Sedona-Oak Creek Unified School District Alternative Energy Project, an effort to significantly reduce utility expenses while simultaneously preserving the environment by installing photovoltaic systems, a solar hot water heater system, and geothermal technologies.
"Kinney Construction Services is proud to have designed and built this solar electricity generation system at Sedona Red Rock High School," said Tim Kinney, president and CEO of Kinney Construction Services (KCS). "The students, the school district and the community have been extremely supportive of this project, and we're glad to help the school district lower its utility expense while proactively protecting the beautiful natural environment in Sedona."
The photovoltaic system will produce about 1.45 million kilowatt hours of electricity from the sun each year – enough to power about 126 typical homes. Using solar power instead of conventional power reduces carbon dioxide emissions; this 806-kilowatt system reduces annual greenhouse gas emissions at a rate equivalent to taking 199 fossil-fuel burning passenger cars off the road.
"KCS recommended Kyocera solar panels for this important project with confidence because they are proven to be efficient, reliable and cost-effective," Tim explained. "Kyocera has been in the solar energy field for more than 35 years and the company stands behind its warranty, which helps to ensure that the school district will continue producing clean, renewable energy with these modules for decades to come."
KCS is already designing and building additional photovoltaic systems for the school district using Kyocera solar modules, including a 42-kilowatt system on the district office and a 60-kilowatt system at West Sedona School.
"Kyocera is excited to be a part of this significant and educational installation in Sedona by supporting the award-winning design-build firm of Kinney Construction Services," said Steve Hill, president of Kyocera Solar, Inc. "Educating our youth about the benefits of renewable energy is the first step toward a more environmentally conscious future."
An educational PV monitoring system is included with the system to show students exactly how much power is being produced in real time. The entire alternative energy project is scheduled for completion by June 2011.
"The educational component for the students is going to be really intriguing," explained Mike Thomas, KCS Project Manager. "Students will be able to compare different types of photovoltaic systems, including thin-film and multicrystalline technologies, and see the difference in electricity production of fixed versus tracking solar arrays."
About KYOCERA
Kyocera Solar, Inc. (http://www.kyocerasolar.com) is a world-leading supplier of environmentally sound, solar-electric energy solutions. With operating headquarters in Scottsdale, Ariz., and regional sales centers in the U.S., Brazil and Australia, Kyocera Solar, Inc. serves thousands of customers in both developed and developing regions. The company is a wholly-owned subsidiary of Kyocera International, Inc. of San Diego, the North American headquarters and holding company for Kyoto, Japan-based Kyocera Corporation.
Kyocera Corporation (NYSE:KYO) (TOKYO:6971) (http://global.kyocera.com/), the parent and global headquarters of the Kyocera Group, was founded in 1959 as a producer of fine ceramics (also known as "advanced ceramics"). By combining these engineered materials with metals and plastics, and integrating them with other technologies, Kyocera Corporation has become a leading supplier of solar electric generating systems, telecommunications equipment, copiers, printers, electronic components, semiconductor packages, cutting tools and industrial ceramics. During the year ended March 31, 2010, the company's net sales totaled 1.07 trillion yen (approximately USD11.5 billion). Kyocera marked its 50th anniversary in 2009, and the 40th anniversary of its U.S. operations. It is ranked #554 on Forbes magazine's 2010 "Global 2000" listing of the world's largest publicly traded companies.
About Kinney Construction Services, Inc. (KCS)
Founded in 1999, Kinney Construction Services, Inc. (KCS) is a construction services firm, specializing in commercial building construction and renovation, civil construction, and renewable energy projects. KCS serves the commercial office, healthcare, retail, municipal, industrial, education, real estate development, and hospitality industries. KCS' Energy Division focuses on solar energy, wind energy, organic waste diversion and water harvesting projects.
In the past five years, KCS has emerged as Northern Arizona's leader in sustainable building, as it consistently achieves success in weaving environmentally responsible design elements and construction efforts into all of its projects. In 2009, KCS completed construction of Museum of Northern Arizona's Easton Collection Center, a LEED Platinum Certified building by the United States Green Building Council (USGBC). The Center received McGraw Hill Companies' top national award in the Green Building category, making it the Greenest Building of 2009 in the nation! To date, KCS has completed five LEED certified projects, with an additional two currently underway. KCS is based in Flagstaff, Arizona, with licenses in Arizona, California, Colorado, Nevada, New Mexico, and Utah.
# # #
Contact: The Alarus Agency
Stephanie Kellems
Phone: (619) 235-4542
Cell: (619) 347-2715
E-mail: skellems@alarus.biz

Top of page