News
KYOCERA Celebrates One-Millionth Solar Module Produced in North America
Global expansion targets capacity of one gigawatt annually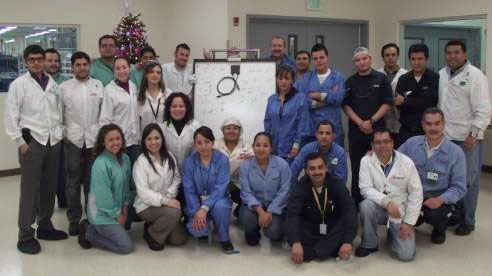 TIJUANA, MEXICO — December 21, 2010 — Kyocera today announced that its manufacturing facility in Tijuana, Mexico, has produced its one-millionth solar module. More than 400 employees gathered for a celebration by signing the back of the module to commemorate the event.
The millionth module testifies to Kyocera's early involvement in solar manufacturing. In December 2004, nearly 30 years after manufacturing its first solar modules in Japan, the company commenced module production in Tijuana. In response to rising demand, Kyocera expanded that facility with a second plant in 2009, increasing the capacity in Tijuana to 240 megawatts (MW) per year. In June 2010, the company began its first U.S. production of solar modules, with an initial capacity target of 30MW per year in San Diego.
Solar energy is now one of Kyocera's fastest-growing businesses globally, with the company targeting global production capacity of 1,000 megawatts annually (equal to one "gigawatt") by March 31, 2013. In addition to the operations in San Diego and Tijuana, Kyocera currently has solar module manufacturing facilities in Japan, China and the Czech Republic.
As an illustration of Kyocera's global expansion plan, the one-gigawatt capacity will allow the company to supply 3.5-kilowatt solar-electric systems for about 285,000 homes each year.
More than 20 Kyocera facilities worldwide already incorporate their own on-site solar electric generating systems, including a 214-kilowatt Solar Grove parking lot in San Diego and a 100-kilowatt rooftop system in Tijuana.
"Our Mexico facility's one-millionth module will go on display to symbolize how far we've come locally in just six years," stated Steve Hill, president of Kyocera Solar, Inc. "This milestone demonstrates Kyocera's 35-year history of commitment to quality and innovation in the solar industry, and serves as an example of how Kyocera is making sustainable energy a truly global effort."
Kyocera established U.S. operations in 1969, and started a trend as the first Japan-based corporation with manufacturing operations in the State of California (in 1971). Kyocera Group companies currently employ approximately 4,000 people in the United States.
About KYOCERA
Kyocera Solar, Inc. (http://www.kyocerasolar.com) is a world-leading supplier of environmentally sound, solar electric energy solutions. With operating headquarters in Scottsdale, Ariz., and regional sales centers in the U.S., Brazil and Australia, Kyocera Solar, Inc. serves thousands of customers in both developed and developing regions. The company is a wholly-owned subsidiary of Kyocera International, Inc. of San Diego, the North American headquarters and holding company for Kyoto, Japan-based Kyocera Corporation.
Kyocera Corporation (NYSE:KYO) (TOKYO:6971) (http://global.kyocera.com/), the parent and global headquarters of the Kyocera Group, was founded in 1959 as a producer of fine ceramics (also known as "advanced ceramics"). By combining these engineered materials with metals and plastics, and integrating them with other technologies, Kyocera Corporation has become a leading supplier of solar electric generating systems, telecommunications equipment, copiers, printers, electronic components, semiconductor packages, cutting tools and industrial ceramics. During the year ended March 31, 2010, the company's net sales totaled 1.07 trillion yen (approximately USD11.5 billion). Kyocera marked its 50th anniversary in 2009, and the 40th anniversary of its U.S. operations. It is ranked #554 on Forbes magazine's 2010 "Global 2000" listing of the world's largest publicly traded companies.

# # #
Contact: Stephanie Kellems, Alarus Agency
Phone: (619) 235-4542, Cell: (619) 347-2715
E-mail: skellems@alarus.biz

Top of page