News
And The Winner Is ...…Technology. Kyocera To Add New Twist To PEOPLE'S CHOICE AWARDS 2011 Broadcast, Replacing Winner Envelopes With "ZIO" Smartphones
Kyocera Announces Winners of "Express Your Zio Style" Sweepstakes, VIP Trip to PCAs in LA
San Diego - December 21, 2010 - Highlighting just how ubiquitous our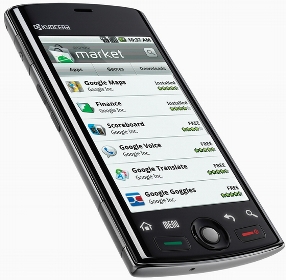 mobile devices have become, this year's winners envelopes at
PEOPLE'S CHOICE AWARDS 2011 (PCAs) will be replaced by "Zio" smartphones during the live ceremony. For the first time, celebrity presenters at the Jan. 5 event, (9:00-11:00 PM, ET/delayed PT) on the CBS Television Network, will read the People's Choice Awards winners from specially programmed Zio phones rather than paper envelopes. Kyocera, maker of the Sanyo Zio, is the official mobile partner of PEOPLE'S CHIOCE AWARDS 2011.
"The inclusion of Zio in the televised awards ceremony is just one of the ways Kyocera and the PCAs are 'pushing the envelope' with mobile technology," said Yasuhiro Ohishi, vice president of sales and marketing at Kyocera Communications Inc. "While we all love the time-honored award-show tradition of the envelope-opening reveal, this brings that tradition into the twenty-first century and is symbolic of the impact of wireless technology in making entertainment content so conveniently available to everyone, everywhere."
While the majority of categories for PEOPLE'S CHOICE AWARDS 2011 have closed, "Favorite New TV Comedy" and "Favorite New TV Drama" will remain open through the start of the live show. Fans can vote in these categories directly on Android-powered mobile devices with the official People's Choice Awards application, created by Kyocera and the PCAs. The free app is available for download from Android Market™.
And the Winner Is…
Kyocera also has completed its "Express Your Zio Style" Sweepstakes. With thousands of entries, the winner is… Melanie Lockhart of Westfield, Indiana. Melanie will receive a VIP trip-of-a-lifetime for her and a guest to PEOPLE'S CHOICE AWARDS 2011, including a $2,500+ red carpet makeover, trip to L.A. complete with personal driver and luxury hotel stay and, of course, VIP passes to the PCAs, red carpet access, after-party and more.
About ZIO
The Zio (pronounced Z? -O) Android™ smartphone balances style and substance with power and beauty - all for an incredible price. For a limited time, Zio is available at no cost from http://www.sprint.com after instant online savings and enrollment in a Sprint service plan.* The intelligently sleek device with the customizable Android operating system opens new realms of rich multimedia experiences with a large WVGA touchscreen, 3.2 MP camera, 30 frame-per-second video camcorder, and access to more than 100,000 Android applications. Zio is available at Sprint retailers nationwide.
ABOUT PEOPLE'S CHOICE:
Now in its 37th year, the People's Choice Awards celebrate fan favorites in music, movies and television. The People's Choice website at www.PeoplesChoice.com serves as a year-round destination for entertainment enthusiasts to voice their opinions on pop culture by voting in and creating polls and features an extensive video archive and photo gallery of People's Choice Awards footage. PeoplesChoice.com houses the voting platform where fans determine the categories, nominees and winners for the annual awards show. Fred Nelson is the President of People's Choice, and the awards show is produced by Procter & Gamble Productions, Inc. which is represented by MediaVest Worldwide, Inc., supervisors of the production. Queen Latifah is the host of PEOPLE'S CHOICE AWARDS 2011 and Mark Burnett is the Executive Producer.
About Kyocera Communications, Inc.
Kyocera Communications, Inc. (KCI) is the headquarters for Kyocera- and Sanyo-branded wireless products and accessories in the Americas. The company's devices are driving the convergence of telecommunications, broadband and multimedia. KCI was formed in April 2009 through the combination of Kyocera Wireless Corp. and Kyocera Sanyo Telecommunications Inc., two wholly owned subsidiaries of Kyocera International Inc. The former was created when Kyocera purchased QUALCOMM Incorporated's consumer wireless phone business in 2000, while the latter was formed when Kyocera purchased the wireless phone business of Sanyo Electric Co., Ltd. in 2008. Based in San Diego, KCI leverages Japan's history of creating advanced consumer technologies around humanism and respect for the environment and blending them with a Western entrepreneurialism and style, resulting in a unique design language and a natural, user-friendly interface. For more information, please visit www.kyocera-wireless.com.
Kyocera Corporation (NYSE:KYO) (TOKYO:6971) (http://global.kyocera.com/), the parent and global headquarters of the Kyocera Group, was founded in 1959 as a producer of fine ceramics (also known as "advanced ceramics"). By combining these engineered materials with metals and plastics, and integrating them with other technologies, Kyocera has become a leading supplier of telecommunications equipment, office-document imaging equipment, solar power generating systems, semiconductor packages, electronic components, cutting tools and industrial ceramics. During the year ended March 31, 2010, the company's net sales totaled 1.07 trillion yen (approximately US$11.5 billion). Kyocera marked its 50th anniversary in 2009, and the 40th anniversary of its U.S. operations. It is ranked #554 on Forbes magazine's 2010 "Global 2000" listing of the world's largest publicly traded companies.
*Terms and conditions available at www.sprint.com
©2010 Kyocera. All rights reserved. Kyocera is a registered trademark of Kyocera Corporation. Android and Android Market are trademarks of Google Inc. Use of these trademarks is subject to Google Permissions. All other marks are properties of their respective owners.
For more information, contact:
LPI Communications for Kyocera Communications
Melody Parrette
phone: 858.361.9731

Top of page