News
Ruggedized, water resistant SANYO TAHO by KYOCERA gives new meaning to term 'Tough Talk,' becomes Sprint's first fully submersible phone available for less than $100
San Diego - December 09, 2010 - Mother Nature has met her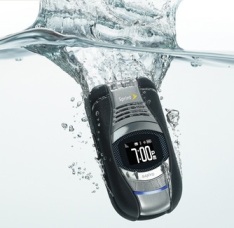 match with the new SANYO Taho by Kyocera, a ruggedized handset that, despite its good looks, can withstand some of the harshest elements and 30 minutes of full immersion in water up to one meter (3.28 feet) deep. Kyocera Communications Inc., provider of Kyocera- and SANYO-branded wireless devices, announced Sprint's (NYSE: S) launch of the new handset today, making it Sprint's first fully submersible device available for less than $100. SANYO Taho is available beginning today through direct-ship sales channels, including Sprint stores, Web sales (www.sprint.com) and Telesales (1-800-SPRINT1) for $99.99 after a $50 mail-in rebate.* It will be available in all remaining Sprint sales channels beginning Jan. 9, 2011.
SANYO Taho's rugged exterior and non-slip grip make it right at home on construction sites, security beats, delivery routes-anywhere you need (or want) to be. Being "military tough" (military standard 810G) means it can stand up to dust, shock, vibration, extreme temperatures, blowing rain and water immersion. But SANYO Taho doesn't scrimp on features; the clamshell handset supports applications including Sprint Navigation and Sprint Family Locator, and includes a robust front-ported speaker phone and a 2 megapixel camera with flash and camcorder.
"This is our first handset that pairs a tough, military-grade design with features to stand up to the rigors and demands of extreme jobs and lifestyles," said Yasuhiro Ohishi, vice president of sales and marketing at Kyocera Communications Inc. "This is the answer for people who are rough on phones or, for whatever reason, regularly find themselves around water. Between outdoor sports and jobs that routinely involve harsh environments, SANYO Taho will help make sure its users are always connected. Anyone who has lost a phone to the elements will understand its value."
SANYO Taho's ergonomic shape is covered in a non-slip Dura-Grip® texture to ensure a solid grip. It has a 2-inch QVGA TFT internal display and 1-inch monochrome external display. The phone includes 256 MB of internal memory, a 1 GB microSD memory card (provided with handset) and support for memory cards up to 32GB. SANYO Taho uses CDMA 1xEV-DO network technology, supporting autonomous GPS and Java Multitasking for third-party location-based services. For workplace or family settings, SANYO Taho can restrict incoming and outgoing voice calls with password protection, disable both the camera and Web access, and lock the phone's GPS functionality on so the phone's location can always be tracked. SANYO Taho offers a robust talk time of up to 6.1 hours.
Kyocera's full line of Kyocera- and SANYO-branded devices can be seen at www.kyocera-wireless.com.
About Kyocera Communications, Inc.
Kyocera Communications, Inc. (KCI) is the headquarters for Kyocera- and SANYO-branded wireless products and accessories in the Americas. The company's devices are driving the convergence of telecommunications, broadband and multimedia. KCI was formed in April 2009 through the combination of Kyocera Wireless Corp. and Kyocera SANYO Telecommunications Inc., two wholly owned subsidiaries of Kyocera International Inc. The former was created when Kyocera purchased QUALCOMM Incorporated's consumer wireless phone business in 2000, while the latter was formed when Kyocera purchased the wireless phone business of SANYO Electric Co., Ltd. in 2008. Based in San Diego, KCI leverages Japan's history of creating advanced consumer technologies around humanism and respect for the environment and blending them with a Western entrepreneurialism and style, resulting in a unique design language and a natural, user-friendly interface. For more information, please visit www.kyocera-wireless.com.
Kyocera Corporation (NYSE:KYO) (TOKYO:6971) (http://global.kyocera.com/), the parent and global headquarters of the Kyocera Group, was founded in 1959 as a producer of fine ceramics (also known as "advanced ceramics"). By combining these engineered materials with metals and plastics, and integrating them with other technologies, Kyocera has become a leading supplier of telecommunications equipment, office-document imaging equipment, solar power generating systems, semiconductor packages, electronic components, cutting tools and industrial ceramics. During the year ended March 31, 2010, the company's net sales totaled 1.07 trillion yen (approximately US$11.5 billion). Kyocera marked its 50th anniversary in 2009, and the 40th anniversary of its U.S. operations. It is ranked #554 on Forbes magazine's 2010 "Global 2000" listing of the world's largest publicly traded companies.
*$99.99 price requires a new two-year service agreement or eligible upgrade, is after a $50 mail-in rebate and excludes surcharges and taxes.
© 2010 Kyocera. All rights reserved. Kyocera is a registered trademark of Kyocera Corporation. Dura-Grip is a registered trademark of Kyocera. microSD is a trademark of SanDisk Corporation. All other marks are properties of their respective owners.
For more information, contact:
LPI Communications for Kyocera Communications
Melody Parrette
phone: 858.361.9731
e-mail: melody@lpicommunications.com

Top of page