News
KYOCERA to Showcase New Ceramic Products at Medical Design & Manufacturing West Show
Company to bring "super materials" for latest medical technologies to MD&M West, Feb. 8-10 in Anaheim, Calif.
Mountain Home, NC — January 18, 2011 — Kyocera Industrial Ceramics Corporation today announced its participation in the Medical Design & Manufacturing West trade show, Feb. 8-10, 2011, at the Anaheim Convention Center.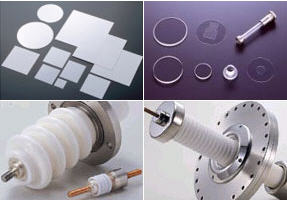 As a world leader in engineered ceramics, Kyocera creates superior materials and core technologies for the drug delivery, implantable, surgical, imaging and in-vitro markets. Show attendees are invited to bring their toughest engineering challenges to the Kyocera booth, #3344, for consultation on the latest material solutions.

Kyocera will display examples of the following products:
For Drug Delivery and Implantable Devices: Metallized ceramic substrates; sapphire components in complex shapes for use in actuators and other medical equipment.
For Surgical Applications: Injection-molded ceramics offering extremely precise dimensional tolerance.
For Imaging Systems: Metallized ceramics for use in X-ray equipment.
For In-vitro Applications: Pump, rotor, stator and valve components made from high-precision, non-corroding ceramics.
For Emerging Applications and Markets: Kyocera product experts will be pleased to discuss custom-made ceramic solutions for your most demanding medical device applications — especially those requiring extreme hardness, heat resistance, wear resistance, corrosion resistance, chemical inertness, biocompatibility, physical stability and/or extreme dimensional precision.
About KYOCERA
Kyocera Industrial Ceramics Corporation (http://www.kyocera.com/kicc) is headquartered in Mountain Home, NC. The company manufactures advanced ceramic components and cutting tools, and markets LCDs, thermal printheads, ultra-high vacuum metallized assemblies, and industrial lenses. It is a wholly-owned subsidiary of Kyocera International, Inc. of San Diego, the North American holding company for Kyocera Corporation.
Kyocera Corporation (NYSE:KYO) (TOKYO:6971) (http://global.kyocera.com/), the parent and global headquarters of the Kyocera Group, was founded in 1959 as a producer of fine ceramics (also known as "advanced ceramics"). By combining these engineered materials with metals and plastics, and integrating them with other technologies, Kyocera has become a leading supplier of high-precision medical and industrial components, cutting tools, electronic devices, semiconductor packages, solar electric generating systems, telecommunications equipment, and office document systems. During the year ended March 31, 2010, the company's net sales totaled 1.07 trillion yen (approximately USD11.5 billion). Kyocera marked its 50th anniversary in 2009, and the 40th anniversary of its U.S. operations. It is ranked #554 on Forbes magazine's 2010 "Global 2000" listing fo the world's largest publicly traded companies.

Top of page