News
KYOCERA Helps Bring Solar Energy Solutions to Phoenix Area Schools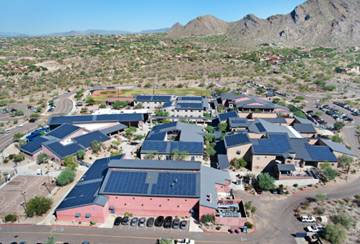 SCOTTSDALE, Ariz. – March 7, 2011 – Kyocera announced today the completion of two solar electric systems in partnership with SolarCity at Phoenix area schools: Copper Ridge in Scottsdale and Cholla Elementary in Casa Grande. Featuring Kyocera solar modules, the two photovoltaic systems have a combined size of more than 764 kilowatts (kW) — enough to offset more than 33 million pounds of carbon dioxide.
Comprised of 2,387 Kyocera KD210 modules, the 500 kW system at the Copper Ridge School is expected to produce 775,992 kilowatt hours (kWh) annually and offset 47 percent of the school's energy usage. Through a solar service agreement (SSA), SolarCity installed the solar panels and continues to monitor and maintain the system. Copper Ridge reaps the benefits of this agreement by harnessing the power produced by the solar system, effectively allowing the school to reduce its energy costs and create savings that can be used for other school services.
With a 264 kW solar system utilizing 1,260 Kyocera KD210 modules, Cholla Elementary School's expected output is 364,000 kWh annually, offsetting 70 percent of the school's energy use. Casa Grande School District recently adopted an Energy and Water Conservation Plan, outlining energy-saving guidelines, including efforts for construction projects to follow LEED-certification processes. Local utility company Arizona Public Service also provided a rebate to offset solar installation costs.
As energy costs continue to rise, so does the demand for solar energy, which provides an environmentally sustainable and cost-effective alternative to fossil fuel-generated electricity. With a 35-year history in the solar industry, Kyocera continues to provide innovative, high quality solar modules to meet this global demand.
"Solar energy provides a financially viable solution to offset rising electricity costs," said Steve Hill, president of Kyocera Solar, Inc. "It is most gratifying for Kyocera to participate in this growing trend among academic institutions to convert to solar power — the Copper Ridge and Cholla projects, and the recent 806kW installation at Sedona Red Rock High School, represent the opportunity to promote sustainable alternatives — and to work with partners such as SolarCity who make it a viable energy solution."
About KYOCERA
Kyocera Solar, Inc. (http://www.kyocerasolar.com) is a world-leading supplier of environmentally sound, solar electric energy solutions. With operating headquarters in Scottsdale, Ariz. and regional sales centers in the U.S., Brazil and Australia, Kyocera Solar, Inc. serves thousands of customers in both developed and developing regions. The company is a wholly-owned subsidiary of Kyocera International, Inc. of San Diego, the North American headquarters and holding company for Kyoto, Japan-based Kyocera Corporation.
Kyocera Corporation (NYSE:KYO) (TOKYO:6971) (http://global.kyocera.com/), the parent and global headquarters of the Kyocera Group, was founded in 1959 as a producer of fine ceramics (also known as "advanced ceramics"). By combining these engineered materials with metals and plastics, and integrating them with other technologies, Kyocera Corporation has become a leading supplier of solar electric generating systems, telecommunications equipment, copiers, printers, electronic components, semiconductor packages, cutting tools and industrial ceramics. During the year ended March 31, 2010, the company's net sales totaled 1.07 trillion yen (approximately USD11.5 billion). Kyocera marked its 50th anniversary in 2009, and the 40th anniversary of its U.S. operations. It is ranked #554 on Forbes magazine's 2010 "Global 2000" listing of the world's largest publicly traded companies.

Top of page