News
KYOCERA Introduces Hydro And Rise, Android Smartphones Designed To Meet The Demands Of Real Life
Fully Immersible Hydro Combines Water-Resistant Durability with Sleek Style, While Underserved QWERTY Lovers 'Rise Up' for Convenient QWERTY Keypad
San Diego - May 08, 2012 - Kyocera Communications, Inc., a San Diego-based provider of Kyocera-branded wireless phones in the Americas, today announced at the CTIA Wireless 2012 trade show two new Android™ 4.0 (Ice Cream Sandwich) smartphones designed to meet the everyday needs of real life: the waterproof Kyocera Hydro and QWERTY-plus-touchscreen Kyocera Rise.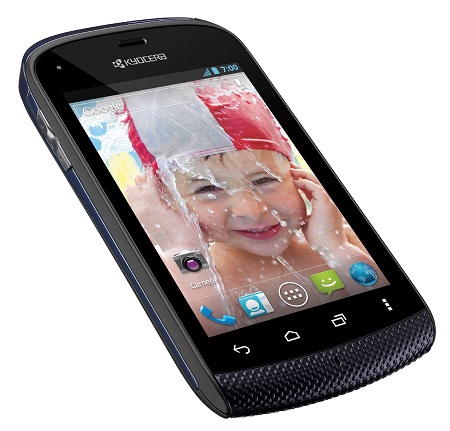 Leveraging technology from Kyocera's ruggedized Dura Series and more than four years of experience building water-resistant mobile phones, Kyocera Hydro carries IPx5- and IPx7-level water resistance. Whether caught in a rainstorm or dropped in a sink, Hydro is certified as waterproof against sprayed water (e.g., rain) and immersion in water up to one meter deep for up to 30 minutes. It is Kyocera's first mass-market water-resistant smartphone for the North American market. According to a January study by TNS Global Research, more than 82.5 million handsets in the U.S. have been destroyed by water or moisture.† Additionally, in a recent Wireless Lounge survey 70 percent of consumers indicated they consider water resistance an important feature in their next phones.*
"Kyocera has been making water-resistant devices globally since 2008, ranging from handsets for children to full Mil Spec, ultra-ruggedized devices, and Hydro is our seventeenth so far," said Eric Anderson, senior vice president and general manager of global sales and marketing at Kyocera Communications. "Wireless devices have become so crucial to our everyday lives; their durability must support our lifestyles. Kyocera Hydro combines a sleek, touchscreen design with water resistance to ensure it can withstand the spills and drops of everyday life."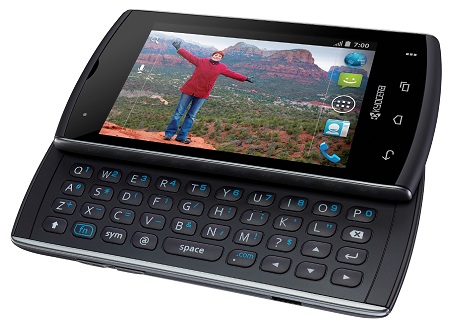 Kyocera Rise offers the best of both worlds for diehard QWERTY users and feature-phone users looking to move up to a smartphone: an easy-to-use slide-out keypad and a high-resolution touchscreen in an Android 4.0 device. A survey by Yankee Group earlier this year revealed that 69 percent of consumers called a QWERTY keypad a "must have" or "nice to have" feature on their devices.‡
"For some people, keys ARE the key feature, yet there are very few QWERTY smartphones on the market to meet this demand," said Anderson. "Kyocera Rise is the ideal device for those underserved consumers for whom a touchscreen isn't enough and who demand the familiar tactile feedback of a keypad. With both Hydro and Rise, people have spoken loud and clear about what they want, and we've listened."
Both Hydro and Rise feature 3.5-inch HVGA capacitive 480x320 IPS LCD touchscreen displays and Swype for rapid text entry. They have MSM8655 1 GHz Qualcomm Snapdragon® processors, 2GB ROM, 512MB RAM memory and support microSD™ memory cards up to 32GB. Each has a 3.2 megapixel camera with an LED flash and a 30 frame-per-second camcorder. On the network side, Hydro and Rise support EV-DO Rev A and 1X Advanced and are enabled with Wi-Fi (b/g/n), Stereo Bluetooth® (2.1 + EDR) wireless technology support and high-speed USB 2.0. They include 3-axis accelerometers, digital compasses, proximity sensors, ambient light sensors and Kyocera's "Eco Mode" software to monitor and conserve battery power.
Despite its water resistance, Hydro is a trim 4.53 x 2.44 x 0.50 in. and weighs only 4.16 ounces. Rise, with its slide-out QWERTY keypad, measures 4.44 x 2.38 x 0.56 in. (in closed position) and weighs 5.54 oz. Both phones will be available nationally in the second half of 2012.
Images of Kyocera Hydro and Rise can be found at http://toolkit.kyocera-wireless.com.
About Kyocera Communications Inc.
Kyocera Communications Inc. (KCI) is the headquarters for Kyocera- and Sanyo-branded wireless products and accessories in the Americas. The company's devices are driving the convergence of telecommunications, broadband and multimedia. KCI was formed in April 2009 through the combination of Kyocera Wireless Corp. and Kyocera Sanyo Telecommunications Inc., two wholly owned subsidiaries of Kyocera International Inc. The former was created when Kyocera purchased QUALCOMM Incorporated's consumer wireless phone business in 2000, while the latter was formed when Kyocera purchased the wireless phone business of Sanyo Electric Co., Ltd. in 2008. Based in San Diego, KCI leverages Japan's history of creating advanced consumer technologies around humanism and respect for the environment and blending them with a Western entrepreneurialism and style, resulting in a unique design language and a natural, user-friendly interface. For more information, please visit http://www.kyocera-wireless.com or follow the company on Facebook at www.facebook.com/kyoceramobilephones.
Kyocera Corporation (NYSE:KYO)(TOKYO:6971) (http://global.kyocera.com/), the parent and global headquarters of the Kyocera Group, was founded in 1959 as a producer of fine ceramics (also known as "advanced ceramics"). By combining these engineered materials with metals and plastics, and integrating them with other technologies, Kyocera has become a leading supplier of telecommunications equipment, printers, copiers, solar power generating systems, electronic components, semiconductor packages, cutting tools and industrial ceramics. During the year ended March 31, 2012, the company's net sales totaled 1.19 trillion yen (approx. USD14.5 billion). The company is ranked #426 on Forbes magazine's 2012 "Global 2000" listing of the world's largest publicly traded companies.
More than 82.5 million handsets have been destroyed by water or moisture in the U.S.: January 2012 by TNS Global Research *70 percent of consumers think water is an important feature in their next phones: September 2011 Wireless Lounge survey 69% of consumers called a QWERTY keypad a "must have" or "nice to have" feature: February 2012 by Yankee Group
©2012 Kyocera. All rights reserved. Kyocera is a registered trademark of Kyocera Corporation. Android is a trademark of Google Inc.; use of this trademark is subject to Google Permissions. Bluetooth mark is owned by the Bluetooth SIG Inc. and any use of such mark is under license. MicroSD is a trademark of SD-3C, LLC. Snapdragon is a registered trademark of Qualcomm Incorporated. All other marks are properties of their respective owners.
For more information, contact:
LPI Communications, for Kyocera Communications Inc.
Brad Shewmake or Leasa Ireland
phone: 858.735.8748, 310.750.7082
e-mail: brad@lpicommunications.com
e-mail: leasa@lpicommunications.com
Kyocera Communications, Inc.
John Chier
phone: 858.882.3543
e-mail: john.chier@kyocera.com

Top of page