News
KYOCERA Rise Brings Affordable QWERTY with Android 4.0, Ice Cream Sandwich, to Sprint and Virgin Mobile USA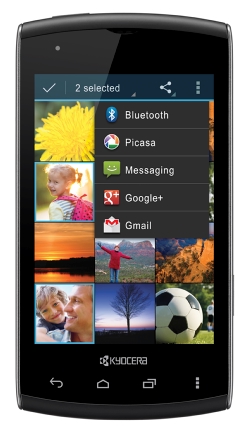 Overland Park, Kan., and San Diego - August 15, 2012 - Sprint (NYSE: S) and Kyocera Communications, Inc. today announced the launch of Kyocera Rise, an Android's smartphone with a full QWERTY slide-out keypad and high-resolution touchscreen display. Kyocera Rise offers feature-phone loyalists the ability to easily move up to a smartphone without losing their tactile keyboard or spending a lot of money.
Equipped with Android 4.0 operating system, Ice Cream Sandwich, Kyocera Rise will be available in all Sprint retail channels, including Web Sales (www.sprint.com) and Telesales (1-800-SPRINT1) beginning Sunday, Aug. 19, for $19.99 after a $50 mail-in-rebate with a new line of service or eligible upgrade and two-year service agreement. It will be available without a contract at www.virginmobile.com beginning Friday, Aug. 31, for $99.99. (Pricing excludes taxes.)
"Kyocera Rise brings customers the comfort of an easy-to-use Android smartphone with a QWERTY keyboard," said David Owens, vice president-Product Development, Sprint. "It is a great option for customers who are new to smartphones, parents looking for the perfect first device for their teens and tweens or anyone looking for a device with an impressive set of features at a great price. This is a perfect addition to round out our Android portfolio."
A survey by industry analyst firm Yankee Group earlier this year revealed that 69 percent of consumers called a QWERTY keypad a "must have" or "nice to have" feature on their mobile devices. Kyocera Rise combines that feature with a 3.5-inch IPS LCD touchscreen display for easy navigation, Web browsing and stunning displays of pictures and video.
"There's a significant population of underserved consumers out there for whom a touchscreen simply isn't enough," said Eric Anderson, senior vice president and general manager-Global Sales and Marketing, Kyocera Communications Inc. "For these people, keys are a vital feature. Along with smartphone users who love their keys, approximately half of mobile users still have feature phones with keypads, so they're comfortable using keys. Kyocera Rise has all the features you'd want in a smartphone in an attractive and affordable 3G device that will appeal to those underserved consumers."
Kyocera Rise features a 3.5-inch HVGA capacitive 480x320 IPS LCD touchscreen display and Swype for rapid text entry. Its 1,500mAh Lithium-ion battery ensures long periods of use between charges and provides more than 8.5 hours of talk time. Additional features include:
Google Playâ"¢ with access to hundreds of thousands of apps
1GHz MSM8655 Qualcomm Snapdragon® processor for fast access to apps and Web surfing
3.2-megapixel camera with an LED flash and 30 frame-per-second camcorder
Kyocera's "Eco Mode" software to better monitor and conserve battery power
microSDâ"¢ memory card support up to 32GB
Dedicated capacitive menu button for easy access to application-specific features
Sprint ID, offering an innovative way to personalize Android smartphones with apps, widgets, wallpapers, ringtones and more
In addition to Sprint's nationwide 3G network, Kyocera Rise connects over Wi-Fi (b/g/n) networks, supports Stereo Bluetooth® (2.1 + EDR) wireless technology and includes a high-speed USB 2.0 port
Kyocera Rise customers can enjoy an unlimited data experience with Sprint Everything Data plans. Sprint's Everything Data plan with Any Mobile, AnytimeSM includes unlimited Web, texting and calling to and from any mobile in America while on the Sprint Network, starting at just $79.99 per month for smartphones - a savings of $20 per month versus Verizon's comparable plan with unlimited talk, text and 2GB Web (excludes taxes and surcharges).
Consumers looking for a commitment-free option can pair the Kyocera Rise with Virgin Mobile's Beyond Talk unlimited data and messaging plans that start at $35 per month for 300 minutes of voice and include unlimited messaging and data. For those looking for a bit more talk time, the $45 plan offers 1,200 minutes of voice and the $55 plan offers unlimited voice each month. All plans include unlimited messaging and data (plans include 2.5GB of full-speed data).1
In addition, Sprint is deploying Network Vision - an all-new network from Sprint that offers enhanced 3G service - with a stronger wireless signal, faster download speeds, expanded coverage and better in-building performance - and 4G LTE, with faster data applications. Sprint rolled out 4G LTE to millions of people in 15 cities on July 15 and plans to introduce more markets to the network in 2012. By the end of 2013, Sprint expects to have largely completed the build out of its all-new 4G LTE nationwide network - with an enhanced 3G network - covering 250 million people across the United States. For the most up-to-date details on Sprint's 4G LTE portfolio and rollout, please visit www.sprint.com/4GLTE.
About Sprint Nextel
Sprint Nextel offers a comprehensive range of wireless and wireline communications services bringing the freedom of mobility to consumers, businesses and government users. Sprint Nextel served more than 56 million customers at the end of the second quarter of 2012 and is widely recognized for developing, engineering and deploying innovative technologies, including the first wireless 4G service from a national carrier in the United States; offering industry-leading mobile data services, leading prepaid brands including Virgin Mobile USA, Boost Mobile, and Assurance Wireless; instant national and international push-to-talk capabilities; and a global Tier 1 Internet backbone. The American Customer Satisfaction Index rated Sprint No. 1 among all national carriers in customer satisfaction and most improved, across all 47 industries, during the last four years. Newsweek ranked Sprint No. 3 in its 2011 Green Rankings, listing it as one of the nation's greenest companies, the highest of any telecommunications company. You can learn more and visit Sprint at www.sprint.com or www.facebook.com/sprint and www.twitter.com/sprint.
About Virgin Mobile USA
Virgin Mobile USA, one of Sprint's prepaid brands, offers millions of customers control, flexibility and connectivity through Virgin Mobile's Beyond Talkâ"¢ No Contract plans with unlimited 3G and 4G data for mobile phone service including Android-powered smartphones and prepaid Broadband2Go high-speed Web access on the Nationwide Sprint Network. Virgin Mobile Beyond Talk monthly unlimited data plans, which start at $35, are ideal for those smartphone users hungry for the most connectivity and the least amount of voice minutes. Virgin Mobile-branded devices are available at more than 40,000 retail stores, including Target, Walmart, Best Buy, RadioShack, and Virgin Mobile stores; Top-Up cards are available at approximately 150,000 locations nationwide. Experience Virgin Mobile on the Web at Facebook, Twitter, You Tube and purchase Virgin Mobile USA products at virginmobileusa.com.
About Kyocera Communications Inc.
Kyocera Communications Inc. (KCI) is the headquarters for Kyocera- and Sanyo-branded wireless products and accessories in the Americas. The company's devices are driving the convergence of telecommunications, broadband and multimedia. KCI was formed in April 2009 through the combination of Kyocera Wireless Corp. and Kyocera Sanyo Telecommunications Inc., two wholly owned subsidiaries of Kyocera International Inc. The former was created when Kyocera purchased QUALCOMM Incorporated's consumer wireless phone business in 2000, while the latter was formed when Kyocera purchased the wireless phone business of Sanyo Electric Co., Ltd. in 2008. Based in San Diego, KCI leverages Japan's history of creating advanced consumer technologies around humanism and respect for the environment and blending them with a Western entrepreneurialism and style, resulting in a unique design language and a natural, user-friendly interface. For more information, please visit http://www.kyocera-wireless.com or follow the company on Facebook at www.facebook.com/kyoceramobilephones.
Kyocera Corporation (NYSE:KYO) (TOKYO:6971) (http://global.kyocera.com/), the parent and global headquarters of the Kyocera Group, was founded in 1959 as a producer of fine ceramics (also known as "advanced ceramics"). By combining these engineered materials with metals and plastics, and integrating them with other technologies, Kyocera has become a leading supplier of telecommunications equipment, printers, copiers, solar power generating systems, electronic components, semiconductor packages, cutting tools and industrial ceramics. During the year ended March 31, 2012, the company's net sales totaled 1.19 trillion yen (approx. USD14.5 billion). The company is ranked #426 on Forbes magazine's 2012 "Global 2000" listing of the world's largest publicly traded companies.
1All plans include 2.5GB/month of full speed data. Virgin Mobile USA customers have access to service on the Nationwide Sprint 3G Network for data reaching more than 276 million people and reaching more than 280 million people for voice service.
©2012 Kyocera. All rights reserved. Kyocera is a registered trademark of Kyocera Corporation. Android is a trademark of Google Inc.; use of this trademark is subject to Google Permissions. Bluetooth mark is owned by the Bluetooth SIG Inc. and any use of such mark is under license. MicroSD is a trademark of SD-3C, LLC. Snapdragon is a registered trademark of Qualcomm Incorporated. All other marks are properties of their respective owners.
For more information, contact:
Kyocera Communications, Inc.
John Chier
phone: 858.882.3543
e-mail: john.chier@kyocera.com

Top of page