News
KYOCERA Implements Renewable Energy Technology in Launch of U.S.-Japan Smart-Grid
New Mexico project is first international collaboration in the U.S. to use solar energy
KYOTO, September 19, 2012 --Kyocera Corporation (NYSE:KYO) (TOKYO:6971), the New Energy and Industrial Technology Development Organization (NEDO) of Japan and a number of other companies, research institutes and local governments involved announced the start of operations of a state-of-the-art, international smart-grid demonstration project in Los Alamos, New Mexico (U.S.A.).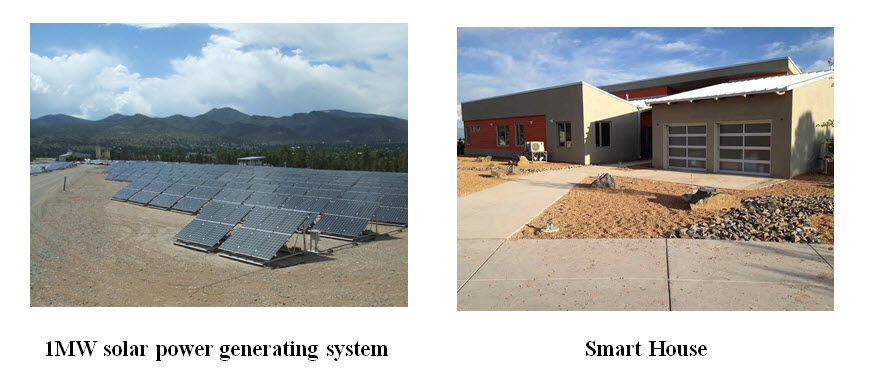 The project is a collaborative effort between NEDO, the New Mexico state government, the Los Alamos Department of Public Utilities, and the Los Alamos National Laboratory (LANL) a national research center which is run under the umbrella of the U.S. Department of Energy. It aims for the wider implementation of renewable energy and the promotion of energy conservation through the use of smart grid-related technologies. Specifically, technologies that can provide a significant portion of renewable power for the electric grid to meet a community's residential need. Data collection and analysis is set to run until March 2014, at which time opportunities will then be provided for other companies and institutions to utilize the resources to conduct further academic research and product testing.
On September 17, a ribbon-cutting ceremony was held to mark the launch of the project which was attended by New Mexico Governor Susana Martinez, NEDO Chairman Kazuo Furukawa, Congressman Ben Ray Lujan, LANL Director Dr. Charles McMillan, Kyocera Vice President Tatsumi Maeda and a number of other prominent public and private sector figures.
Overview of the Project
The project is located at three sites in Los Alamos and Albuquerque, of which Kyocera is participating in two: the Smart-Grid Demonstration and the Smart House Demonstration in Los Alamos. Furthermore, Kyocera will be commissioned to lead the Evaluation of Distributed Energy Resource (Photovoltaics, etc.) within the Collective Research portion of the overall project.
The Smart-Grid Demonstration in Los Alamos consists of a power supply micro-grid which uses power distribution lines from a large-scale solar power plant to utilize related technologies and performance, and to minimize the effects of power output fluctuations. Kyocera supplied a 910kW multicrystalline silicon solar module array*1. Furthermore, as the site of the solar power plant will be built over a reclaimed waste disposal landfill, Kyocera applied its expertise in selecting and installing base mounting optimized for dynamic soil conditions.
For the Smart House Demonstration in Los Alamos, Kyocera constructed a hybrid energy management system which uses a 3.4kW residential solar power generating system, 24kWh lithium-ion storage battery and an energy-efficient heat storage unit. By operating a Home Energy Management System (HEMS) equipped with communication equipment and sensors, the Smart House helps to optimize energy usage from the solar power generating system, storage battery, power grid and smart appliances that allow for electric demand in the house to be responsive to smart grid signals.
In this project, we will demonstrate how a smart house can play an important role from the demand side in a smart grid, where renewable energy such as solar power will be significantly implemented in the future,"stated Kyocera Corporation Vice President and General Manager of the company's Solar Energy Group, Tatsumi Maeda, during a speech at the ribbon-cutting ceremony. "This smart house project was established to demonstrate the next generation of energy management by using the newest technologies."
Kyocera has been developing its solar energy business and supplying solar power products across the globe since 1975. Since then, the company has shipped roughly 3GW of solar modules, which is the equivalent of supplying a solar power generating system to roughly 900,000 homes*2. Born out of the company's many years of experience in the renewable energy industry, Kyocera's high-quality, highly reliable products and technological knowhow will be utilized to help contribute to the success of this smart-grid project.
*1 The full solar power generating system is 1MW; the remaining 90kW is comprised of 9 other 10kW systems in order to compare the performance of different types of solar modules.
*2 Based on a 3.4kW per household solar power generating system.
For more information about Kyocera Solar Energy Solutions: http://global.kyocera.com/reliability/
Kyocera Corporation (NYSE:KYO)(TOKYO:6971) (http://global.kyocera.com/), the parent and global headquarters of the Kyocera Group, was founded in 1959 as a producer of fine ceramics (also known as "advanced ceramics"). By combining these engineered materials with metals and plastics, and integrating them with other technologies, Kyocera has become a leading supplier of solar power generating systems, telecommunications equipment, printers, copiers, electronic components, semiconductor packages, cutting tools and industrial ceramics. During the year ended March 31, 2012, the company's net sales totaled 1.19 trillion yen (approx. USD14.5 billion). The company is ranked #426 on Forbes magazine's 2012 Global 2000 listing of the world's largest publicly traded companies.
# # #
CONTACT: KYOCERA Corporation (Japan)
Corporate Communications
Judah Reynolds, +81-(0)75-604-3416
webmaster.pressgl@kyocera.jp
Fax: +81-(0)75-604-3516

Top of page