News
KYOCERA Introduces New Milling Cutters For CNC Machining Featuring Inserts with Proprietary MEGACOAT NANO Technology
New M-Four and M-Six Milling Cutters offer performance advantages and long life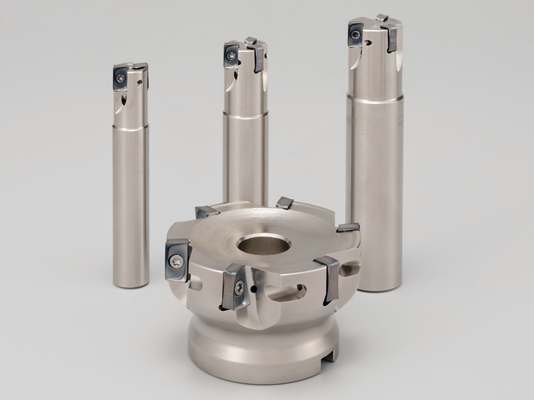 Hendersonville, North Carolina -- October 11, 2012 -- Kyocera Industrial Ceramics Corporation, Cutting Tool Division recently introduced its new MEW M-Four and MFWN M-Six Milling Cutters, both featuring unique advantages and inserts with MEGACOAT NANO, Kyocera's new proprietary coating technology for stable cutting and extended tool life.
The M-Four Endmills feature negative inserts that utilize Kyocera's unique insert-forming technology which reduces cutting forces to levels equivalent to positive inserts. The double-sided, four-edge inserts offer low cutting forces for reduced chatter, improved surface finishes, and minimized vibration. The 90-degree cutting angle features an obtuse edge for increased cutting edge toughness. The M-Four lineup offers three newly developed chipbreakers to cover a wide range of applications.
The M-Six Shell Mill features a double-sided, six-edge, extra-thick insert with tough cutting edges and sharp cutting performance. The thick-edge design of the M-Six insert also produces reduced chattering and superior fracture resistance. The M-Six features neutral inserts applicable for shouldering, plunging, and facing, and four different chipbreakers to cover a variety of applications.
Both the M-Four and M-Six Milling Cutters feature MEGACOAT NANO, Kyocera's proprietary multi-layered coating technology that enables stable milling and extends tool life by reducing wear and fracture with its high hardness and superior oxidation resistance.
Kyocera's new M-Four and M-Six Milling Cutters are being introduced via kit-style promotions featuring a cutter and 10 MEGACOAT NANO inserts of the customers' choice.
For additional information on these or other Kyocera Cutting Tool products, please contact:
Kyocera Industrial Ceramics Corporation
Cutting Tool Division
100 Industrial Park Road
Hendersonville, NC 28792
PH: 800-823-7284
email: cuttingtools@kyocera.com
website: kyocera.com/cuttingtools
About KYOCERA
Kyocera Industrial Ceramics Corporation (http://www.kyocera.com/kicc), headquartered in Hendersonville, NC, specializes in applying advanced materials and components to solve the most demanding engineering challenges. It is a wholly-owned subsidiary of Kyocera International, Inc. of San Diego, the North American holding company for Kyocera Corporation.
Kyocera Corporation (NYSE:KYO) (TOKYO:6971) (http://global.kyocera.com/), the parent and global headquarters of the Kyocera Group, was founded in 1959 as a producer of fine ceramics (also known as "advanced ceramics"). By combining these engineered materials with metals and plastics, and integrating them with other technologies, Kyocera has become a leading supplier of industrial ceramic components, cutting tools, semiconductor packages, electronic devices, solar power generating systems, printers, copiers, and telecommunications equipment. During the year ended March 31, 2012, the company's net sales totaled 1.2 trillion yen (approx. USD14.5 billion). The company is ranked #426 on Forbes magazine's 2012 "Global 2000" listing of the world's largest publicly traded companies.

Top of page