News
KYOCERA Supplies Solar Modules for North Queensland, Australia's Largest Installation
Part of Solar City program, 348kW system produces two-thirds of Townsville RSL Stadium's energy requirements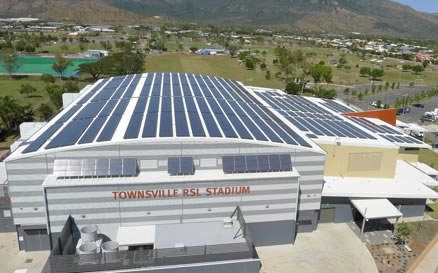 October 15, 2012 - Kyocera Solar, Inc., a leading supplier of reliable solar modules and renewable energy solutions, recently supplied 348 kilowatts (kW) of solar modules that now cover the roof of the Townsville RSL Stadium in North Queensland, Australia. The photovoltaic installation, which will produce approximately 500 megawatt hours (MWh) of energy annually, is now the largest in North Queensland and will supply the equivalent of two-thirds of the stadium's energy requirements by utilizing the clean, renewable energy of the sun.
Ergon Energy installed the solar system, which will generate about 1,400 kilowatt hours each day, equivalent to the daily energy requirements of 75 typical North Queensland homes. That amount of clean energy equates to eliminating 460 tonnes of carbon pollution each year or removing approximately 100 cars from the road.
Federal Parliamentary Secretary for Climate Change and Energy Efficiency, Mark Dreyfus, opened the Townsville RSL Stadium solar array. "These measures make the most of Australia's natural resources and help us make the gradual shift to a modern, clean energy economy," he stated.
The solar-powered stadium is a key component of the federally funded Townsville Solar City Program, which is already responsible for installing more than 1MW of solar energy in the city. The program will help achieve objectives to better manage rising electricity demand in Northern Queensland using environment-friendly resources.
Townsville Queensland Solar City is one of seven solar cities across Australia, and part of the Australian Government's Solar Cities program that works with all levels of government, industry and community to change the way we think about and use energy.
"Kyocera is proud to support Ergon, the leader of the Townsville Solar City Program, to help create renewable solar energy that will power the North Queensland region for decades to come,†said Steve Hill, president of Kyocera Solar, Inc. "Citizens attending basketball games and other events at Townsville RSL Stadium may enjoy themselves even more knowing that the stadium's commitment to environmentally friendly renewable energy helps to protect Australia's natural beauty."

Kyocera has been at the forefront of the solar energy revolution for 37 years, with reliable, proven photovoltaic solutions that highlight the company's commitment to integrity, quality, environmental preservation and continuous improvement.
About KYOCERA
Kyocera is one of the world's largest vertically integrated producers and suppliers of solar photovoltaic modules and systems, with a history of innovation in solar technology since 1975. Recognized as a global leader and industry pioneer in solar power solutions, Kyocera is in a unique position to integrate its decades of experience into product development and support for both residential and industrial clients across the globe. Kyocera serves thousands of customers in both developed and developing regions, with more than 3 gigawatts of solar collection equipment installed worldwide. The company has set repeated world records in multicrystal silicon cell efficiency and most recently gained the distinction of producing the world's first modules to pass the Long-Term Sequential Test for reliability performed by TUV Rheinland Japan Ltd.
Kyocera Solar, Inc. is headquartered in Scottsdale, Arizona with regional sales affiliates in the Americas and Australia
Kyocera Corporation (NYSE:KYO) (TOKYO:6971) (http://global.kyocera.com/), the parent and global headquarters of the Kyocera Group, was founded in 1959 as a producer of fine ceramics (also known as "advanced ceramics"). By combining these engineered materials with metals and plastics, and integrating them with other technologies, Kyocera has become a leading supplier of solar power generating systems, printers, copiers, telecommunications equipment, electronic components, semiconductor packages, cutting tools and industrial components. During the year ended March 31, 2012, the company's net sales totaled 1.19 trillion yen (approx. USD14.5 billion). The company is ranked #426 on Forbes magazine's 2012 "Global 2000"listing of the world's largest publicly traded companies.

Top of page