News
U.S. Cellular To Launch The Rugged Kyocera DuraPro
Will be available online February 27 and in stores February 28
CHICAGO & SAN DIEGO - February 25, 2013 - U.S. Cellular (NYSE: USM) and Kyocera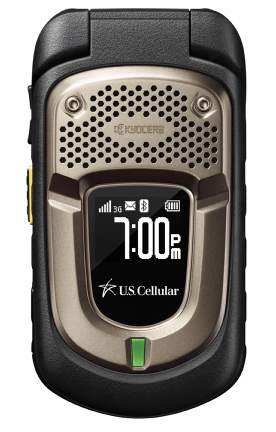 Communications Inc. have announced the launch of the Kyocera DuraPro. With Military Standard 810G certification, DuraPro is a perfect fit for consumers and business customers who need a tough feature phone on a high-speed nationwide network. It will be available online February 27 and in stores on February 28 for $99.99 after a $50 mail-in rebate.
The Kyocera DuraPro is water, shock, dust, and vibration resistant and is encased in non-slip Dura-Grip material for a strong hold and extra durability. It can be immersed for up to 30 minutes in up to one meter of water and comes with essential apps including, email, a web browser and navigation. Those features, along with a 3.2 megapixel camera, large keypad and powerful speakerphone, make the DuraPro a practical and reliable choice for consumers and business customers who need a device that can withstand harsh elements.
"For those who work and play outdoors in varying weather and climates, the Kyocera DuraPro is an ideal device to help you stay connected to people and information wherever you are," said Edward Perez, vice president of sales and marketing operations for U.S. Cellular. "At U.S. Cellular, we want to provide a better wireless experience, and our customers can rely on this phone to keep working even in extreme conditions."
The Kyocera DuraPro comes with a programmable hot key on the side of the phone that users can easily assign for quick access to the calendar, Bluetooth, alarm or web. U.S. Cellular business customers and consumers who purchase this device also receive benefits no other carrier offers, including a valuable rewards program that recognizes customer loyalty.
"There's still very strong demand for a solid feature phone, and feature phones don't come any more solid than the DuraPro," said Eric Anderson, senior vice president and general manager of global sales and marketing at Kyocera Communications. "The rugged durability of this device and U.S. Cellular's fantastic customer loyalty program combine for a wireless solution that will be with you for the long run."
Additional Features:
In addition to water, vibrations and dust, DuraPro is engineered to meet Military Standard 810G for temperature extremes, blowing rain, low pressure, solar radiation, salt fog and humidity
Expandable memory - up to 32GB with optional microSD card
Large font option for menus
For more information about the Kyocera DuraPro, please visit www.duraseries.com or uscellular.com.
About U.S. Cellular
U.S. Cellular rewards its customers with unmatched benefits and industry-leading innovations designed to elevate the customer experience. The Chicago-based carrier has a strong line-up of cutting-edge devices that are all backed by its high-speed nationwide network that has the highest call quality of any national carrier. Currently, 61 percent of customers have access to 4G LTE speeds and 87 percent will have access by the end of 2013. U.S. Cellular was named a J.D. Power and Associates Customer Service Champion in 2012 for the second year in a row. To learn more about U.S. Cellular, visit one of its retail stores or uscellular.com. To get the latest news, promos and videos, connect with U.S. Cellular on Facebook.com/uscellular, Twitter.com/uscellular and YouTube.com/uscellularcorp.
About Kyocera Communications Inc.
Kyocera Communications Inc. is the headquarters for Kyocera wireless devices in the Americas. Designed with durability, dependability, and long-term value as priorities, Kyocera mobile phones help people feel comfortable with new technology and use it to connect, perform, and outsmart life's challenges. At the heart of Kyocera's products is a belief that one size doesn't fit all, and that people should do more with phones instead of being confused by them or having to alter their lifestyles to accommodate them. For more information, follow the company at www.facebook.com/kyoceramobilephones or www.twitter.com/kyoceramobile.
Kyocera Corporation (NYSE:KYO) (TOKYO:6971) (http://global.kyocera.com/), the parent and global headquarters of the Kyocera Group, was founded in 1959 as a producer of fine ceramics (also known as "advanced ceramics"). By combining these engineered materials with metals and plastics, and integrating them with other technologies, Kyocera has become a leading supplier of telecommunications equipment, printers, copiers, solar power generating systems, electronic components, semiconductor packages, cutting tools and industrial ceramics. During the year ended March 31, 2012, the company's net sales totaled 1.19 trillion yen (approx. USD14.5 billion). The company is ranked #426 on Forbes magazine's 2012 "Global 2000" listing of the world's largest publicly traded companies.
For more information, contact:
U.S. Cellular
Katie Frey
phone: 773.317.0002
e-mail: Katie.frey@uscellular.com


Kyocera Communications, Inc.
John Chier
phone: 858.882.3543
e-mail: john.chier@kyocera.com

Top of page