News
KYOCERA Solar Gives Small Business an Edge with Energy Savings
117kW rooftop solar system installation by Sullivan Solar Power will save new Pizza Port location approximately $30,000 annually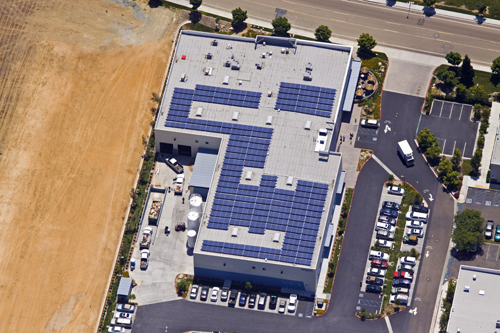 Scottsdale, AZ – September 30, 2013 - Kyocera Solar Inc. today announced that 117kW of Kyocera photovoltaic (PV) modules are installed on the roof at Pizza Port's new Carlsbad, CA restaurant, corporate office, and beer production, canning and distribution facility. The latest Pizza Port location, part of a family-owned San Diego chain of five restaurants and breweries, expects to reduce energy costs by as much as $30,000 annually, resulting in significant operational savings and reduced environmental impact.

San Diego-based Sullivan Solar Power began installing the custom PV system in July 2013, after Pizza Port's owners installed a 10.7kW PV system on their home in 2011. The owners cited rising energy costs, a desire to reduce environmental impact and an increasingly environmentally aware customer base as motivators to go solar at the new Pizza Port facility.

"Pizza Port is a local favorite for great food and craft beer. The owners made it clear that this long-term investment in their business must be reliable and efficient," said Daniel Sullivan, founder and president of Sullivan Solar Power. "We selected Kyocera modules because of their high quality and proven reliability, both important factors for small businesses."
Sullivan Solar Power will also install a monitoring system for the Pizza Port solar array so restaurant and brewery guests can see how much electricity the solar power system is producing at any given moment, as well as its production for the month, year and lifetime of the system. It will also show the PV system's environmental benefits, including greenhouse gases averted and carbon offsets.
"Rooftop solar makes great sense for Southern California companies because of the abundant sunshine they enjoy and the overall higher costs of doing business," said Steve Hill, president, Kyocera Solar Inc. "Most small businesses look for every edge to increase profits and maintain competitiveness. We commend Pizza Port for demonstrating how doing the right thing for the environment can also positively impact the bottom line."
Rounding out its green efforts, the Carlsbad Pizza Port location will also have two electric vehicle charging stations, allowing customers to charge their cars while they fill their stomachs. The current Pizza Port location in Carlsbad remains open for business throughout the construction of the new facility.

To learn more about Kyocera solar solutions for both residential and commercial projects, please contact infosolar@kyocera.com or 800-223-9580.
About KYOCERA
Kyocera is one of the world's leading producers and suppliers of solar photovoltaic modules and systems. With a 38-year history of innovation in solar technology, the company is recognized as an industry pioneer and has set repeated world records in multicrystalline silicon cell efficiency. Kyocera serves thousands of residential and industrial customers in both developed and developing regions, with more than 3 gigawatts of solar collection equipment installed since 1975.
Kyocera Solar, Inc. is headquartered in Scottsdale, Arizona with regional sales affiliates in the Americas and Australia.

Kyocera Corporation (NYSE:KYO) (TOKYO:6971), the parent and global headquarters of the Kyocera Group, was founded in 1959 as a producer of fine (or "advanced") ceramics. Kyocera specializes in combining these engineered materials with other technologies to create solar power generating systems, printers, copiers, mobile phones, electronic components, semiconductor packages, cutting tools and industrial components. During the year ended March 31, 2013, the company's net sales totaled 1.28 trillion yen (approx. USD13.6 billion).

# # #

Top of page