News
KYOCERA Introduces New 7.0" WVGA TFT LCDs With On-Cell Touchscreen Technology
Integrated PCAP touchscreens improve visibility, streamline manufacturing
February 2, 2015 - Plymouth, MI - Kyocera today introduced two new 7.0" WVGA widescreen (800x480) LCD modules featuring its fully integrated "On-Cell" touch technology.
Both models feature a Projected Capacitive (PCAP) touch-sensor layer integrated directly into their LCD structure, eliminating the need for a bulky touch-component overlay. The result is an ideal LCD solution for industrial applications requiring superior optical performance and full touchscreen functionality in a lightweight, compact form factor — such as aerospace, marine and medical equipment.
Kyocera's On-Cell touch technology for embedding the touch-sensor layer into the LCD structure offers significant benefits in performance and component management.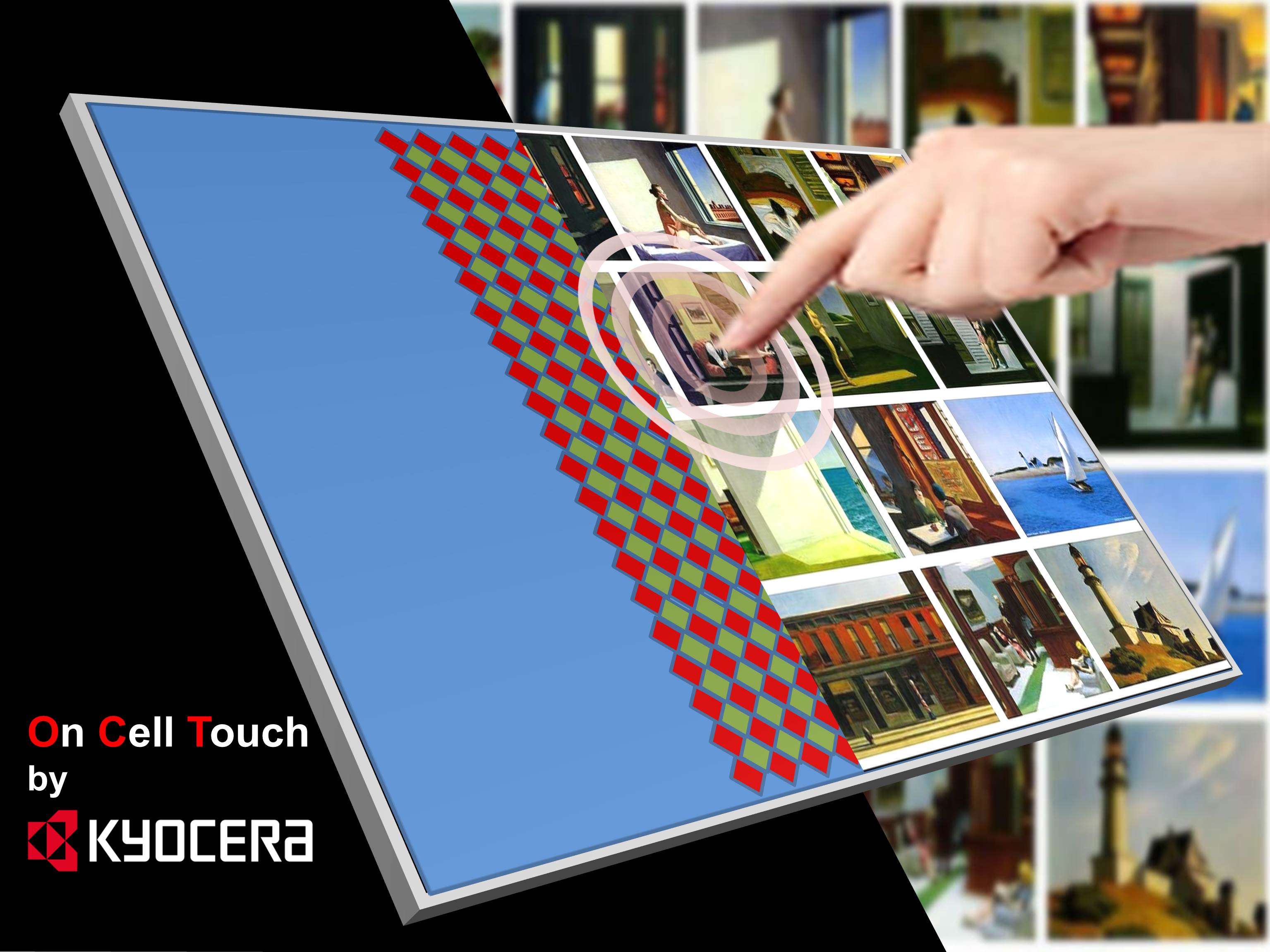 In terms of performance, eliminating the need for a touch substrate overlay greatly reduces interior optical reflections, thus enhancing the touchscreen's visibility. This also improves component management by avoiding the need for a separate touchscreen supplier and integrator. The modules make Kyocera a one-stop shop for touchscreen LCDs, and reduce production costs by eliminating the need for an optical bonding process.
The new 7.0" On-Cell touch panels (model numbers TCG070WVLR-117 and -118), powered by Kyocera's Advanced Wide View (AWV) technology, achieve a wide, 85-degree viewing angle in all directions.
The modules feature resolution of 800 x 480 pixels; anti-glare, anti-fingerprint surface; and operating temperature range of -20° to +70°C. Optical characteristics include 500cd/m2brightness and 650:1 contrast ratio. The LED backlight offers an estimated 100,000-hour lifetime with built-in LED driver circuits for easy integration, and a standard 20-pin LVDS interface. Model 118 supports USB interfaces, while model 117 supports I2C interfaces. Both can be used with Windows or Linux-based operating systems.
Samples of Kyocera's On-Cell touchscreen displays are available now, with mass production beginning in March 2015.
Kyocera's 39-year history of LCD technology innovation and leadership in long-term product support distinguish Kyocera as a preferred and reliable supplier not only for industrial applications, but for the automotive and medical equipment markets as well.
Kyocera is committed to developing environmentally friendly products. All of Kyocera's TFT LCDs are RoHS compliant, and Kyocera continually strives to reduce environmentally sensitive materials and processes in its manufacturing.
For more information, please contact Kyocera Industrial Ceramics Corporation, Display Division at 46723 Five Mile Road, Plymouth, MI, USA 48170, Tel: 734-416-8500; Fax: 734-416-8520. www.kyocera-display.com
About KYOCERA
Kyocera Corporation acquired Optrex Corporation in 2012, expanding Kyocera's global LCD business by adding a production, sales, marketing and R&D base with nearly four decades of experience and continuous innovation in LCD technology. Kyocera Industrial Ceramics Corporation, Display Division, is the sales, marketing and value-added assembly arm for these products in the Americas, with LCD sales offices in Plymouth, MI; Atlanta, GA; Vancouver, WA; and San Diego, CA. LCD warehouse, distribution center and value-added assembly services are located in Plymouth, MI, with company headquarters in Hendersonville, NC.
Kyocera Corporation, the parent and global headquarters of the Kyocera Group, was founded in 1959 as a producer of fine (or "advanced") ceramics. By integrating these engineered materials with other technologies, Kyocera has become a leading supplier of LCDs, industrial ceramics, solar power generating systems, telecommunications equipment, printers, copiers, electronic components, semiconductor packages, and cutting tools. During the year ended March 31, 2014, the company's net sales totaled 1.45 trillion yen (approx. US$14.1 billion). The company appears on the latest "Top 100 Global Innovators" list by Thomson Reuters, and is ranked #531 on Forbes magazine's current "Global 2000" listing of the world's largest publicly traded companies.

Top of page