News
KYOCERA Echo to Launch with Jibe Social Messenger App Built on Award-Winning Jibe Mobile Platform
Innovative Dual-Touchscreen Android Smartphone, Exclusively from Sprint, Debuts April 17
Orlando, Florida - March 21, 2011 - Kyocera Communications, Inc. today announced that the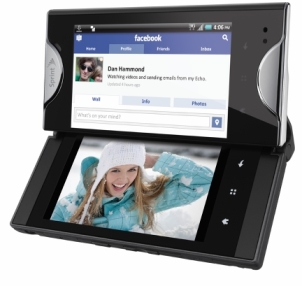 Kyocera Echo™, the first dual-touchscreen smartphone, will come preloaded with a customized version of the Jibe 2.0 Social Messenger App - a new social messaging application that allows users to post and share media and status messages, and view friends, newsfeeds and comments across their current social networks. Users also can see who is online and chat with their friends from the application.
"We've designed Echo for an entirely new experience for smartphone users, incorporating the most used and valued features into this innovative design," said Yasuhiro Ohishi, vice president of sales and marketing at Kyocera Communications Inc. "Jibe's Social Messenger makes Echo the ultimate mobile social media tool."
The Social Messenger application is built on the award-winning Jibe Mobile platform, which brings together social media, real-time messaging, contacts and content services into an easy-to-use developer platform. The platform decreases time to market for developers creating the next generation of connected and social apps. Jibe earned the "Best Rich Communication Suite Mobile Client" award at GSMA's RCS Dev Challenge during the Mobile World Congress trade show held last month in Barcelona, Spain, by showcasing its next-generation connected address book, with real-time mobile messaging, file-sharing and video sharing features.
"We are excited about the power and potential the Kyocera Echo brings to app developers and to Sprint customers," said David Owens, vice president-Product, Sprint. "Kyocera not only delivers a groundbreaking new form factor, but through partners like Jibe Mobile, also delivers a new user experience that dynamically connects the social lives of our customers."
Jibe Mobile's platform brings together social media and instant messaging to simplify mobile conversations and sharing across multiple social and content networks including Facebook®, MySpace, Twitter™, Google Talk™, YouTube™, Flickr® and Picasa™. The Jibe solution provides customized news feeds and media channels with interactive sharing, allowing users to read, post, share messages and chat with just one application. News junkies can post content and status messages to multiple SNS (social network services) feeds with a single action. Users can also view friends' posts and social activity from various services on one application, filtered by a person or service, and use Jibe home screen widgets to keep their social lives at their fingertips.
The dual-screen capabilities of Kyocera Echo make posting status messages easier with a dedicated screen for the keyboard, providing more room for text entry at the top of the device. Browsing through newsfeeds is more convenient with twice as much room to view messages, comments and other social messages.
The Jibe solution provides customized news feeds and media channels with interactive sharing, allowing users to read, post and share messages and information with just one application. Messages can be posted and comments added to multiple SNS (social network service) feeds with a single action while friends' messages from various services can be combined and filtered by time, person or service.
"The Jibe Mobile platform allows developers, OEMs and carriers to bring a new level of app to market, simply and quickly," said Amir Sarhangi, CEO of Jibe Mobile. "Echo is the perfect showcase for rich apps like Social Messenger - a remarkably innovative handset that gives the user a real social experience."
Kyocera Echo™ launches April 17 by Sprint for $199.99* with a new two-year service agreement or eligible upgrade. Beginning March 26, consumers can visit www.sprint.com/echo to 'ReserveNow' and be among of the first to get their hands on Echo. Through the reservation process, customers will be able to reserve their devices online, pick them up in a Sprint Store, and receive the full retail experience, including Sprint's ReadyNow service. In addition, Sprint customers visiting the Echo site will also have the opportunity to win an Echo in the 'Duel for Dual Sweepstakes.' Beginning March 15 customers can use their 'sharp shooting' skills to compete against others to win their first dual-screen smartphone.**
Kyocera Echo - the first dual-touchscreen smartphone
Echo features two high-resolution 3.5-inch WVGA touchscreen displays connected by a patent-pending "pivot hinge" that enables the displays to operate independently, side-by-side or combined to form an oversized 4.7-inch (diagonally) integrated display. Kyocera Echo's second screen provides the ability to do two things at the same time in Simul-Task™ Mode - send an email on one screen while surfing the Web on the other, watch a video on one screen while texting on the other, comparison shop online with one Web site on each screen, and so much more.
In its closed position, Kyocera Echo is a pocket-friendly, single-display smartphone. When opened, Kyocera Echo reveals a revolutionary new platform for wireless multitasking and gives customers a new way to experience Android. Its innovative hardware and optimized software enable unique 4-in-1 versatility, allowing consumers to use the touchscreens in four ways: Single-Screen, Simul-Task™, Optimized and Tablet Modes.
Beyond the dual touch-screen innovation, Kyocera Echo features the Android 2.2 operating system and has access to more than 100,000 apps in the Android Market™. Operating on Sprint's nationwide 3G network and Wi-Fi (802.11 b/g), Kyocera Echo also can become a Wi-Fi hotspot and support up to five devices. It features corporate (Exchange ActiveSync®) and personal (POP & IMAP) e-mail, IM (Google Talk™), text messaging, a media player with a 3.5 mm stereo headset jack, stereo Bluetooth® 2.1 (+ EDR), and a full HTML Web browser with Google Search™. Echo has 1GB of onboard memory and supports microSD™ cards up to 32GB.
With its Kyocera Android Developers Program, Kyocera is working with developers like Jibe to create applications optimized for Echo's dual-touchscreen platform. Additional information is available at www.echobykyocera.com/developers.
About Kyocera Communications, Inc.
Kyocera Communications Inc. (KCI) is the headquarters for Kyocera- and Sanyo-branded wireless products and accessories in the Americas. The company's devices are driving the convergence of telecommunications, broadband and multimedia. KCI was formed in April 2009 through the combination of Kyocera Wireless Corp. and Kyocera Sanyo Telecommunications Inc., two wholly owned subsidiaries of Kyocera International Inc. The former was created when Kyocera purchased QUALCOMM Incorporated's consumer wireless phone business in 2000, while the latter was formed when Kyocera purchased the wireless phone business of Sanyo Electric Co., Ltd. in 2008. Based in San Diego, KCI leverages Japan's history of creating advanced consumer technologies around humanism and respect for the environment and blending them with a Western entrepreneurialism and style, resulting in a unique design language and a natural, user-friendly interface. For more information, please visit www.kyocera-wireless.com or follow on Facebook at www.facebook.com/kyoceramobilephones.
Kyocera Corporation (NYSE:KYO) (TOKYO:6971) (http://global.kyocera.com/), the parent and global headquarters of the Kyocera Group, was founded in 1959 as a producer of fine ceramics (also known as "advanced ceramics"). By combining these engineered materials with metals and plastics, and integrating them with other technologies, Kyocera has become a leading supplier of telecommunications equipment, office-document imaging equipment, solar power generating systems, semiconductor packages, electronic components, cutting tools and industrial ceramics. During the year ended March 31, 2009, the company's net sales totaled 1.07 trillion yen (approximately US$11.5 billion). Kyocera marked its 50th anniversary in 2009, and the 40th anniversary of its U.S. operations. It is ranked #554 on Forbes magazine's 2010 "Global 2000" listing of the world's largest publicly traded companies.
About Jibe
Jibe Mobile provides the first mobile communications platform that empowers developers, OEMs and operators to launch the next wave of connected and socially aware apps. Jibe sees a future where developers can seamlessly integrate innovative communications services into apps that are interoperable across any device, network, or protocol without complex integration and costly infrastructure.
Jibe's award winning App to App platform, available as a cloud service, is already used by the world's leading mobile companies in North America, Europe and Asia. Additional information can be found atwww.jibemobile.com or follow Jibe at www.facebook.com/jibemobile.
*Requires a two-year service agreement or eligible upgrade (or new line activation) on an Everything plan with data plus $10/month Premium Data add-on. Pricing excludes surcharges and taxes.
**"Duel for Dual" Sweepstakes rules and conditions available at www.sprint.com/echo
NOTE TO EDITORS: Please visit http://toolkit.kyocera-wireless.com for downloadable images of Kyocera Echo and http://www.jibemobile.com/company/media-kit/ for downloadable images of the Jibe App on the Kyocera Echo phone.
©2011 Kyocera. All rights reserved. Kyocera and Echo are trademarks of Kyocera Corporation. Jibe, Jibe Mobile, Appkits and the Jibe Mobile logo are trademarks of Jibe Mobile in the United States and other countries. Android is a trademark of Google Inc.; use of this trademark is subject to Google Permissions. Exchange ActiveSync is a registered trademark of Microsoft. Bluetooth mark is owned by the Bluetooth SIG Inc. and any use of such mark is under license. microSD is a trademark of SanDisk Corporation. All other marks are properties of their respective owners.
For more information, contact:
Jibe Mobile
Jeff Bratton, for Jibe Mobile
phone: 310.481.1431, Ext. 14
e-mail: jeff.bratton@fusionpr.com
LPI Communications for Kyocera Communications
Melody Parrette
phone: 858.361.9731
e-mail: melody@lpicommunications.com
Kyocera Communications, Inc.
John Chier
phone: 858.882.3543
e-mail: john.chier@kyocera.com

Top of page