News
KYOCERA Solar Helps San Diego-area Firefighters Save Money, Reduce Environmental Impact
North County solar installations designed by Sullivan Solar Power for seven-year payback
San Diego – March 31, 2015 - Kyocera Solar, Inc. and Sullivan Solar Power announced today that they have joined forces to equip San Diego's North County Fire Protection District (NCFPD) with photovoltaic (PV) solar systems at four fire stations in the Fallbrook, Bonsall and Rainbow communities. Anticipating further increases in utility rates, the NCFPD, which serves approximately 50,000 local residents, chose solar to offset rising energy costs.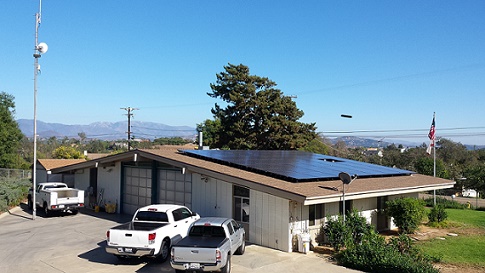 Photo courtesy of Sullivan Solar Power
"This project will insulate the District from future utility rate increases, while promoting an environmentally responsible message in our community," said Greg Wilson, Battalion Chief for the NCFPD.
The four PV systems, totaling 121 kilowatts (kW), are located on East Ivy Street, Winterwarm Drive, Olive Hill Road, and Rainbow Valley Boulevard. Together, they incorporate 431 high-efficiency Kyocera KD320 solar modules, with SunLink ballasted ground mounting systems and SMA power inverters. Collectively capable of generating an estimated 180,000 kilowatt hours of clean energy annually, the systems are expected to pay for themselves within seven years.
"We have used Kyocera solar modules on many of our residential and commercial projects, and have had nothing but positive experiences with their long-term reliability," said Daniel Sullivan, Founder and President of Sullivan Solar Power. "Kyocera solar modules are manufactured in the region, allowing us to be as green as possible by locally sourcing as well."
Sullivan Solar Power is a turnkey solar design and installation company headquartered in San Diego. The local firm won the contract for the solar projects for the North County Fire Protection District in a competitive bidding process last year.
The four-system project received rebates from the California Solar Initiative, which offers incentives to non-profit entities, including California's 800+ fire stations. It was financed with a low-interest loan available only to non-profit and government entities.
"We owe a debt of gratitude to our firefighters, who protect our lives and contribute so much to the communities they serve," said Cecilia Aguillon, Director of Market Development for Kyocera Solar, Inc. "Kyocera is honored that our solar modules are protecting the NCFPD against out-of-control rate increases and saving taxpayer funds."
Special financing for commercial and large-scale solar projects is now available directly from Kyocera. The company is also involved in providing low-interest loans to U.S. home owners for residential solar installations.
Kyocera is the only solar module manufacturer to earn the highest rating across all six PV module test categories in GTM Research's July 2014 PV Module Reliability Scorecard. To learn more about Kyocera's solar solutions throughout the Americas please contact infosolar@kyocera.com or call 800-223-9580.
About KYOCERA
Kyocera is a world leader in solar photovoltaic modules and systems, with a 40-year history of innovation in solar technology and multiple world records in multicrystalline silicon cell efficiency. The company serves thousands of residential and industrial customers in both developed and developing regions, with more than 6 gigawatts of solar collection equipment installed since 1975.
Kyocera Solar, Inc. is headquartered in Scottsdale, AZ, with regional sales affiliates in the Americas, and solar module manufacturing facilities operated by Kyocera Mexicana, S.A. de C.V. of Tijuana, Mexico.
Kyocera Corporation (NYSE:KYO) (TOKYO:6971), the parent and global headquarters of the Kyocera Group, was founded in 1959 as a producer of fine (or "advanced") ceramics. Kyocera specializes in combining these engineered materials with other technologies to create solar power generating systems, printers, copiers, mobile phones, electronic components, semiconductor packages, cutting tools and industrial components. During the fiscal year ended March 31, 2014, the company's consolidated net sales totaled 1.45 trillion yen (approx. $14.1 billion USD). Kyocera appears on the latest listing of the "Top 100 Global Innovators" by Thomson Reuters, and is ranked #531 on Forbes magazine's current "Global 2000" listing of the world's largest publicly traded companies.
About Sullivan Solar Power
Sullivan Solar Power is a turnkey solar system provider that delivers solar electric projects from concept to completion. The company has installed over 26,400,000-watts of solar power ranging from small-scale residential to large-scale commercial and municipal systems. Sullivan Solar Power is headquartered in San Diego, Calif. and owned and operated by Daniel Sullivan. Sullivan Solar Power has a longstanding A-plus rating with the Better Business Bureau, with no complaints filed since the business began. The firm has been named one of the fastest growing energy companies in the nation by Inc. Magazine for three consecutive years and services all of Southern California. Regardless of project size and scope, Sullivan is committed to delivering the best products and the most qualified professionals to its customers. Visit www.sullivansolarpower.com for more information.

Top of page