News
KYOCERA Launches New Industrial Cutting Tool: MFH Mini is Small-Diameter, High-Feed Endmill
Achieves high efficiency and high feed rate with multi-edge design
Hendersonville, NC – June 22, 2015 - Kyocera Precision Tools, Inc. today announced the launch of the MFH Mini, a small-diameter, high-feed endmill*1 for processing metal parts. The new product achieves highly efficient processing utilizing the company's proprietary, newly designed insert and is now available.
Development Background
A high-feed endmill is a cutting tool utilized to rough cut the surface of metal across a broad area. The insert requires high cutting capability which allows for quicker and more stable processing of the workpiece. To meet these needs, Kyocera developed the MFH-Raptor, a high-efficiency, high-feed cutter, in 2014. After its introduction, to support higher-precision cutting technology required for processing molds, Kyocera developed the small-diameter, high-feed MFH Mini endmill.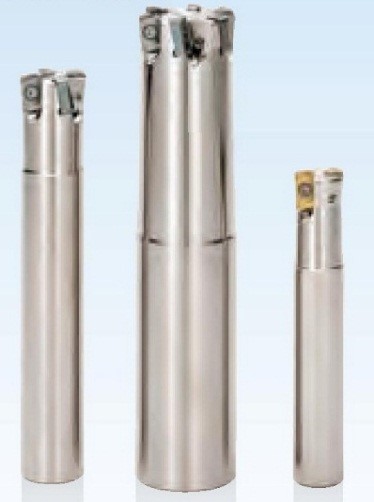 The MFH-Mini is available in cutting diameters ranging from 0.625" to 1.250"
Overview
The MFH Mini is a small-diameter, high-feed endmill for rough processing consisting of a newly developed insert and dedicated holder. The insert features a unique design which reduces impact on the insert when making initial contact with the workpiece, thus achieving smooth cutting with low resistance. As a result, the product reduces chattering and enables increased feed rates. In addition, the MFH Mini exhibits high chip evacuation due to the design of the newly developed chipbreaker.
This product is available with both a CVD*2 and PVD*3 coated insert. Utilizing an insert with the ideal coating based on work material characteristics enables the endmill to deliver optimal wear and fracture resistance.
Through an enhanced feed rate, excellent chip evacuation performance and an optimal insert lineup, the new MFH Mini achieves highly efficient, stable processing and contributes to productivity improvements.
New Product Features
Low resistance; designed specifically for small-diameter, high-feed endmills
The insert enables smooth cutting with low resistance by applying a uniquely-shaped edge developed to cushion initial shock at the moment of workpiece contact — the onset of cutting. The new insert also improves chip evacuation problems that typically occur when slotting and pocketing and improves stability, contributing to high-efficiency processing.
New insert achieves highly efficient processing
The new low-resistance insert reduces cutting resistance and chattering. This enables high-efficiency, high-feed processing for applications including small machines (BT30/BT40) with increased feed rates. The MFH Mini also delivers high economic efficiency through its double-sided, four-edge negative insert.
Applicable to multiple types of processing and work materials
The newly developed LOGU insert with the GM chipbreaker is ideal for face milling, shouldering, contouring, slotting, pocketing, ramping, and helical milling required for mold processing and other applications. Moreover, the insert material exhibits increased wear- and fracture-resistance when the company's unique CVD / PVD coating is applied to the insert's high-toughness, cemented carbide base material. This enables the processing of various materials ranging from general and mold steels to traditionally difficult-to-cut materials such as Ni-based heat-resistant alloys, thus meeting the diverse needs of customers.
*1. A high-feed endmill is a milling cutter for which feed rates per flute can be set high.
*2. A coating method utilizing chemical vapor deposition, which allows for the formation of multiple layers of film with different materials to increase film thickness.
*3. A coating method utilizing physical vapor deposition. Because of its lower processing temperature compared with the CVD method, there are fewer layers which deteriorate due to the coating. Thus, its deflecting strength does not decrease easily.
For additional information, please contact:
Kyocera Precision Tools, Inc.
102 Industrial Park Road
Hendersonville, NC 28792
PH: 800-823-7284
email: cuttingtools@kyocera.com
website: kyoceraprecisiontools.com
About Kyocera
Kyocera Precision Tools, Inc. is headquartered in Hendersonville, NC, with production facilities there and in Costa Mesa, CA and Wapakoneta, OH. It provides specialized cutting tools for the aerospace, medical, automotive, general machining, power generation, printed circuit board and steel markets.
Kyocera Corporation (NYSE:KYO) (TOKYO:6971), the parent and global headquarters of the Kyocera Group, was founded in 1959 as a producer of fine (or "advanced") ceramics. Kyocera specializes in combining these engineered materials with other technologies to create cutting tools, industrial components, electronic devices, semiconductor packages, solar power generating systems, printers, copiers and mobile phones. During the fiscal year ended March 31, 2015, the company's consolidated net sales totaled 1.53 trillion yen (approx. US$12.7 billion). Kyocera appears on the latest listing of the "Top 100 Global Innovators" by Thomson Reuters, and is ranked #552 on Forbes magazine's 2015 "Global 2000" listing of the world's largest publicly traded companies.

Top of page