News
KYOCERA Introduces TFT-LCDs with Projected Capacitive Touchscreens for Industrial Display Applications
Displays offer super high brightness, wide viewing angle and PCAP touchscreens
December 8, 2015 – Plymouth, MI – Kyocera today announced three new TFT-LCD displays with Projected Capacitive (PCAP) touchscreens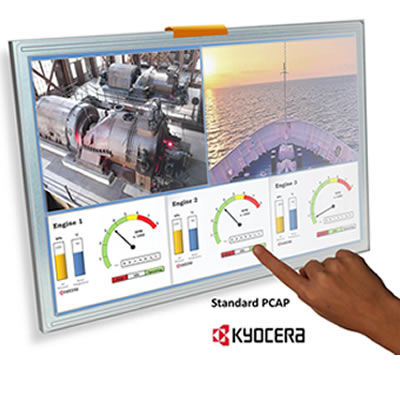 designed to optimize the user interface in a wide variety of industrial applications.
PCAP touchscreen technology is widely used in smartphone and tablet applications due to its high sensitivity, reliability, and support for multi-touch gestures. PCAP touchscreens require only gentle contact to activate, unlike the hard presses required by resistive touchscreens. Popularized by consumer devices, the technology is now migrating to industrial applications, including medical, manufacturing, avionics, ruggedized PC, test and measurement, and marine markets.
Kyocera will initially offer the PCAP touch solution on its most popular display sizes, including 7.0-inch, 10.4-inch and 12.1-inch. The touchscreen surface features anti-glare and anti-fingerprint treatments for better performance, with the option of either an I2C or USB touch interface. All displays incorporate Kyocera's Advanced Wide View (AWV) technology, which offers 170-degree viewing angles from any direction.
Kyocera displays simplify equipment design by eliminating the need for additional components to drive their backlights. Instead, Kyocera's constant-current, high-efficiency LED driver circuit is integrated into the LCD module, providing backlighting with an LED lifetime of 70,000 hours. All three new products feature a standard LVDS interface, a wide operating-temperature range (-30° to 80° C), and brightness of 800cd/m2 or higher for outdoor sunlight readability as follows:
7.0-inch TFT-LCD with PCAP (TCG070WV): 800 x 480 resolution, 800cd/m2 brightness, and a 750:1 contrast ratio;
10.4-inch TFT-LCD with PCAP (TCG104XG): 1024 x 768 resolution, 1040cd/m2 brightness, and 700:1 contrast ratio; and
12.1-inch TFT-LCD with PCAP (TCG121W): 1024 x 768 resolution, 960cd/m2 brightness, and 750:1 contrast ratio.
Users accustomed to the benefits of PCAP touchscreens on smartphones and tablets will enjoy the same experience using commercial and industrial equipment.
"We saw this trend coming, and are pleased to offer a solution to streamline the development process for industrial applications," said Cynthia Ferrell, Vice President of Kyocera Industrial Ceramics Corporation's Display Division. "Our new PCAP touchscreens eliminate the need for manufacturers to find both a touchscreen supplier and an integrator to integrate the screen with the display. Kyocera offers a total solution."
With nearly 40 years of experience in LCD technology innovation, Kyocera is a preferred supplier of high-reliability industrial, automotive and medical equipment displays. The company is committed to developing environmentally friendly products; all Kyocera TFT-LCDs are RoHS compliant to reduce potentially hazardous substances.
For more information, please visit www.kyocera-display.com, call +1-734-416-8500 or email displaysales@kyocera.com
About KYOCERA
Kyocera expanded its global LCD business in 2012 with the acquisition of Japan-based Optrex Corporation (now Kyocera Display Corporation) — a manufacturing, sales, marketing and R&D enterprise founded in 1976. Kyocera Industrial Ceramics Corporation, Display Division, is the sales, marketing and value-added assembly arm for these products in the Americas, with LCD sales offices in Plymouth, MI; Atlanta, GA; Vancouver, WA; and San Diego, CA. LCD warehouse, distribution center and value-added assembly services are located in Plymouth, MI, with company headquarters in Hendersonville, NC.
Kyocera Corporation, the parent and global headquarters of the Kyocera Group, was founded in 1959 as a producer of fine (or "advanced") ceramics. By integrating these engineered materials with other technologies, Kyocera has become a leading supplier of LCDs, industrial ceramics, electronic components, semiconductor packages, cutting tools, solar power generating systems, printers, copiers and telecommunications equipment. During the year ended March 31, 2015, the company's net sales totaled 1.53 trillion yen (approx. $12.7 billion). Kyocera appears on the latest listing of the "Top 100 Global Innovators" by Thomson Reuters, and is ranked #552 on Forbes magazine's 2015 "Global 2000" listing of the world's largest publicly traded companies.
###
Editorial Contact:

Jessica He
Kyocera Industrial Ceramics Corporation, Display Division
734-416-8500
Jessica.He@Kyocera.com

Top of page