News
Private Academy in Puerto Rico Selects KYOCERA Solar for Long-Term Energy Savings
Dynamic Solar Solutions installs 207kW system to save Academia Cristo de los Milagros a projected $71,000 per year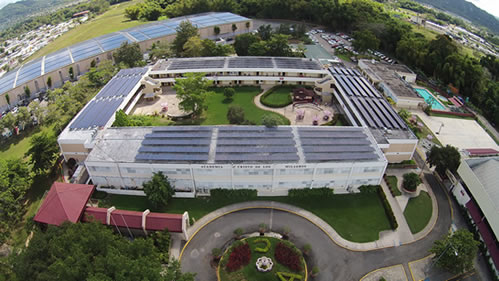 Scottsdale, AZ – May 16, 2016 – Kyocera Solar Inc. and authorized installer Dynamic Solar Solutions today announced the installation of 207 kilowatts (kW) of Kyocera solar modules atop Academia Cristo de los Milagros (ACM) in Caguas, Puerto Rico. The modules will provide a significant reduction to the private school's electricity bill by harnessing Puerto Rico's abundant sunshine to offset rising energy prices. The total system will produce 296,900 kilowatt hours (kWh) annually, saving the school a projected $71,000 per year. Government incentives will cover 35 percent of the system's cost, providing a return on investment within five years of installation. This solar project and others like it will help meet Puerto Rico's energy portfolio targets of 15 percent renewables by 2020 and 20 percent by 2035.
Recognized as a top-performing solar module in both the 2014 and 2016 PV Solar Module Reliability Scorecard, the Kyocera modules' high-reliability track record will provide a consistent, long-term, clean energy solution for ACM. Puerto Rico's commercial electricity rates are approximately 23 cents per kWh, compared to approximately 8 to 15 cents per kWh in the mainland United States. With such high rates, solar is especially suited for the picturesque Caribbean where schools and businesses are making smart choices to control costs and help reduce carbon emissions.
"It is very important to ensure our customers receive the best performance from their systems, which is why we exclusively install Kyocera Solar modules, which have been proven reliable for decades," said Juan Carlos Díaz, Vice President of Operations, Dynamic Solar Solutions. "When the Academy was analyzing the cost savings from solar, its neighbor installed an 892kW Kyocera solar rooftop system with great success, causing the Academy to specifically request Kyocera modules -- the highest compliment."
Dynamic Solar installed the rooftop system using prefabricated bases and an Ironridge racking system. Dynamic Solar is the leading solar contractor in Puerto Rico, with a total installed capacity of 52MW of projects in Puerto Rico, USVI and the continental U.S.
"ACM is committed to protecting the environment," explained Myrna Carrion, Principal of Academia Cristo de los Milagros. This solar project supports our commitment to help the environment while reducing our operational budget for the benefit of our students."
To learn more about Kyocera solar solutions for both residential and commercial projects in the U.S. and Latin America, please contact infosolar@kyocera.com or +1-800-223-9580.
About KYOCERA
Kyocera Corporation of Kyoto, Japan, recorded consolidated sales of $13.1 billion in the fiscal year ended March 31, 2016. Kyocera is a world leader in solar photovoltaic modules and systems, with a 40-year history of innovation in solar technology and multiple world records in multicrystalline silicon cell efficiency.
Kyocera Solar Inc. is headquartered in Scottsdale, AZ, with regional sales affiliates in the Americas, and solar module manufacturing facilities operated by Kyocera Mexicana, S.A. de C.V. of Tijuana, Mexico.
# # #
Media Contact:
LPI Communications
Leasa Ireland
310.750.7082

Top of page