News
KYOCERA Receives Mexico's Highest Award for Environmental Excellence
Apodaca, Nuevo Leon, México, June 23, 2016
Today the Mexican Secretariat of the Environment, through the Federal Environment Protection Agency (PROFEPA), presented Mexico's highest award for Environmental Excellence to Kyocera Mexicana, S.A. de C.V. (a wholly owned subsidi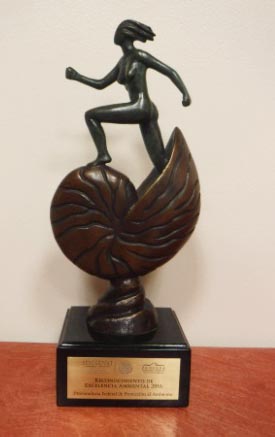 ary of Kyocera International, Inc.) in recognition for its high levels of environmental compliance, practices and concerns. Kyocera was one of only 19 companies in all of Mexico to receive this award for 2016.
Officials attending the event included Nuevo Leon State Governor Jaime Rodriguez Calderon, Federal Attorney for Environmental Protection Guillermo Haro Belchez, and Secretary of Environment and Resources Rafael Pacchiano Alaman. The award represents Mexico's highest honor for environmental performance and demands not only compliance, but the complete integration of all environmental areas, including environmental management systems, demonstrated continuous improvements, social participation, education, emergency preparedness and emergency response. Secretary Pacchiano recognized the efforts of all of the awarded companies and mentioned many of the benefits to Mexico's environment and economy. He also stated that Mexico's President Enrique Peña Nieto is very optimistic knowing that more companies are engaged in these efforts.
Kyocera has achieved various clean industry certifications and re-certifications since 2008, and in 2015 was one of only two companies in Baja California that achieved a Level 2 Certification. Now, in 2016, Kyocera has received Mexico's highest recognition of Environmental Excellence. Notably, two of the 19 awarded companies are located in the Tijuana, Baja California region where Kyocera has been manufacturing its products since 1987.
Kyocera Mexicana President Dave Hester and General Manager Jorge Rochin were on hand to receive the award and were especially pleased and moved when the environmental minister quoted the words of Kyocera Founder Dr. Kazuo Inamori in closing his speech by specifically mentioning Kyocera and saying that all companies and citizens should practice precisely what was stated on Kyocera's awards application: "Do what is right as a human being."

Top of page