News
KYOCERA Introduces New Ceramic Camp Kitchen Knife
The Cutting Edge Choice for Outdoor Food Prep
COSTA MESA, Calif. – Introducing Kyocera's new Outdoor Ceramic Camp Kitchen Knife with a heavy duty nylon sheath! It's ideal for camping, fishing, hiking, picnics, tailgating and more. The ergonomic, soft textured handle provides a comfortable and highly controlled grip. The knife is ultra-sharp, lightweight, very easy to clean and will never rust, making it perfect for outdoor use.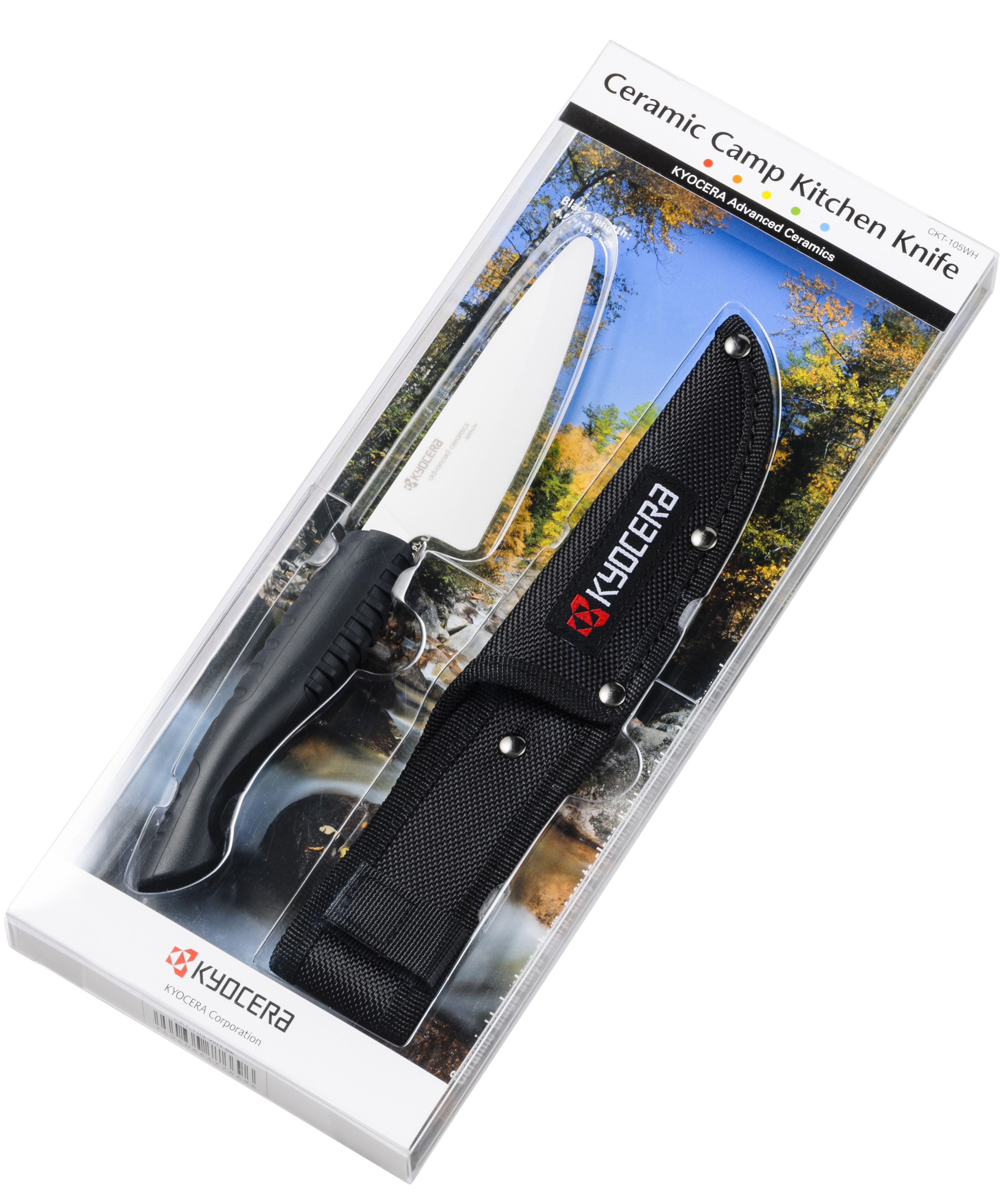 The knife sheath is made of heavy nylon and built to withstand the elements. It features a Velcro strap to safely secure the knife in place as well as a belt loop for quick and easy access at your side.
This knife is the go-to choice for outdoor food prep — especially for fruits, vegetables and boneless fish and meats. It can also be used to cut fishing line or boneless fishing bait.
Kyocera's ceramic blade offers unparalleled purity. Unlike metal blades, it will not transfer metal ions to food or corrode from acids or oils, nor will it ever rust.
The white ceramic blade is made of Kyocera's proprietary Zirconia Z206 ceramic, which is harder than steel. Z206 stays sharp up to 10 times longer than premium metal knives.
Outdoor enthusiasts favor lightweight gear, and the Kyocera Ceramic Camp Kitchen Knife is half the weight of an equivalent steel knife.
The knife can be easily hand washed or wiped clean.
The Kyocera Ceramic Camp Kitchen Knife comes in a beautifully packaged acetate box suitable for hanging, with a suggested retail price of $34.95.
Kyocera, the original ceramic knife manufacturer, is the only ceramics company to offer a limited lifetime warranty and lifetime sharpening on its cutlery. Kyocera high quality knives do not need to be sharpened often, but when they do, the company offers complimentary sharpening to a factory-new edge for nominal shipping and handling fee.
Kyocera, a world-leading ceramic manufacturer, offers a wide range of ceramic knives, kitchen tools, ceramic-coated cookware, and accessories. For additional information, contact:
Kyocera International Inc.
Consumer Products Division
3565 Cadillac Avenue
Costa Mesa, CA 92626
PH: 800-537-0294
Email: CPD@kyocera.com
www.KyoceraAdvancedCeramics.com
Facebook: www.facebook.com/KyoceraCutleryFanPage
Pinterest: www.pinterest.com/kyoceracutlery/
Twitter: @KyoceraCeramics
About Kyocera
Kyocera International, Inc., founded in 1969 and headquartered in San Diego, California, is a wholly-owned subsidiary of Kyocera Corporation.
Kyocera Corporation (NYSE:KYO) (TOKYO: 6971), the parent and global headquarters of the Kyocera Group, was founded in 1959 as a producer of fine (or "advanced") ceramics. Kyocera specializes in combining these engineered materials with other technologies to create ceramic cutlery and cookware, cutting tools, industrial components, electronic devices, semiconductor packages, solar power generating systems, printers, copiers and mobile phones. During the year ended March 31, 2016, the company's consolidated net sales totaled $13.1 billion.
PR Contact: Field Marketing & Media
713-869-1856, info@fieldmm.com
Kyocera International Inc.:
www.KyoceraAdvancedCeramics.com
# # #

Top of page