News
KYOCERA to Exhibit Fine Ceramic Technologies at Materials Research Society's Fall 2016 Meeting, Nov. 29 to Dec. 2 in Boston
Company to showcase latest innovations in engineered ceramics for high-performance structural and mechanical applications
BOSTON, MA — Nov. 28, 2016 — Better-performing materials hold the key to tomorrow's breakthroughs in virtually every field of technology,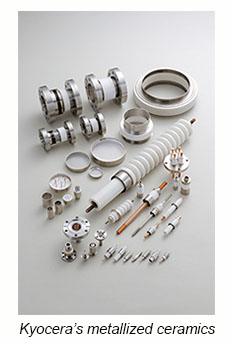 from healthcare and medicine to communication, computing, automobiles, renewable energy and space exploration.
Kyocera, a world leader in advanced ceramics, will offer a preview of things to come Nov. 27 to Dec. 2 at the Hynes Convention Center here — where Kyocera's extensive line of oxide and non-oxide ceramics will be on display in booth #807 at the Fall 2016 Meeting and Exhibition of the Materials Research Society (MRS).
"Humankind's first synthetic materials were probably ceramic earthenware and pottery," said Mark Wolf, Vice President of Kyocera International, Inc.'s Fine Ceramics Group. "Considering that today's advanced ceramics benefit from about ten thousand years of development, it's no wonder we're using them to solve the toughest engineering challenges in so many high-tech fields."
Perhaps no other material combines the same physical, chemical, optical, electrical and thermal properties as Kyocera's advanced ceramics. Although light in weight, ceramics are among the strongest and hardest known materials. They are electrical insulators but thermal conductors, physically stable, resistant to abrasion and impervious to corrosion. They can be machined to extremely precise dimensions — and withstand temperatures that would melt most metals into a glowing puddle. This is why advanced ceramics are found in applications ranging from supercomputers to orthopedic joint replacement, and why they continue to contribute to scientific discoveries such as the Higgs Boson, and Nobel Prize achievements like the blue LED.
Kyocera's MRS exhibit will showcase a number of advanced ceramic innovations, including:
Technology which allows precisely-formed ceramic materials to be joined, yielding ceramic structures in highly complex shapes with little or no diamond machining.
Metallization technology, by which ceramics are "metallized" for soldering or brazing directly to metals.
Single-crystal sapphire, an ultra-hard, pure and transparent material used in applications ranging from highly scratch-resistant windows to LED substrates.
BIOCERAM medical-grade ceramics that provide exceptional biocompatibility within the human body.
Heat-resistant ceramics used in foundries, gas turbines and automotive engines.
Chemical-resistant ceramics for pump, valve and seal components exposed to corrosive fluids.
As a world leader in the field, Kyocera offers ceramic materials in approximately 200 different formulations — including Aluminum Oxide, Aluminum Nitride, Cermet, Cordierite, Forsterite, Mullite, Sapphire, Silicon Carbide, Silicon Nitride, Steatite, Yttria and Zirconia. The company's process expertise includes dry-pressing, cold-isostatic pressing, hot-isostatic pressing, injection molding, tape casting, multilayering and metallizing ceramics.
About Kyocera
Kyocera International, Inc., founded in 1969 and headquartered in San Diego, California, is a wholly-owned subsidiary of Kyoto, Japan-based Kyocera Corporation.
Kyocera Corporation (NYSE:KYO) (TOKYO: 6971), the parent and global headquarters of the Kyocera Group, was founded in 1959 as a producer of fine ceramics (also known as advanced ceramics). Kyocera specializes in combining these engineered materials with other technologies to create high-performance fine ceramic components for structural and mechanical applications, semiconductor components including packages and substrates, orthopedic implants and implantable medical ceramics, ceramic cutlery and cookware, cutting tools, electronic devices, solar power generating systems, office document printers, copiers and mobile phones. During the year ended March 31, 2016, Kyocera Corporation's consolidated net sales totaled $13.1 billion. Kyocera appears on the Thomson Reuters list of the "Top 100 Global Innovators" and is ranked #531 on Forbes magazine's 2016 "Global 2000" listing of the world's largest publicly traded companies.
# # #

Top of page