News
KYOCERA DuraForce Pro Rugged Smartphone Wins iF Design Award 2017
The Only Rugged Smartphone with a Super-Wide-View HD Action Camera Receives Prestigious Industry Accolade for Its Design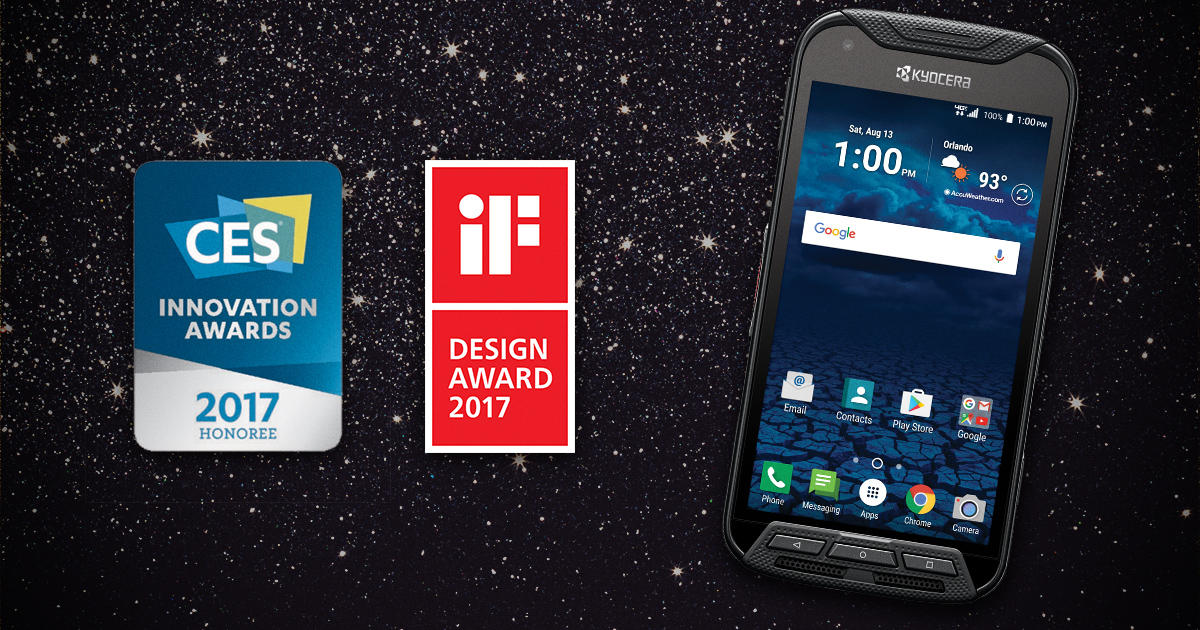 SAN DIEGO – February 7, 2017 – Kyocera International Inc., the leader in rugged mobile solutions, today announced that its Kyocera DuraForce PRO — the only rugged 4G LTE smartphone with a Super Wide View HD (1080p) Action Camera – received the iF DESIGN AWARD 2017. With a reputation as the most distinguished design award in Europe, the birthplace of industrial design, the iF DESIGN AWARD is hosted by the iF International Forum Design GmbG Hannover to recognize industrial products around the globe for exceptional execution in design. A team of 58 judges selected the Kyocera DuraForce PRO as the Product Award winner in the "Industry/Skilled Trades" category. The award comes less than a month after the DuraForce PRO was an honoree in the CES Innovation Awards at North America's largest trade show.
DuraForce PRO was designed by Kyocera to be rugged for a reason—to provide businesses and industrious workers, as well as consumers and adventurous thrill-seekers, with a dependable smartphone that can withstand the harshest environments and mishaps. DuraForce PRO is the latest in Kyocera's leading portfolio of military-grade rugged, waterproof devices, offering an affordable, durable and dependable smartphone with advanced features such as a new Super Wide View HD Action Camera that complements the phone's 13MP rear camera and 5MP front camera and a biometric fingerprint scanner built into the phone's power button for enhanced security.
"We are honored that DuraForce PRO received this prestigious design award, as it's a validation of all the time and effort that went into making this device incredibly durable and reliable without sacrificing style or functionality," said Akira Iino, vice president of Kyocera International Inc.'s Communications Equipment Group. "In an industry that typically makes users choose between strength and beauty, we are proud to have bridged that divide in one total package with the DuraForce PRO."
Built not just to survive, but thrive in harsh environments, DuraForce PRO is shockproof, drop-proof, and dustproof, with certifications to IP68 (waterproof up to 30 minutes in up to 2 meters of water) and Military Standard 810G for protection against dust, shock, vibration, temperature extremes, blowing rain, low pressure, solar radiation, salt fog, humidity, immersion, temperature shock and icing/freezing rain.
Kyocera DuraForce PRO is currently available at Verizon Wireless, AT&T and Sprint. For more information about the new Kyocera DuraForce PRO, visit www.kyoceramobile.com/duraforce-pro or follow us on Twitter at @kyoceramobile for more details on device availability with leading wireless-service providers.
ABOUT KYOCERA
Kyocera International Inc.'s Communications Equipment Group (CEG) is the headquarters for Kyocera wireless devices in the Americas. Designed with durability, dependability, and long-term value as priorities, Kyocera mobile phones help people feel comfortable with new technology and use it to connect, perform and outsmart life's challenges. At the heart of Kyocera's products is a belief that one size doesn't fit all and that people should do more with phones instead of being confused by them or having to alter their lifestyles to accommodate them. For more information, follow the company at facebook.com/kyoceramobile or twitter.com/kyoceramobile.
Kyocera Corporation (NYSE:KYO)(TOKYO:6971) (http://global.kyocera.com/), the parent and global headquarters of the Kyocera Group, was founded in 1959 as a producer of fine ceramics (also known as "advanced ceramics"). By combining these engineered materials with metals and integrating them with other technologies, Kyocera has become a leading supplier of mobile phones, electronic components, printers, copiers, solar power generating systems, semiconductor packages, cutting tools and industrial ceramics. During the year ended March 31, 2016, the company's net sales totaled 1.48 trillion yen (approx. USD13.1 billion). Kyocera appears on the latest listing of the "Top 100 Global Innovators" by Thomson Reuters, and is ranked #552 on Forbes magazine's current "Global 2000" list of the world's largest publicly traded companies.
# # #

Top of page