News
Press for Flavor: New KYOCERA Electric Salt & Pepper Mill
COSTA MESA, Calif. – June 1, 2017 – The new Kyocera Electric Salt & Pepper Mill is remarkably fast, quiet and easy to use: just press the button on top and let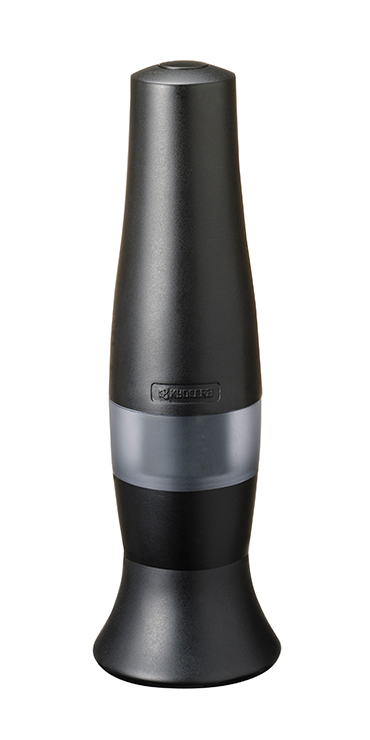 the mill do the work.
Made in Japan to Kyocera's exacting standards, it features an advanced ceramic burr grinder mechanism that adjusts from fine to coarse. Kyocera's proprietary ceramic is close in hardness to diamonds and will never rust. This durable mechanism will outlast any metal-based grinding mill, providing for ultra-long-life performance.
The stylish mill features a frosted window to display the spices inside. This versatile mill can be used for coarse salts, wet salts, peppercorns, sesame seeds, flax seeds, mustard seed, celery seeds, cumin seeds and more. The non-reactive ceramic mechanism will never absorb or transfer flavors, and the mill keeps ingredients dry in humid conditions.
The mill is activated by the touch of one button – for easy one-handed operation – and it grinds only when this button is pressed. It is easy to open and close when its time to refill ingredients or replace the batteries.
The Kyocera Electric Salt & Pepper Mill comes with a matching stand that will catch residual grinds. It is 10.4 inches tall and 3.2 inches in diameter, and it operates on four AA alkaline batteries (not included).
The Kyocera Electric Salt & Pepper Mill comes in black, with a suggested retail price of $49.95 each, and in white, with a suggested retail price of $49.95. Both are available for immediate shipment.
Kyocera, the original ceramic knife manufacturer, and a world-leading producer of advanced ceramic products, offers a wide range of ceramic knives, kitchen tools, ceramic-coated cookware, and accessories. For additional information, contact:
Kyocera International Inc.
Consumer Products Division
3565 Cadillac Avenue
Costa Mesa, CA 92626
PH: 800-537-0294
Email: CPD@kyocera.com
www.KyoceraAdvancedCeramics.com
Facebook: www.facebook.com/KyoceraCutleryFanPage
Pinterest: www.pinterest.com/kyoceracutlery/
Twitter: @KyoceraCeramics
Kyocera International, Inc., based in San Diego, CA, is a wholly-owned subsidiary of Kyocera Corporation of Kyoto, Japan.
Kyocera Corporation (NYSE:KYO)(TOKYO:6971) (http://global.kyocera.com/), the parent and global headquarters of the Kyocera Group, was founded in 1959 as a producer of fine ceramics (also known as "advanced ceramics"). By combining these engineered materials with metals and integrating them with other technologies, Kyocera has become a leading supplier of printers, copiers, mobile phones, solar power generating systems, electronic components, semiconductor packages, cutting tools and industrial ceramics. Kyocera appears on the "Top 100 Global Innovators" list by Clarivate Analytics and is ranked #531 on Forbes magazine's 2016 "Global 2000" list of the world's largest publicly traded companies.
# # #

Top of page