News
KYOCERA 3.7-Inch Revolution Series Fruit Knife with Sheath For the Kitchen, Camping, Fishing, Hiking, Picnics and Tailgating
COSTA MESA, Calif. – June 1, 2017 – Kyocera expands its popular Revolution Series of advanced ceramic cutlery with the new 3.7-inch Fruit Knife with Sheath.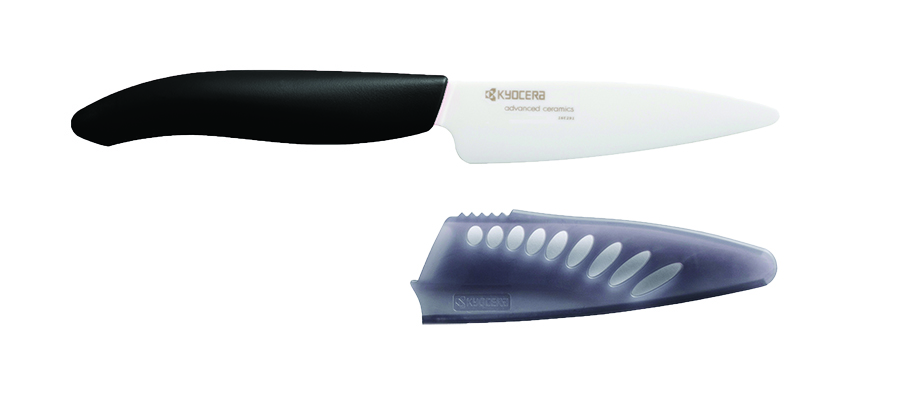 Ideal for cutting and slicing peaches, pears, mangos, apples, oranges and more, this versatile knife can also be used with vegetables, boneless meat and boneless fish.
The sheath allows for safe and easy storage in a kitchen drawer, plus it adds the advantage of portability. The knife is ideal for camping, fishing, hiking, picnics and tailgating, in addition to everyday food prep at home. With the many benefits of Kyocera's proprietary ceramic blades, this is the ultimate cutting tool for indoor or outdoor use.
The fruit knife features a black handle and an ultra-sharp white blade made of Kyocera's exclusive advanced ceramic that stays sharp up to ten times longer than conventional steel blades. Kyocera's pure ceramic blade won't brown foods or transfer a metallic taste, and it is rust-proof and germ resistant.
This unique ceramic blade is made in Japan, and is backed with a lifetime warranty. It never absorbs any food elements, so it's easy to clean: just a quick rinse and a wipe is enough.
The ergonomic black soft textured handle provides for a comfortable and controlled grip. The Kyocera Fruit Knife is light weight and balanced. The heavy-duty plastic sheath, which is dark gray, is highly durable and built to withstand the elements.
The Kyocera 3.7-Inch Revolution Series Fruit Knife with Sheath has a suggested retail price of $29.95. It is available for immediate shipment.
Kyocera, the original ceramic knife manufacturer, and a world-leading producer of advanced ceramic products, offers a wide range of ceramic knives, kitchen tools, ceramic-coated cookware, and accessories. For additional information, contact:
Kyocera International Inc.
Consumer Products Division
3565 Cadillac Avenue
Costa Mesa, CA 92626
PH: 800-537-0294
Email: CPD@kyocera.com
www.KyoceraAdvancedCeramics.com
Facebook: www.facebook.com/KyoceraCutleryFanPage
Pinterest: www.pinterest.com/kyoceracutlery/
Twitter: @KyoceraCeramics
Kyocera International, Inc., based in San Diego, CA, is a wholly-owned subsidiary of Kyocera Corporation of Kyoto, Japan.
Kyocera Corporation (NYSE:KYO)(TOKYO:6971) (http://global.kyocera.com/), the parent and global headquarters of the Kyocera Group, was founded in 1959 as a producer of fine ceramics (also known as "advanced ceramics"). By combining these engineered materials with metals and integrating them with other technologies, Kyocera has become a leading supplier of printers, copiers, mobile phones, solar power generating systems, electronic components, semiconductor packages, cutting tools and industrial ceramics. Kyocera appears on the "Top 100 Global Innovators" list by Clarivate Analytics and is ranked #531 on Forbes magazine's 2016 "Global 2000" list of the world's largest publicly traded companies.
# # #

Top of page