News
KYOCERA Ceramic Coated Travel Mug Keeps Beverages Steamy Hot or Ice Cold
COSTA MESA, Calif. – June 1, 2017 – The new Kyocera Ceramic Coated Travel Mug stands out for its flavor-saving ceramic coated interior, which never imparts a metallic taste and never rusts or stains. This double-wall, vacuum-insulated stainless steel mug keeps drinks hot or cold for 6 to 12 hours, depending on the starting temperature of the liquid.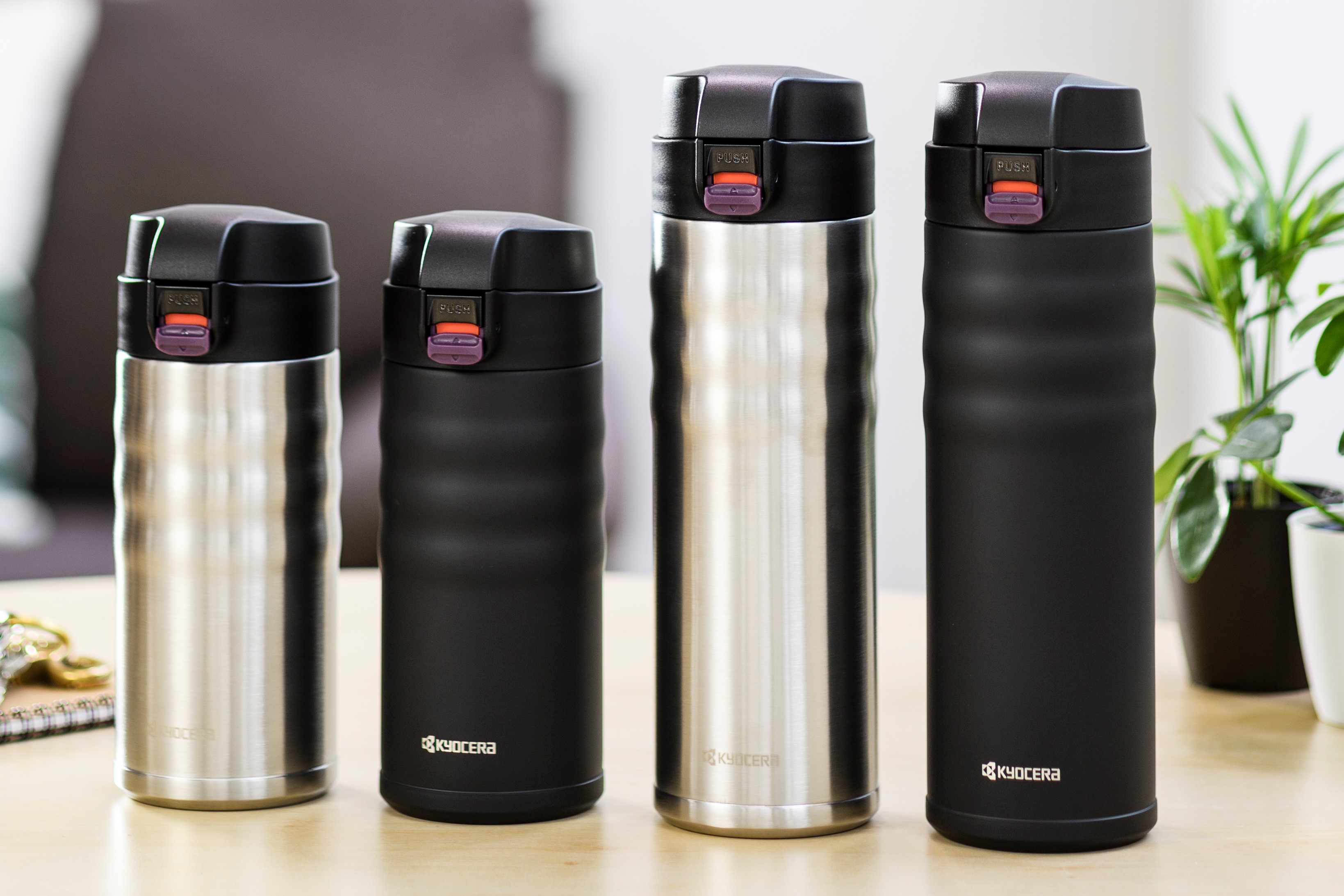 Created for indoor and outdoor use, this travel mug is great for the kitchen, car, work, school, camping, hiking, hunting, picnics and more. It is the go-to choice for those who value flavor purity, because the advanced ceramic interior is totally non-reactive and will never absorb flavors, a big advantage versus traditional metal-lined travel mugs.
Kyocera's thoughtfully designed safety lock lid makes it spill proof. The lid can easily be opened with one hand. The safety lock prevents it from opening accidentally.
The mug is light and compact for easy storage and transport. Its ribbed exterior is comfortable to hold. It stays cool to the touch when filled with steamy hot liquids, and never sweats with ice cold beverages. The wide mouth opening makes cleaning and adding ice cubes easy.
The new Kyocera Ceramic Coated Travel Mug comes gift boxed in two sizes. The 12-Oz. in black or stainless steel has a suggested retail price of $26.95, and the 17-Oz in black or stainless steel has a $29.95 suggested retail. They are available for immediate shipment.
Kyocera offers a wide range of ceramic knives, kitchen tools, ceramic-coated cookware, and accessories. For additional information, contact:
Kyocera International Inc.
Consumer Products Division
3565 Cadillac Avenue
Costa Mesa, CA 92626
PH: 800-537-0294
Email: CPD@kyocera.com
www.KyoceraAdvancedCeramics.com
Facebook: www.facebook.com/KyoceraCutleryFanPage
Pinterest: www.pinterest.com/kyoceracutlery/
Twitter: @KyoceraCeramics
Instagram: @KyoceraCutlery
Kyocera International, Inc., based in San Diego, CA, is a wholly-owned subsidiary of Kyocera Corporation of Kyoto, Japan.
Kyocera Corporation (NYSE:KYO)(TOKYO:6971) (http://global.kyocera.com/), the parent and global headquarters of the Kyocera Group, was founded in 1959 as a producer of fine ceramics (also known as "advanced ceramics"). By combining these engineered materials with metals and integrating them with other technologies, Kyocera has become a leading supplier of printers, copiers, mobile phones, solar power generating systems, electronic components, semiconductor packages, cutting tools and industrial ceramics. Kyocera appears on the "Top 100 Global Innovators" list by Clarivate Analytics and is ranked #531 on Forbes magazine's 2016 "Global 2000" list of the world's largest publicly traded companies.

Top of page