News
Versatile and Efficient: New KYOCERA Diamond Wheel Sharpener for Ceramic and Steel Knives
COSTA MESA, Calif. – June 1, 2017 – The new Kyocera Diamond Wheel Sharpener for Ceramic and Steel Knives features a super-efficient easy-to-use design. Given the growing popularity of ceramic knives and mixed cutlery collections, this sharpener offers the versatility of refreshing the sharpness of both metal blades and Kyocera ceramic blades.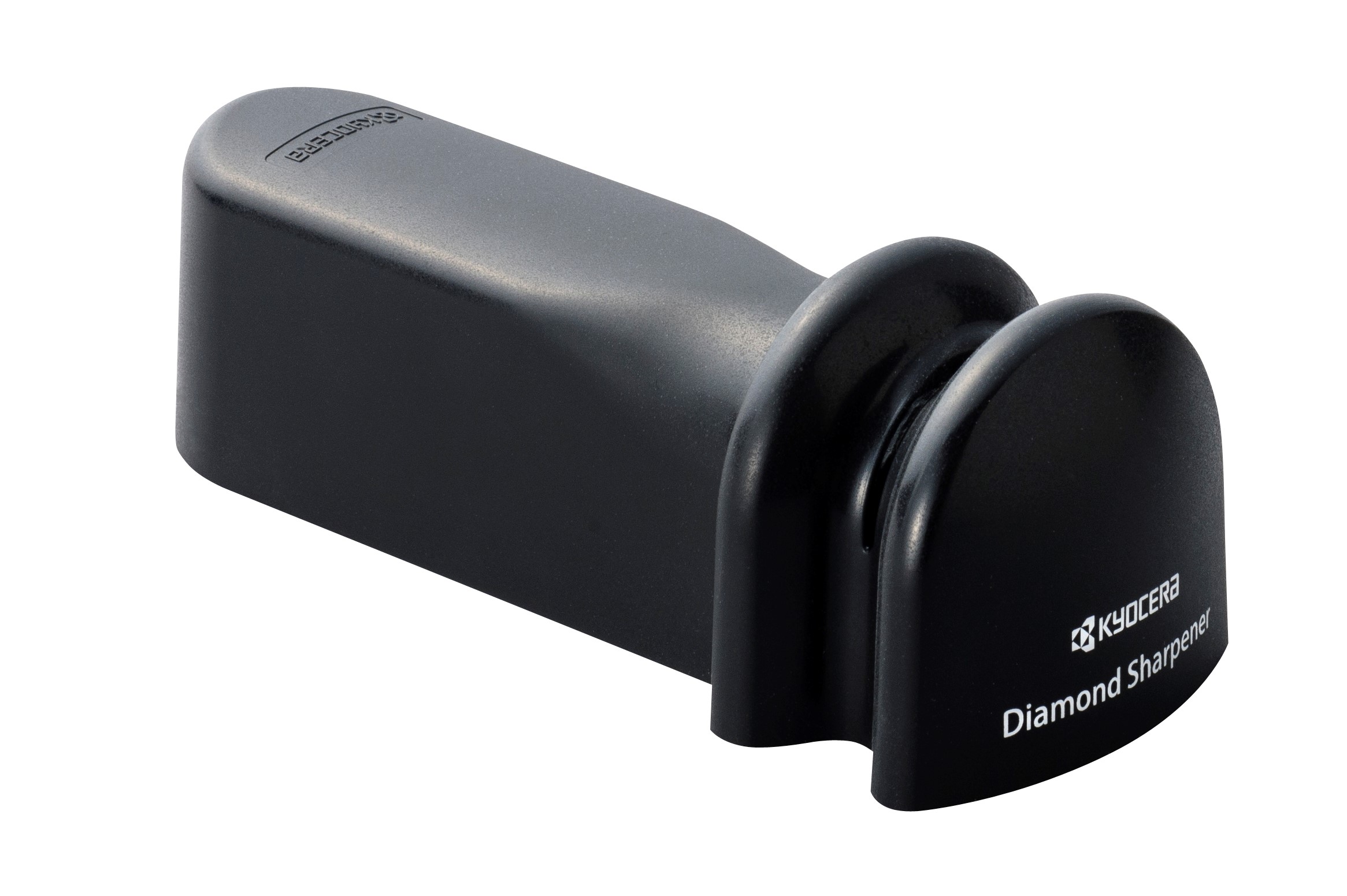 A durable #1000 grit diamond sharpening wheel gives it strength, providing excellent wear resistance and consistent results every time. The simple design, created for non-serrated blades, makes it simple to use. Hold the sharpener on a flat level surface. Put the knife blade in the slot, and lightly pull backwards just a few times for best results.
Sharp blades perform better and are faster and safer to use and they require less effort for a better food prep experience.
The sharpener is easy to clean: empty the contents and rinse with water and dry. It comes in black, with a 10.2 by 3.8-inch footprint.
Made in Japan, the Kyocera Diamond Wheel Knife Sharpener for Ceramic and Steel Knives has a suggested retail price of $19.95. It is available for immediate shipment.
Kyocera offers a wide range of ceramic knives, kitchen tools, ceramic-coated cookware, and accessories. For additional information, contact:
Kyocera International Inc.
Consumer Products Division
3565 Cadillac Avenue
Costa Mesa, CA 92626
PH: 800-537-0294
Email: CPD@kyocera.com
www.KyoceraAdvancedCeramics.com
Facebook: www.facebook.com/KyoceraCutleryFanPage
Pinterest: www.pinterest.com/kyoceracutlery/
Twitter: @KyoceraCeramics
Instagram: @KyoceraCutlery
Kyocera International, Inc., based in San Diego, CA, is a wholly-owned subsidiary of Kyocera Corporation of Kyoto, Japan.
Kyocera Corporation (NYSE:KYO)(TOKYO:6971) (http://global.kyocera.com/), the parent and global headquarters of the Kyocera Group, was founded in 1959 as a producer of fine ceramics (also known as "advanced ceramics"). By combining these engineered materials with metals and integrating them with other technologies, Kyocera has become a leading supplier of printers, copiers, mobile phones, solar power generating systems, electronic components, semiconductor packages, cutting tools and industrial ceramics. Kyocera appears on the "Top 100 Global Innovators" list by Clarivate Analytics and is ranked #531 on Forbes magazine's 2016 "Global 2000" list of the world's largest publicly traded companies.

Top of page